To Build or Not to Build: Part 1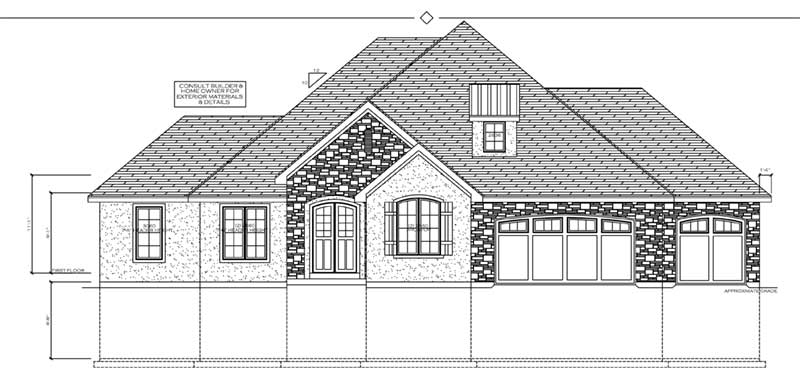 Local experts provide insight on finding land and constructing custom homes.
For many of us, a home will be the largest purchase we make in our lives. When looking into purchasing a house and the numerous options available, the question "should I build?" often comes up.

To answer this question, we talked with several professionals in the Columbia area who specialize in real estate, building, and remodeling.

Cale Kliethermes, owner of Kliethermes Homes & Remodeling, says asking clients this question is an important first step in the process. "We try to understand why someone wants to build a home," Cale says. "Often what we find is they have spent time looking for homes and they haven't found anything out there that meets their needs."

He adds that often people don't want a cookie cutter home and are looking for something low-maintenance. "They want to move in and live maintenance-free and not have to work on their home," he says. "They either don't possess the ability or desire to work on their homes."

Denise Payne, with the Denise Payne Real Estate Team, says deciding to build depends on your ability to be a decision maker and to see the future. "When building a home, the buyer must think about what they want the feel of the house to be, whether that's a farmhouse, contemporary, or somewhere in between."

According to Rachael Jones, CEO of Iron Gate Real Estate, there are three main questions to ask in the "build versus buy" discussion.

What are your must-haves?
"If a property doesn't exist with your must-haves, you may need to build it to accommodate your needs. Large families, unique situations, accessibility, or location may all be reasons you can't find a property that fits your criteria," Rachael says.

What is your budget?
"If your budget is too small or quite large, you may need to build to fit your needs," Rachael adds. This could mean building a small home on land you already own or building a large custom home.

What is your time frame?
"If you're not bound to a specific time frame, building a home might meet your needs. Finding the land, designing plans, customizing the finishes, and getting to the finish line can be a detailed process," says Rachael. "Hard deadlines are difficult to hit when taking on something of this magnitude, so your time frame should be fluid."

"If you're not used to making a lot of decisions over a six- to nine-month period, the process of building can be stressful," says Tracy Arey, of Tracy Arey Real Estate.

Beth Arey adds that there are two ways to build a home: "One way allows you to build completely custom and decide everything, but it's really easy to go over budget. The other way is to buy a spec [speculation] home. It's a new home the builder has already built, and you just buy it. This allows you to buy new without making as many decisions during the process." Tracy adds that the location and desired lifestyle are big factors when considering either decision.
"The last several custom homes we've built have been out on private land," says Cale. "They wanted that lifestyle change where they could be outside of town on their own land and in nature. That's a big driving force for people wanting to be outside of a subdivision."

Denise finds that some people enjoy the building process and want exactly what they want, where they want it. "They may want their master bedroom to overlook the backyard, so they need a specific floor plan to accomplish that," she says. "Some neighborhoods are not areas where a spec home would ever be built because of the cost of the lot and the minimum requirements of the subdivision rules. Some people want to build because they want features in a home that a resale or a spec home would never give them, like an elevator."

Additionally, if the buyer has plans to have a home on land they already own, they will need to build.
Benefits of Building
"The number one benefit is that it's brand new," says Tracy. "Buyers want their dream home and they want it brand new. They don't want to live in a home that other people have lived in. A warranty is also involved, from the appliances in the home to the roof." Some of the products have warranties anywhere from one to 30 years.

When it comes to advantages of building over buying an existing home, Denise says you get what you want, as long as it meets building codes. From cabinets to countertops to doorknobs, the home is exactly how you want it.

Rachael says there are many benefits, but which advantage means the most depends on the homeowner: "For some, it's the customizability. Location is also a big draw to building. If the buyer has a spot in mind and access to build there, they will be much happier in that area instead of moving their search to a different area."

Rachael adds that materials, size, sustainability, and features are all reasons a homeowner may also choose to build. "It simply comes down to what is most important to them and evaluating the best and most budget-friendly way to accomplish their wishes."

"Really the biggest benefit is you get your home the way you want it right from the start," says Cale. "People who want to remodel typically like the neighborhood that the home is in, but there aren't any open lots. Not everyone wants to live through the remodel process." He adds that buying, building, or remodeling can create a lot of fear.

"You have to put a lot of faith in the person who is doing the project," says Cale. "We plan everything out beforehand. We have a fixed price contract and really take the time to properly plan these things to eliminate as much stress as possible. We like to plan it all upfront so everybody knows what the price is before we start."

It's important for buyers to take the time to get to know the person they'll be working with. "People will often undervalue the meeting with the builder or taking the time to really get to know those people," Cale says. "Really, the building and remodel process should be a fun one and should end with a happy client and happy company every time."

Beth echoes this sentiment. "Buyers should do their homework on the builders," she says. "Be sure to ask them about how their last three builds or so went. Do some due diligence, because it's a big step and you want it to be as smooth as possible."
Where to Find Land
"Several subdivisions have lots available," says Denise. "In some areas of Columbia, the buyer will tear down an older home and construct a new home, and some older neighborhoods even have lots available," she adds. Some large parcels of farm land are also being sold off in smaller acreages locally.

Tracy and Beth encourage buyers to reach out to a real estate agent when beginning the search for land. "If you want a subdivision lot or acres, Realtors have access to that," says Beth. "If you want a slab or a basement, there's certain criteria for it to work. It makes it easier to work with a Realtor."

Rachael says finding land to build on happens in a variety of ways. "Sometimes, a homeowner already has access to land — perhaps family land or a prior investment," she says. "It can be more cost-effective to build on land that is already owned vs. buying a home elsewhere."

She adds that if a homeowner doesn't own land but has a specific area in mind, a real estate agent can search to find opportunities: "Agents use a variety of tactics to search. Finding land may also stem from the type of property to be built. Large, custom, or unique homes may need to be built in certain areas — perhaps with lots of land, privacy, or simply away from covenants and building restrictions."

Cale adds it's important to pay attention to the cost of land when searching. "The land price does drive up the home price."
New Developments for Custom Homes
"There certainly are still a fair amount of custom areas going on out to the Southwest," says Cale. "That's been the more consistently growing area. It started with Thornbrook, and there are nice, high-end areas like Copperstone that are pretty much all custom."

Denise adds that there are new areas, such as The Brooks, Brookside Square, The Vineyards, Old Hawthorne, Copperstone, Steeplechase, and Deerfield Ridge, that are great places for a custom home.

"There are some amazing opportunities in Boone County and surrounding areas with new and established subdivisions," adds Rachael. "Often the best way to find these is to speak with a well-connected agent. Not only do our agents stay in close contact with developers, but we also have access to reports that show new permits and licenses that can affect new home construction in Missouri."

Susan Reeves, of House of Brokers Realty Inc. in association with Hive Real Estate Group, mentions Linkside at Old Hawthorne as a great option for those looking for 55-and-older communities in the Columbia area. Whether buyers are looking for move-in ready models or would like the option to select finishes, Linkside offers a resort-style, gated community within the Old Hawthorne community.

"Columbia is growing by leaps and bounds," says Beth. "In all four corners of Columbia there are developments. When people make decisions on building, there are a lot of factors: schools, areas where their friends and family are. It's matching up what people are looking for in terms of lifestyle. You can find a place in all corners of Columbia."

The Areys are also getting ready to start a new community of homes geared toward first-time homebuyers this fall.

"We found affordable land and identified a need for this niche. It will be affordable new construction in south Columbia with homes well below the $200,000 range, and it has USDA 100% financing," says Tracy. "You just don't see that at all in the south side of Columbia especially. This allows first-time buyers to buy affordable homes that are new and low maintenance. Zero down also makes it simple and not stressful to live in a new home."