Homegrown and Family Owned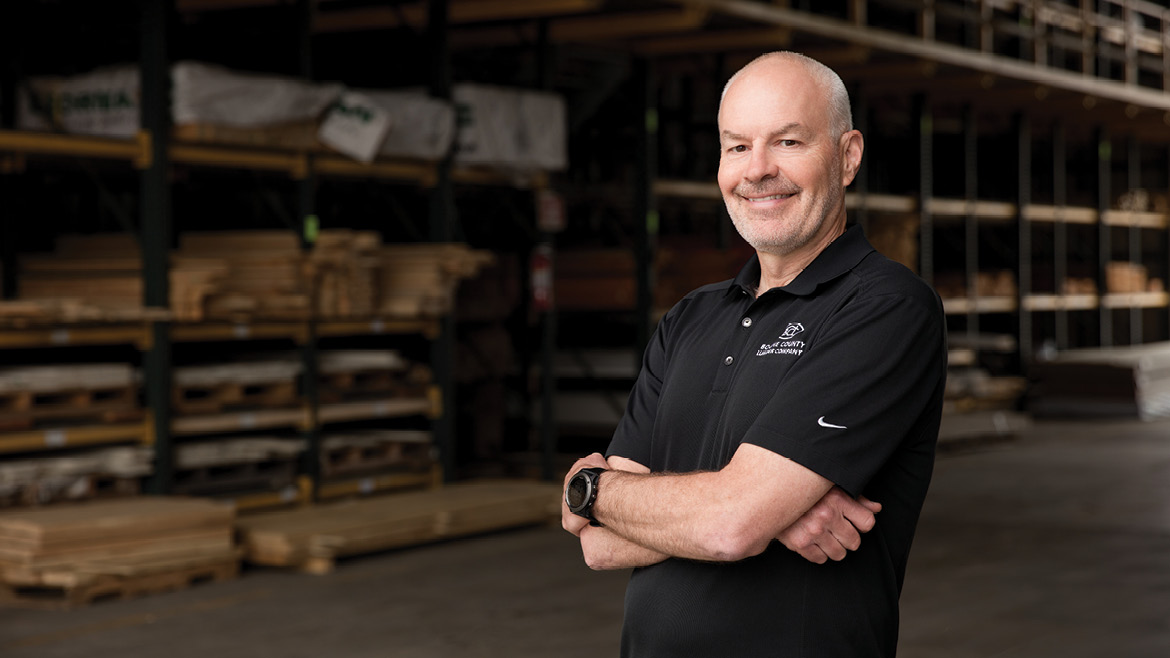 Five small businesses receive chamber honors and Boone County Lumber grabs the top prize.
Boone County Lumber
2019 Small Business of the Year
On any given day at Boone County Lumber, you might find owner Brad Eiffert answering the phone, serving customers in the lumberyard, or driving a forklift — whatever it takes to grow his people and his company.
Brad grew up around the family business and remembers his father, Howard Eiffert, pulling over on the side of Rogers Road saying, "This is where I'm going to build a lumberyard." Boone County Lumber opened shortly thereafter, a week before Brad's sixth birthday.
"I remember cleaning the office, emptying the trash cans, and filling the soda machine before walking to school at Jeff Junior," Brad says with a laugh. Brad continued to be a fixture around the store until moving to Chicago after college.
In 1993, after spending nine years as an active duty pilot in the Air Force, Brad found himself at a crossroads. If he were to commit to another seven years in the Air Force, he'd miss the opportunity to join the family business. So, he decided to move back home.
Brad worked with his dad for four years before Howard retired, and he partnered with his brother, Greg Eiffert, for another 20 years before Greg branched off as sole owner of Boone County Millworks in March 2015.
"It simplified things and gave us more opportunities in planning for the future," Brad says. He has been the sole owner and manager of Boone County Lumber ever since.
The company's primary customers are professional builders, remodelers, and commercial contractors. "But we eagerly serve anyone who walks in the door," Brad says.
Some employees handle materials or make deliveries; others work in the field helping customers manage their jobs. The sales team serves as product and purchasing specialists, and their estimator reviews blueprints and assures that their products can bear the needed load.
But according to Brad, what sets his team apart is not the roles they play, but how they play them. "I see a lot of retail that's transactional," he says. "We're more relational. We're more interested in a good experience and quality long-term outcomes than we are in winning or losing on a certain transaction."
They are also a relationship builder for those in their distribution channels. Brad says: "We strive to forge relationships by being a liaison between customers, manufacturers, and distributors. There's just so much more going on behind the chain-link fence and lumberyard than you see when you drive by."
Founded in 1965
16 full-time employees
Describe your company in one word: Caring

Focus on Health Chiropractic
Whether an athlete or not, every patient at Focus on Health Chiropractic is treated like an athlete.
Curt Kippenberger, DC, played football and baseball and wrestled at the high school level. He currently competes as a road cyclist and mountain bike racer. He channels his experience dealing with injury and recovery, along with his knowledge of the human frame, into helping his patients.
"If you treat people like athletes, they get back to what they're missing out on in life sooner," Curt shares. "It's a mindset. People have to value themselves as an athlete is valued. Otherwise people fall short of their recovery potential."
Curt and his wife, Krista, started Focus on Health in 2010 with the hopes of creating something unique in the health care industry. They wanted to influence the community they love and hire a team of professionals that shared their core values.
"I visualized a clinic that treats people in pain and people who want to prevent pain," Curt says. "As patients would get better, I could clearly see them working out in the clinic. I envisioned working hand in hand with other health care professionals to ensure their recovery."
The result? A clinic that emphasizes an evidence-informed approach to chiropractic health. Taking a joint-by-joint approach, Curt and his team consider what is influencing a joint's motion and what that joint influences. By providing a myriad of services, a skilled staff, and an on-site gym, they help their patients relearn proper movement without pain.
Curt and Krista hope to build on their original vision by expanding their continuum of care moving forward. Over the years, they've stressed the importance of preventative care, or maintenance care. Today, more than half of their clinic visits are comprised of patients who are no longer in pain but want to maintain a healthy lifestyle.
"The next step is to take our maintenance patients and put them into our Movement Rx program, which is a physician-directed functional fitness class aimed at strength and flexibility," Curt says. "Exercise sits second only to diet as the most influential factor over one's health."
Curt and Krista are hoping for 120 memberships in Movement Rx by the end of next year, which would have their gym at full capacity. "Should our clinic numbers follow the same trajectory, we will be seeking a new facility or expanding into other markets," Curt says.
Founded in 2010
7 full-time employees
Describe your company in one word: Awesome

Fortified Roofing and Siding
Larry Herzing may have a need for speed when he exceeds 160 mph in an MTI performance boat, but his business ethics are grounded in providing security and stability for his customers.
As a veteran of the United States Marine Corps with 20 years' experience as a roofing salesman, Larry founded Fortified Roofing and Siding in the hopes of making a difference in the construction industry by being ethical, trustworthy, and protective of his customers.
"I wanted to build a company where the cornerstone is valuing integrity over money," Larry says, "a company where families and customers can feel secure, a company with the driving motivation to take care of customers as though they were family."
These values serve as the inspiration behind the name of Fortified Roofing and Siding, where Larry works with a team of trusted professionals including his wife, Veronica; daughter, Megan; and Murphy, the company's four-legged mascot. Together they help customers navigate the process of insurance claims, product selection, budgeting, and more.
Still a new company, Larry believes they are becoming a go-to solution for roofing, siding, windows, and gutters in the Columbia area. They try to use the strongest products in the industry, offer unparalleled service, guarantee quality workmanship, and provide protection through warranty options.
Their aim to "protect the people beneath the roof" and their daily activities are rooted in their company scripture, Titus 2:7 — "Show yourself in all respects a model of good works, and in your teaching show integrity, gravity, and sound speech that cannot be censured."
One way they live out their values is through their customer-focused sales program, which includes a personal consultation. "Our approach is not a one-size-fits-all," Larry says, "which is why we do not hand an estimate and leave. We sit down and educate every customer. We want to be the homeowner's advisor rather than a salesman."
Plans for the future? "We aren't in business for the short term," Larry says, "We're building a legacy." Larry is already teaching Megan the trade, planning for her to take over the family business when he retires.
"After watching my dad in the business over the past 20-plus years, I am just as passionate and want to continue his legacy into the future," Megan says.
When that time comes, both admit they'll be proud to move from a veteran-owned business to a woman-owned business, a rarity in the construction industry. But for now, they're content being a contractor with the reputation of always giving an honest answer.
Founded in 2016
7 full-time employees
Describe your company in one word: Genuine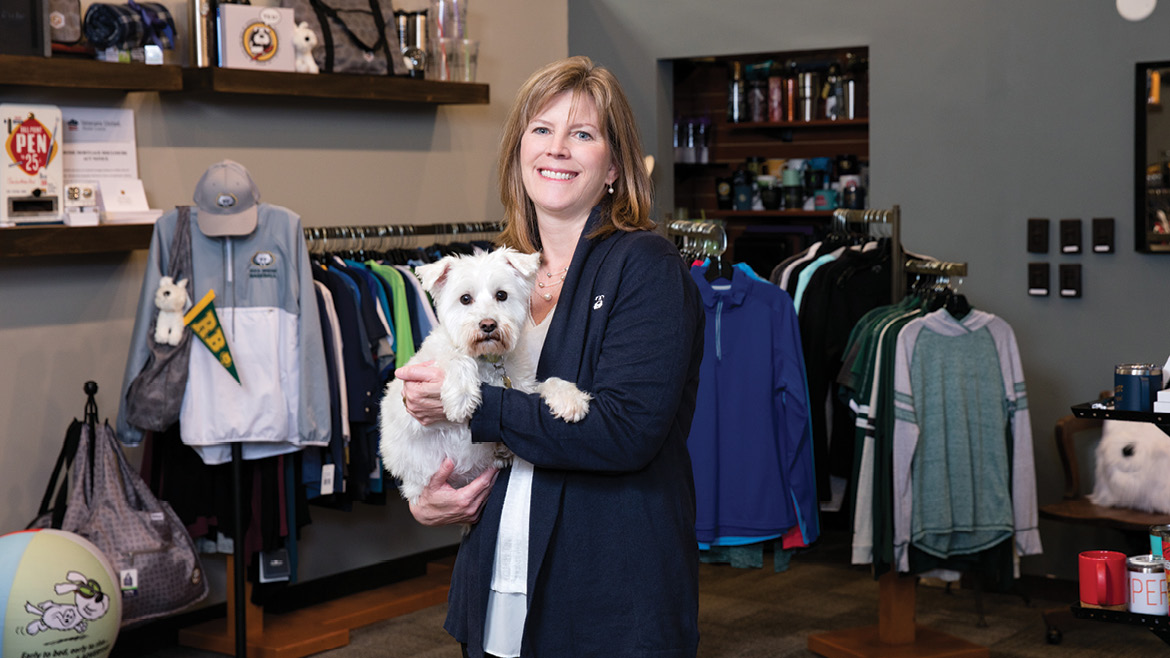 White Dog Promotions
Not every marketing company has a four-legged chief branding officer, but at White Dog Promotions, a little white dog has been an integral part of the team since its inception in 2005.
Owner Kammie Teter chose White Dog because it was memorable and reflected her life. "After working many years with kids in the office," she says, "suddenly it was just the white dog and me."
Kammie grew up on a small family farm, which she credits for her strong work ethic and entrepreneurial spirit. Her first full-time job was as a graphic designer at Hallmark, in Kansas City. After her first son was born, she left Hallmark to work from home.
She moved to Columbia in 1998, added printing to her list of skills, and, in 2005, White Dog Promotions was born. Their first retail office opened in 2009.
White Dog Promotions is a printing company that offers more than 500,000 items that can be custom printed with a company or organization logo. Familiar promotional items include golf balls, power banks, USB memory sticks, pens, mugs, notepads, embroidered polos, etc.
Their mission is to make clients happy by providing exceptional service, strong product selection, and competitive pricing for custom-printed advertising products. Their values stem from Colossians 3:17, a Bible verse that reads "And whatever you do or say, do it as a representative of the Lord Jesus, giving thanks to God the Father through Him."
Kammie admits that the first five years with a retail space were challenging. She was fortunate to continue freelancing until White Dog's sales increased enough to survive on its own merit. In contrast to those early days, the past five years have included double- and triple-digit growth.
"Since we've never employed a sales staff or made a single sales call," Kammie says, "White Dog's growth is a testimony that promotional products work, quality produces quantity, and happy customers will return and refer others."
Kammie's favorite part of the job is working with her staff to create positive customer experiences for their clients. "Customers are happy when we immediately answer the phone — they expect a phone tree — and happy when they receive their orders, and they're happy to receive giveaways from us," she says.
What about the future? "We're currently developing two exclusive product lines that will be produced internally on-demand from start-to-finish," Kammie says. "Online orders will soon outpace traditional orders, so it's exciting to watch that area of the business develop and flourish."
Founded in 2005
1 full-time + 4 part-time employees
Describe your company in one word: Fun + Rewarding

Kliethermes Homes & Remodeling
For Cale Kliethermes, construction runs deep in his blood.
Cale fondly recalls working for his dad, Dan Kliethermes, from the time he was old enough to pick up trash. Following in his father's footsteps, Cale purchased Kliethermes Homes and Remodeling in early 2016. The decision followed Cale's graduation from Regis University and three tours in Iraq with the United States Marine Corps, where he specialized in building and explosives.
Since the purchase, Cale has learned that his biggest passion is not just building homes, but building people.
"As an industry nationwide, we are more hard-pressed than most to find qualified people," Cale says. "So finding people who have the abilities and the desire is a great way to overcome this challenge."
Cale works hard to grow his people and loves doing it. He admits that many of his team members were new to the industry initially, giving him the opportunity to teach them a lot. He recalls one lead carpenter who knew little about building but was open to learning. "He became a truly gifted craftsman," Cale says.
The result? "We have an amazing team and it is such a blessing to be able to work with them every day to create amazing projects that transform peoples' lives," Cale shares.
Kliethermes is a process-driven design–build firm specializing in custom homes and remodeling. They work best when solving problems and providing innovative solutions to their clients, and they strive to be on time and on budget. "Ultimately, we want happy clients and happy employees," Cale says.
The best part about a custom home? "Every project is completely unique," Cale says. For those thinking about a custom home, Cale and his team of architects and designers can put the vision to paper and create a space that meets the family's needs.
As for remodeling, they love the chance to make home improvement dreams a reality. "Remodeling is a tricky business," Cale says. "Working with clients in their home while they're living there can be compared to tailoring a suit while it's on someone and they're walking!"
Cale is excited to have opened their second location, in the Kansas City area, and is looking forward to expanding services in both locations. But he also doesn't want to lose sight of the most exciting and important thing — the next project. "Each and every client is a real blessing," Cale shares. "I love to create a space that makes sense to their life and helps them transform their space and their life."
Founded in 1976
13 full-time employees
Describe your company in one word: Caring