Giving Back: A Sweet Partnership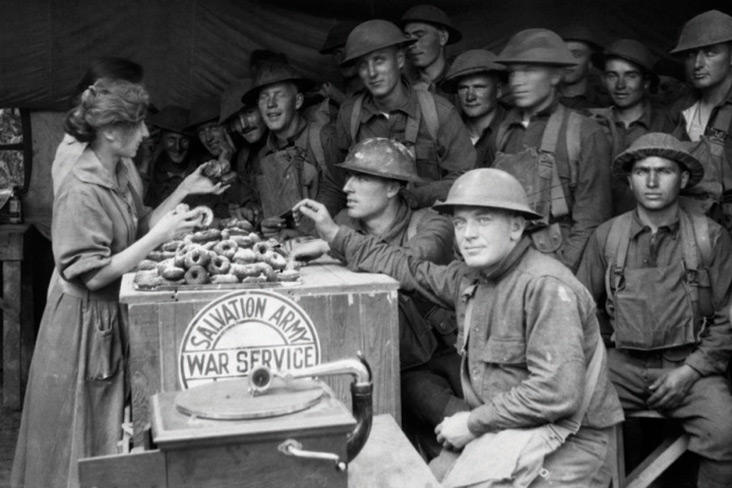 The Salvation Army honors veterans with dough-nated doughnuts.
Almost nothing is sweeter than getting to thank those who serve our country.
Our local officers at The Salvation Army get to do just this. June 7 is National Doughnut Day, and to celebrate, The Salvation Army will deliver hot, fresh doughnuts to the veterans at the Harry S. Truman Memorial Veterans' Hospital.
Columbia's Salvation Army staff, along with veterans at the hospital, will get to taste a delicious piece of history with each doughnut served. The Salvation Army worldwide has celebrated Doughnut Day since 1938, when it began as a Depression-era fundraiser to support soup kitchens.
Doughnut Day honors The Salvation Army Lassies, or Doughnut Girls, who were stationed with troops during World War I. Besides mending torn uniforms and serving cups of coffee, the Lassies prepared doughnuts in helmets and delivered them to soldiers in the battlefield trenches.
The Lassies' and their doughnuts "actually gave the gentlemen at that time a sense of home and comfort," says Major Nancy Holloway. "It gave them a sense of hope."
This Doughnut Day, paying homage to the Lassies, the organization's staff will greet everyone who comes through the veteran's hospital doors with a fresh-glazed doughnut donated by the Rock Bridge Hy-Vee.
While the doughnuts are no longer cooked in trenches, they are baked at Hy-Vee with the same intention: To say "thank you" and foster hope and appreciation for those who've served.
"We just so happen to have a local [doughnut] donor who loves us," Nancy says.
At 8 a.m. on Doughnut Day, Salvation Army of Columbia officers, including Nancy and Lieutenant Carmon Camb, along with their staff and volunteers, will distribute the glazed treats and happy smiles room to room until the 80 dozen or so doughnuts run out.
Carmon believes the doughnuts are more than just a gracious snack for the veterans. Stopping to enjoy the doughnuts can give them a therapeutic sense of relief by telling their stories to Salvation Army volunteers.
"They love to tell the stories of their experience in wartime with The Salvation Army," she says. "I doubt they knew a Doughnut Girl, but that just sparks the excitement of being able to share how they were treated by a Salvation Army officer."
Nancy agrees that the best part of Doughnut Day is experiencing the veterans' stories with them. "Sometimes when individuals have the opportunity for someone to focus on them, to listen to them, people are truly able to release some of the emotions they are cycling in their minds," Nancy says. "No one thinks of war as being a glorious, exciting thing, but to remember those happy moments makes a difference."
Doughnut Day is a symbol of The Salvation Army. "It's a reminder to people of the service that The Salvation Army has provided to them in the past," Nancy says.
The doughnuts also allow those who will enjoy them to stop and take a much-needed moment for themselves.
"And we promise there are no calories in the center of the doughnut," Nancy adds.