Meet Me by the Riverfront
photos by Tiffany Schmidt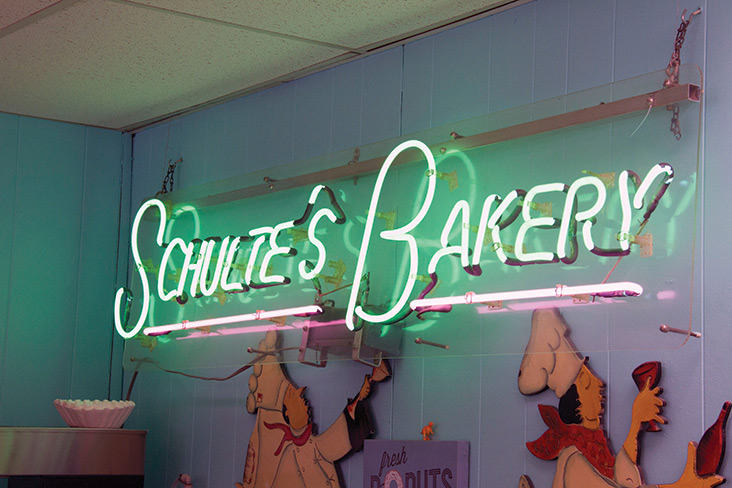 Washington surprises and delights with true Missouri flair.
When I was young, my brother and I would complain to our parents that we were bored. (As if it was their problem, right?) My father would look down to his sandy blonde-haired children and say, "Only boring people get bored."
As a 5-year-old, I had never heard anything more rude, insulting, or annoying. Where was my constant entertainment?! I thought Mickey and Minnie should be my forever companions. But today, I see it as some of the best unintended advice, something I even repeat to my peers today, much to the same reaction as my 5-year-old self. Excitement is everywhere, even in the seemingly least exciting places, such as our destination, Washington, Missouri.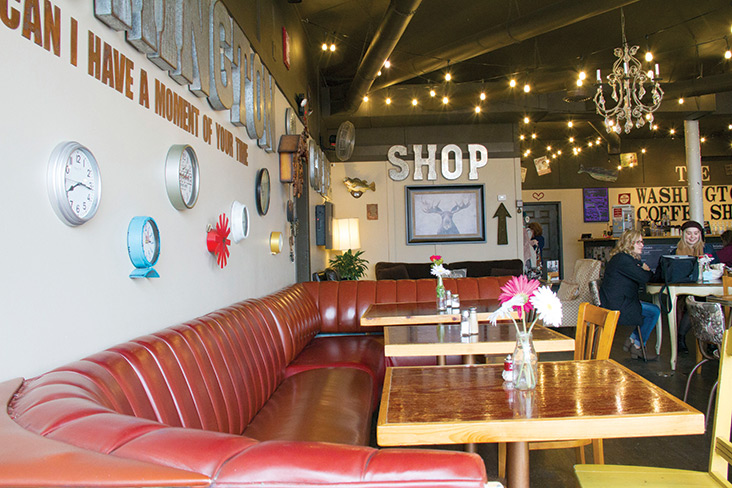 Journey Down the River
If you're being generous with your geography, you could say Washington is located in the southern metro area of St. Louis. For a truly cinematic experience, I suggest taking the scenic route through Hermann on Highway 47, especially during the warmer months. If possible, take a convertible car and wear a headscarf.
Since nothing can happen before espresso, our team's first stop was the Washington Coffee Shop. As I took in the charmingly eclectic collection of mid-century kitchen tables paired with office chairs, cushioned leather loveseats, and stereos used as end tables, a woman in a knit teal smurf hat greeted us. Her name was Gia.
I was as excited by her friendliness as I was by the café's selection of alternative milks. After explaining who we were and our mission to explore everything Washington, she quickly jotted down all her favorites and handed them over from behind the coffee bar. The list started inside of the café.
Passing under the café's lone disco ball, we moved into a pop-up shop for Fairytale Cookie Co., a small gourmet sweets business. Cookie artist SaraKay's creations were so meticulous that we seriously debated framing them. Luckily, gluttony took over, and we indulged in confectionery goodness. You may want to remember Fairytale Cookie Co. — SaraKay might soon appear on a baking competition show near you.
Good Eats and Vintage Shops
Our minds wired with caffeine and craving more delicacies, we headed to a Washington mainstay, Schulte's Bakery. The bakery's blue cement walls displayed news clippings memorializing the family-owned establishment's 60-year history.
A business doesn't stay around for decades without a stellar product. Schulte's Bakery was no exception. Their doughnuts were perfectly frosted, with a refreshing balance of sweetness. The doughnut bread pulled apart to reveal light, consistent layers. We made the rookie mistake of arriving past 11:00, drastically limiting our doughnut haul.
Ready to throw our taste buds for a radical 360-degree turn, we headed to Olivino, an olive oil tasting bar.
The idea of taking shots of olive oil brought uncomfortable flashes of wine connoisseurs spitting into silver buckets. However, Olivino couldn't be further from the pretentious.
Cheerful staff members, including owner Debbie Baker-Oliver, walked us through more than 36 flavors of balsamic vinegars and extra virgin olive oils. They explained the origin of their olives from around the world and the dutiful steps they take for a superior product. My favorite balsamic vinegars were Sicilian lemon and pomegranate quince. I have to say, my office salads have never been happier.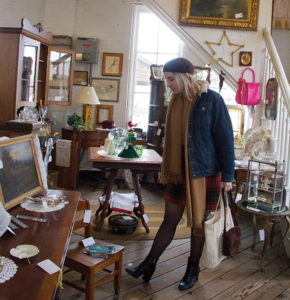 Olivino's best surprise were their balsamic cocktails. Concoctions like the "Olivino Skinny Mule" combining vodka, honey ginger balsamic, club soda, and lime, made my mouth water. I could live in their bar space, which must have been ripped out of a Magnolia magazine page and pasted into their cozy shop.
Our bags full of miniature bottles of vinegars and oils, we strolled across the street to our first shopping destination, Tanglewood Cottage. The boutique offers vintage finds, antiques, painted furniture, linens, and handmade soaps. In the back, there was a collection from a local designer of ethereal, bohemian garments.
We had some proper obsessing over our joint weakness, stationery products. I had to be dragged away from the expansive collection of vintage tea towels, aprons, and table clothes. The vibrant color and patterns had me daydreaming of baking pies and attending sock hops.
We said goodbye to a large yet careful dog eager for pets and coos of affection. As American sweetheart Kristen Bell is with sloths, I am with dogs. My dog basis made Tanglewood Cottage my favorite stop of the day. It was a divine experience I look forward to repeating.
Exhausted by puppy pets and dressing room mirrors, we decided it was time for lunch. Upon Gia's recommendation, we headed to Driftwood, a large restaurant sandwiched between newly developed townhomes facing the riverfront.
Appropriately decorated with river driftwood, the restaurant offered fried and cheesy favorites. We ordered the blue crab dip and the pub pretzels with beer cheese. (We were already two doughnuts in at that point, so there was no turning back.) There was jerk chicken salad on the table that we savored as a spicy retreat.
One Last Stop
While my age may suggest otherwise, I harbor many "old" hobbies, one of which is antiquing.
A converted home quite frankly on top of the river, Waterwork Antiques, offers three floors of adrenaline-spiking antique hunting delight. The floors creaked as we explored the antique house. I picked up everything. Lace curtains and glass sculptures made me wonder at these items' rich history and the future memories they're waiting to make.
One of the best parts of antiquing in towns like Washington is the prices. Twenty dollars for an authentic printed, silk kimono in prime condition? Yes, please! Believe me, Waterwork Antiques is another on my "must repeat" list. Every item sparked joy.
As we drove through the winding roads of rural Missouri, I reflected upon our day, which mixed old and new experiences that perfectly reflected the alluring versatility one can find in Missouri.
Washington can entertain even the most boring of people.