photos by Keith Borgmeyer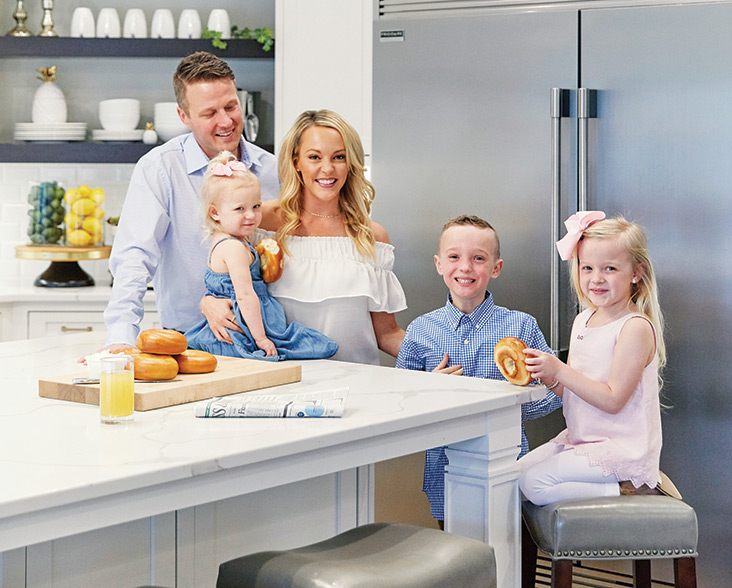 Take a peek at Jacob and Lindsey Black's open-concept kitchen.
When Jacob and Lindsey Black were in the process of building their new home, they knew they needed a kitchen that could maintain a classically beautiful vibe while feeding multiple mouths.
"In our home, the gathering place is our kitchen, no matter the crowd," says Jacob. "We were set on mixing a commercial grade look into a clean, crisp design while maintaining a very classy space. While the look was key, we also have three kids that eat more food than we ever imagined."
Lindsey emphasizes that the couple also needed to create a space that felt comfortable for the children.
"While I'm cooking, you can always count on finding a Lego project, art work, or reading being done at the island," says Lindsey. "I love that our kitchen island can host all of these things while I cook for our family. It is my hope that as they grow older, our home will be the hangout for them and their friends."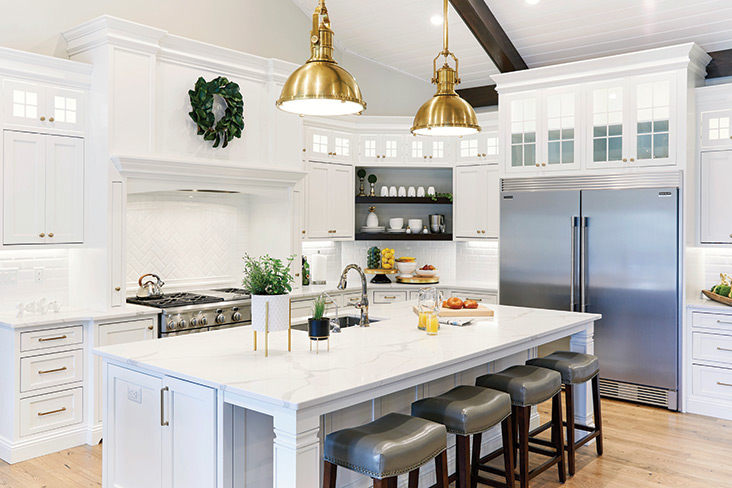 Go with the Flow
Lindsey admits that closed-in dining rooms have "always felt a bit stuffy" to her. The solution in their new home was an open floor plan where the kitchen, great room, and covered patio all come into view as soon as someone walks through the front door.
"We opted to create a space within the kitchen for a large dining room table close to our island, which also has plenty of seating (see cover photo)," says Lindsey. "We didn't want to feel closed-in from the party as we prepared food and drinks for our guests, and the large island gives us a great space to line the kids up for a meal."
In addition to accommodating their children (Grant, 7; Lily, 5; and June, 2) on a daily basis, the Blacks love to entertain and enjoy a good party. One of Lindsey's goals was to eliminate what she calls the "great Thanksgiving divide" — when the adults sit at the dining room table and kids are banished to the card table in the living room.
"I feel our open-concept kitchen and living room is truly a gathering place," says Lindsey. "As weather allows, the double doors to the outdoor patio will provide that much more living and entertaining space."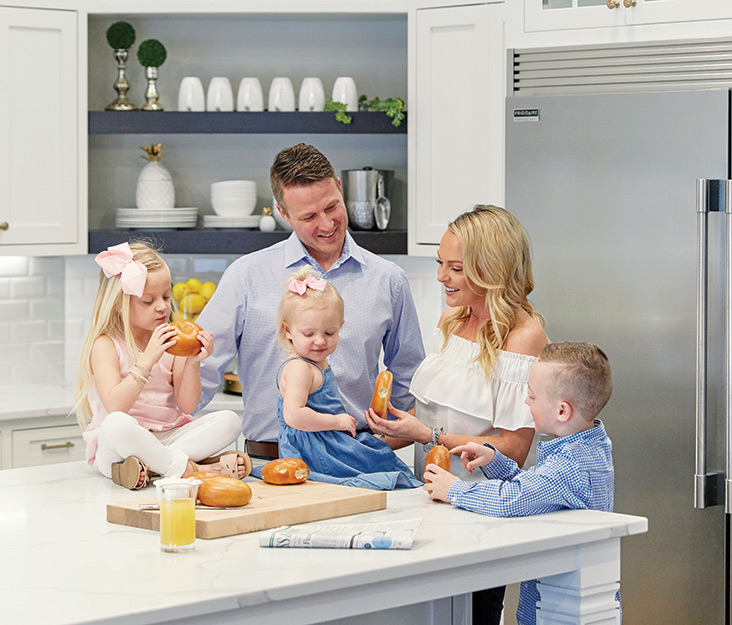 It Takes a Village
The Blacks' homebuilding team broke ground in October of 2017, and finishing touches were added up to December of 2018. Weldon Builders was their general contracting firm, led by Eran Eaton, a Columbia contractor who Jacob claims was the "superintendent" that "made the magic happen day to day."
"We made an effort at every turn to purchase as much product as possible from local stores and sources while using skilled contractors close to home here in Columbia," says Jacob. "We enjoyed design consultation from Studio Home and Paige Davis as we went through the life of the building process. John Roche at Artisans of Wood worked ferociously to bring our idea of a clean, white kitchen with plenty of durable cabinet space to light. Brad Perry Electric ran electricity throughout the home and installed all fixtures and cabinet lighting."
The Blacks also worked closely with Downtown Appliance as they started the design of their home. Lindsey emphasizes that "the appliances give an industrial flare and tie in nicely with the rest of the kitchen."
"The entire team at Downtown Appliance helped us not only with the design and selection, but also with the delivery and installation," says Lindsey. "We were fortunate to work closest with the late Andrew Helmreich. He took time to call in advance before delivery, stayed during the installation process to customize fitting for the range hood, and came back after all appliances had been installed to ensure our satisfaction. I absolutely feel that he went the extra mile."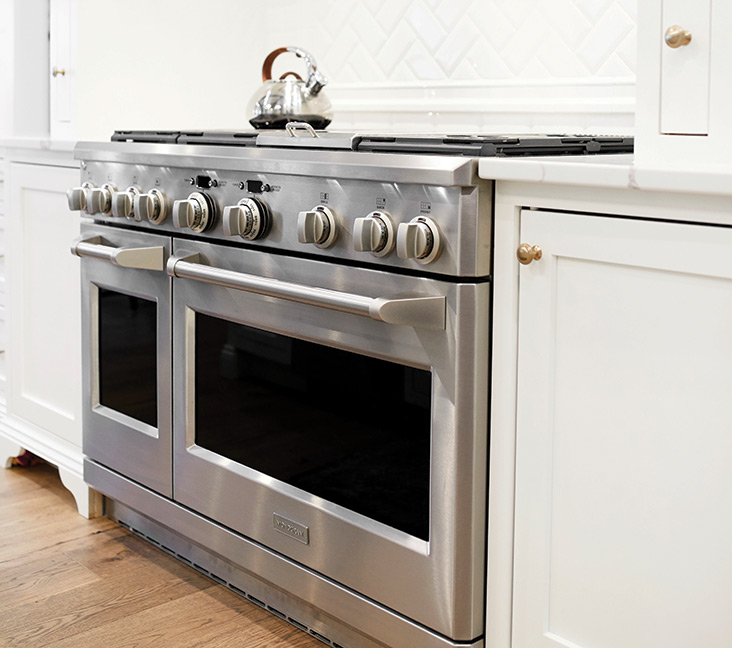 Appliance Alliance
"We knew we wanted well-respected options for low maintenance and life expectancy while still maintaining the style and look of the concept we envisioned for our kitchen," says Jacob.
The end results? Lindsey says that each appliance in the kitchen has something she "absolutely loves about it."
"The gas range speaks for itself," says Lindsey. "The efficiency of the stovetop burners and spaciousness of the double oven is ideal for a busy family of five. And I chose to place the built-in microwave under the countertop in the island so it could be within reach of my three sous chefs, A.K.A Grant, Lily, and June."
Lauren Helmreich, sales manager at Downtown Appliance, says the range that the Blacks chose is the GE Monogram 48-inch dual fuel professional range with six burners, a grill, and a monogrammed 48-inch custom hood insert.
"The range features true European convection, ensuring evenly-cooked food every time you bake," says Lauren. "The top has six sealed, dual-flame stacked burners, offering a full range of heat settings from an ultra-low 140-degree simmer to an intense 18,000 BTU hot flame. The grill is a ceramic infrared grill with 14,000 BTUs of adjustable heat, allowing you to grill a variety of foods right in the comfort of your own kitchen."
To thoroughly clean all the pots and pans that withstand all that heat, the Blacks chose a GE Monogram ZDT dishwasher.
"It's extremely quiet and has 140 cleaning jets that deliver coverage to every corner," says Lauren. "This dishwasher also has dedicated silverware jets and bottle jets for those extra tall glasses or sports bottles. And it has an LED light inside the dishwasher, leaving no questions whether or not the dishes are clean."
Lindsey described the lighting in the dishwasher as a "total game changer." She loves that the multiple bottle sprayers on the top rack are great for sippy cups, water bottles, and flower vases, and says that it even plays "an inviting tune" at the end of each cycle.
However, Lindsey's favorite appliance of all is the Frigidaire All Refrigerator and All Freezer with trim kit, which she notes ticked all of their desired boxes — price point, functionality, and appearance.
"It's extremely important to me to feed my family fresh produce on a daily basis," says Lindsey, a self-proclaimed "grocery shop-a-holic." "I also prep a lot of our meals ahead of time. Having the space to organize all of that is very gratifying."
According to Lauren, each of these units is 32 inches wide and has 19 cubic feet of space, allowing the Blacks plenty of room to store everything they need.
"The finish on the refrigerator and dishwasher is in a smudge-proof stainless steel," Lauren notes. "So they never have to worry about cleaning off fingerprints!"
Speaking of fingerprints, Lindsey believes that her "littles" would all agree that the ice maker, which is built into the island, is their favorite appliance.
"Just as we go through a lot of food, we also go through a lot of ice," says Lindsey. "It is so convenient to scoop out ice into water bottles as we're walking out the door to an activity, and it's a time saver when it comes to entertaining — no more bagged ice on the grocery list!"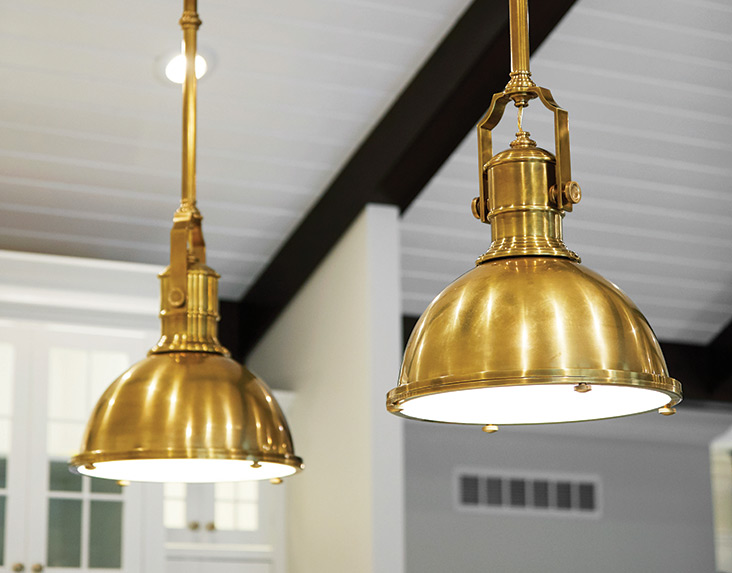 Favorite Features & Finishes
When it comes to the aesthetics, both Lindsey and Jacob agree that the oversized bell-shaped, brass light fixtures that Studio Home helped them find are one of their favorite features and the first focal point of the room.
"No matter where you are in the open plan, they command your attention," says Jacob. "They stand out from yet complement the stainless-steel appliances and give off a classy and fun look."
Lindsey loves how the lights go with the dark ceiling beams and "sit neatly above the island."
"It was most important to me to implement a timeless elegance with crisp, clean lines," says Lindsey. "The combination of the black windows, which frame our wooded view, and bold, brass light fixtures meet that description. Waking up to our bright white cabinetry (and dark black coffee, of course) is invigorating."
The brass cabinet hardware was a trend that Lindsey "couldn't resist."
"At the suggestion of Studio Home, we went with a muted brass pull and knob and couldn't be happier with the selection," says Lindsey. "The dark, knotted ceiling beams are an additional trend we went with that provides a nice contrast against the white cabinetry and tongue-and-groove ceiling."
Additionally, highlighting the kitchen's contrast is the light from the large windows and the glass double doors, which gaze upon their wooded view.
"I love the many windows that bring the outside into our home," says Jacob. "We built the house close to a small creek that leads into our timber. The windows allow us to enjoy nature while being in the comfort of our home."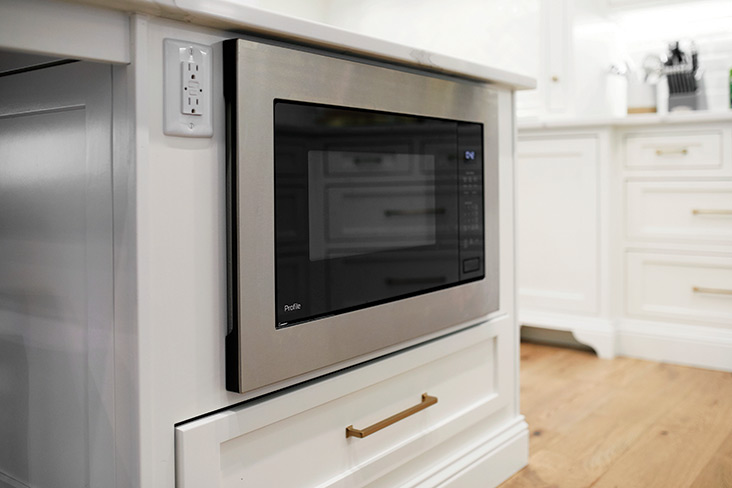 Technical Trends & Touches
Beyond explaining the bells and whistles (or inviting tunes) that make the Blacks' kitchen superior, Lauren is a whiz when it comes to noting what's new in all things appliance. One major factor that customers at Downtown Appliance take into consideration is the color and finish of their appliances.
"GE is the one company that offers a variety of different finishes," says Lauren. "They currently offer the traditional white, black, and stainless-steel appliances; but they also offer slate, black slate, and black stainless. These color options give our customers the options to find an appliance that perfectly matches their taste."
According to Lauren, both slate and black slate are matte finishes that provide a smudge-proof, durable finish. Black stainless is a higher gloss finish, but it is also fingerprint-resistant and very easy to clean.
If you're happy with the finish of your fridge but prefer to manage your kitchen appliances from afar, GE also has a full line of Wi-Fi enabled appliances.
"Another new and trendy feature with appliances is that many of them are now Wi-Fi enabled and will pair with your Amazon Echo, Google Home, or even your Nest," says Lauren. "While this may sound unnecessary, it can give the customer peace of mind and offer convenience when it comes to home appliances. It can also keep your appliances protected and running at their very best."
Lauren explains that with Wi-Fi connect, customers can get maintenance alerts and automatic software updates on their appliances.
"The customer can be alerted if they accidentally leave their refrigerator door open or their oven on," says Lauren. "Or if their dishwasher has sprung a leak, a notice will quickly be sent to the customer's phone, allowing them to get to the unit and take action before any damage is caused."
Lauren adds that for convenience on those busy nights, you could even preheat your oven on your way home so that as soon as you get there, you can quickly put dinner in the oven. Or you could ask your dryer to go for 10 minutes to do a quick wrinkle release.
"GE appliances understand our customers," say Lauren, "and the company has continuously done what they can to make sure the customer's appliance is there to meet all of their needs."