Women of Excellence Finalists – Retail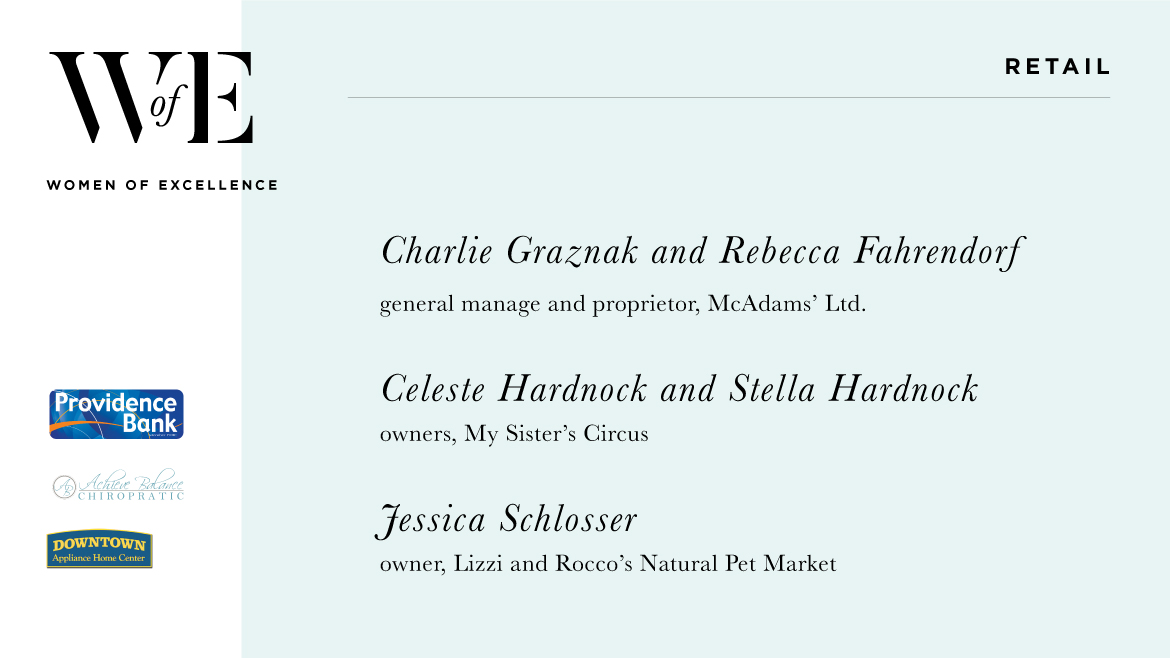 The Women of Excellence awards celebrate exceptional Columbia businesswomen in eight categories — education, finance, health care, hospitality real estate, retail, public service, and professional excellence — who strive to grow in their field, mentor other women, and serve in the community.
Finalists in each category will be honored at an awards ceremony and cocktail reception from 5:30-7:00 p.m. on Tuesday, February 26, at the Champagne Ballroom.
The finalists for excellence in retail are:
Rebecca Fahrendorf and Charlie Graznak
Owners, McAdams' Ltd.
McAdams' Ltd. is an upscale antique and fine jewelry store offering home decor, gifts, accessories, bridal registration, Waterford crystal, and more. They have been locally owned by Rebecca Fahrendorf and Charlie Graznak for more than 40 years, and are located on Old Highway 63 South.
Celeste and Stella Hardnock
Owners, My Sister's Circus
My Sister's Circus has been in business for more than 40 years and the mother-daughter duo of Celeste and Stella Hardnock still enjoy walking through the door each day. Celeste, who started the downtown boutique in 1977 after graduating from Stephens College, focuses on the displays and tries to keep current with everything in the store. Stella concentrates on selling and ordering.
Jessica Schlosser
Owner, Lizzi & Rocco's
Jessica Schlosser and her husband, Kyle, opened the doors of the Lizzi & Rocco's flagship store on the south side of Columbia in 2009 and haven't looked back. With a focus on the nutritional needs of dogs and cats, they have become a popular stop for local pet owners. Lizzi & Rocco's is an independent, family-owned and operated shop with three locations.
Click here to see the finalists in other categories.