Women of Excellence Finalists – Professional Excellence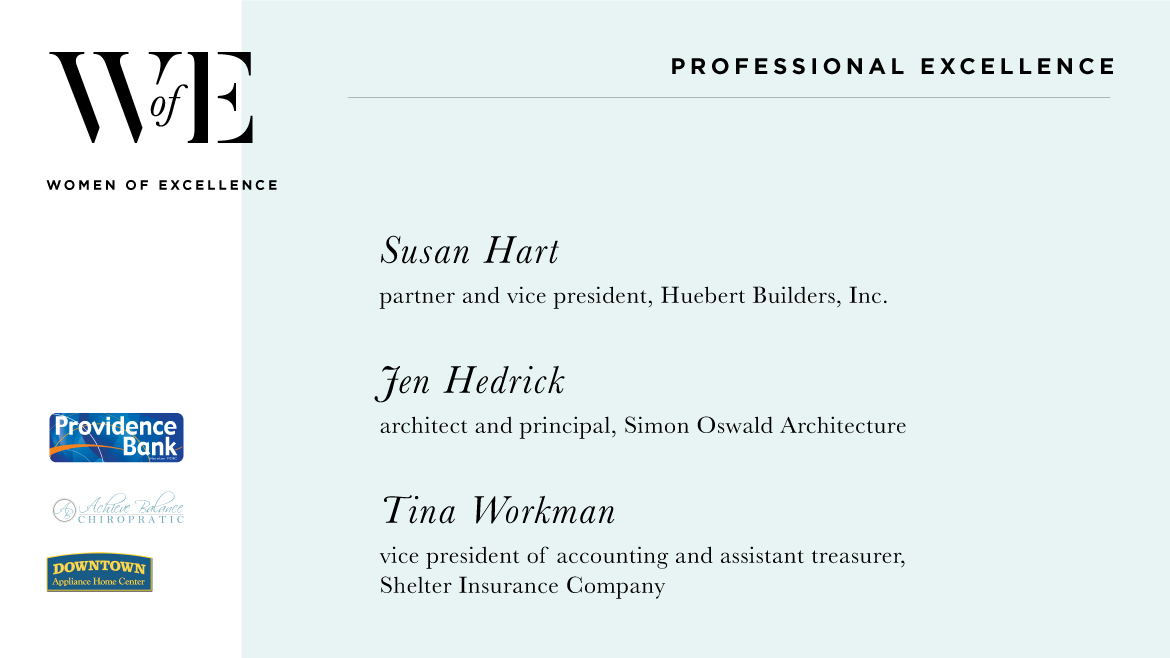 The Women of Excellence awards celebrate exceptional Columbia businesswomen in eight categories — education, finance, health care, hospitality real estate, retail, public service, and professional excellence — who strive to grow in their field, mentor other women, and serve in the community.
The finalists for professional excellence are:
Susan Hart
Partner and Vice President, Huebert Builders, Inc.
As a vice president at Huebert Builders, Susan Hart is responsible for sales and working with her business partner to oversee operations. The company, which was founded in 1986 and has completed more than $60 million worth of projects, is a full-service commercial contractor and tackles new construction as well as remodels for all size companies.
Jen Hedrick
President and Managing Principal, Simon Oswald Architecture
As managing principal of an architecture firm, Jen Hedrick leads the team in enhancing how communities live, learn, work, heal, and play through the design of building projects. Many of her daily responsibilities are much more mundane and tedious than that, but she stays focused on building long-standing community relations and participating in projects that are meaningful to Columbia.
Tina Workman
Vice President of Accounting and Assistant Treasurer, Shelter Mutual Insurance Company
Tina Workman, vice president of accounting at Shelter Insurance, describes her job as a fun mixture of financial reporting, budgets, business plans, taxes, forecasting, benchmarking, information services, banking, fixed assets, and expense reports. Her favorite part of the role is the people she works with in the accounting department.
Click here to see the finalists in other categories.