Unleashed: The Language of Friendship
photos courtesy of Anastasia Pottinger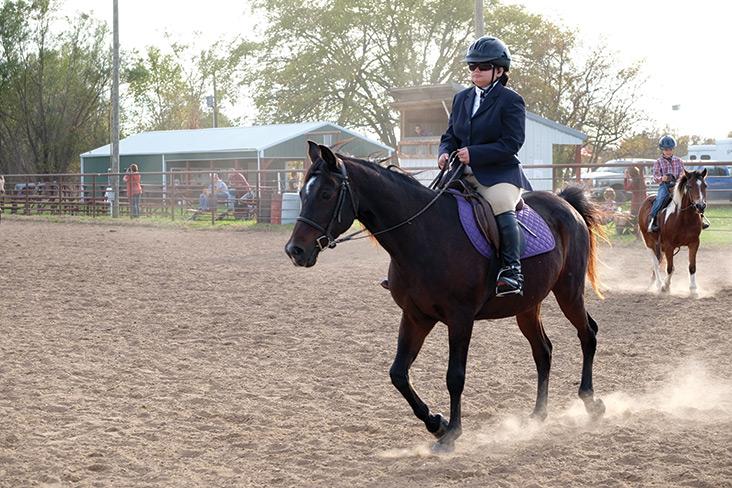 Lydia Olmsted and her horse, Ghazi, share an energetic connection.
When Lydia Olmsted talks about her horse, Ghazi, she's talking about a close friend with whom she shares an energetic connection. "It's a feeling — it's hard to put into words," Lydia says. "[Through] his breath and how he nuzzles me, I can usually tell how he feels."
Lydia was born blind, and at 3 years old, she was enrolled at Cedar Creek Therapeutic Riding Center to strengthen her posture and muscle tone. Before that, her blindness inhibited her physical development.
The repetitive motion of a horse's walk helps improve balance, coordination, strength, and muscle tone as it gently mobilizes the joints. Additionally, the bond formed between rider and horse can foster social skills. Lydia quickly made muscular improvements and honed her mental concentration.
Now 17, Lydia has bonded with a 25-year-old Arabian horse named Darghazi, or Ghazi for short. Like many of the horses at Cedar Creek, Ghazi was a competitive horse before being donated to the center. Older, trained horses tend to perform better for therapeutic practices since they are often calmer and more patient towards their riders.
"When I first met him, he was really slow. I think he was unsure about me and wanted to see how I would react and see my riding skills," says Lydia. However, after about seven years of riding, the two are inseparable.
"He gives me really good hugs after a tough day at school. It's something I really love. He can read my energy, and I can usually tell how he's doing, too. We're that close," says Lydia. "When one of us is having an off day, we can tell and sort of cover for each other."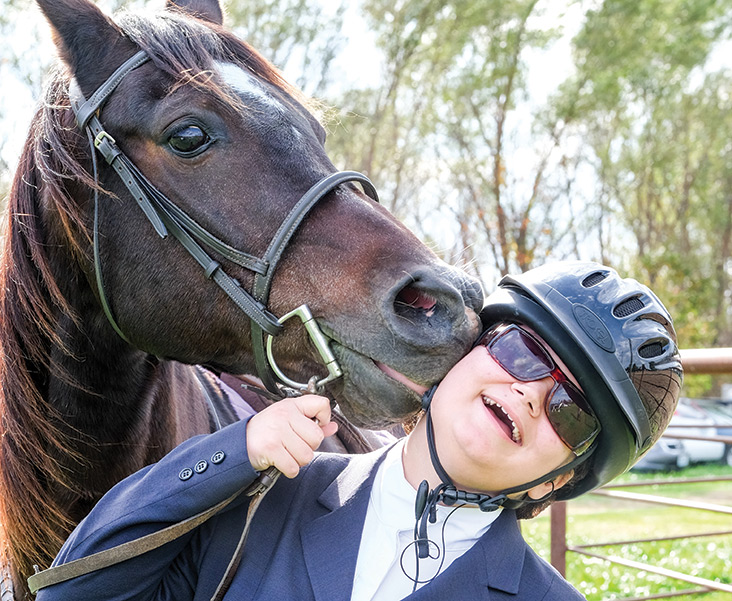 Lydia is now used to answering questions about her riding skills. "It's so funny telling people how I ride," says Lydia, "They'll ask 'How do you do that? How do you ride all on your own? How do you know where you are?'"
Lydia is able to ride her horse solo through a method she calls, "Operation: Silent Speak." While riding, Lydia is communicated to via earpiece by a volunteer in the middle of the arena or pasture. The volunteer will give directions to turn left or right, but a lot of trust is given to the horse.
"[Ghazi] understands I can't see. There's been times he will lend me his shoulder, to guide me around the arena," says Lydia. "Riding gives me a sense of freedom because it's something I can do independently."
Ghazi has pushed Lydia to improve her riding and compete herself. In 2017, Lydia participated in the American Royal, a national horse show in Kansas City. At the show, Lydia amazed audiences by landing in the final round.
Outside of her regular sessions, Lydia visits to indulge Ghazi in one of her other hobbies: baking. She brings him horse-friendly treats, making Ghazi the most spoiled horse at Cedar Creek. In return, Ghazi messages Lydia's back with his nose or nuzzles into her ear. "I think a lot of people would be surprised how good a horse could be for you," says Lydia.
Since working with Ghazi, Lydia's confidence has grown, helping her daily communication at school and with other people. Her confidence has propelled her into other sports, such as baseball and swimming.
"School is kind of tough because sometimes equipment doesn't work, and teachers aren't sure the best way to work with me. But thinking about Ghazi gives me a positive outlook on life and a positive attitude in that situation," says Lydia. "We could use more Ghazis in the world."