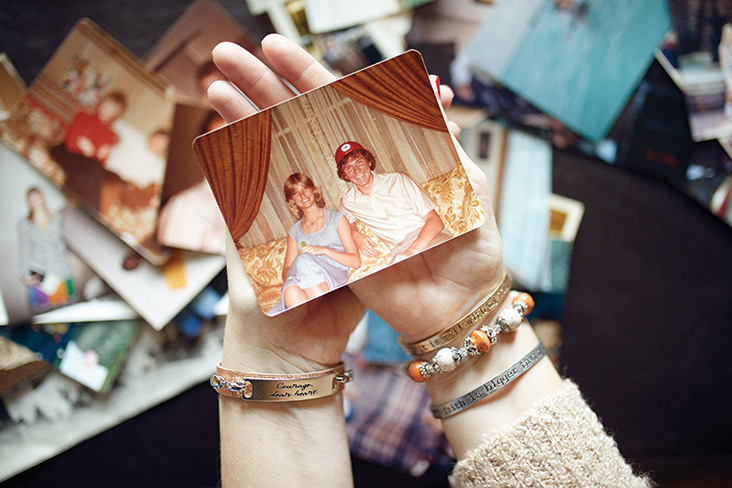 Keith and Polly Reynolds share an everlasting bond.
photos by Keith Borgmeyer
Polly Reynolds met Keith when she was 14 years old. He was a friend of her brother Mike's and a freshman in college. Polly remembers having a big crush on Keith, and with her parents' permission, he agreed to take her on a date as a favor to Mike. Despite the age difference, the attraction between the two was immediate; they continued to date, though Keith jokingly kept asking Mike if the favor was over yet.
"Keith was seriously my life," Polly says. "Anyone who knew us knew how special our relationship was."
The Illinois natives married in 1983, when Polly was 19 and Keith was 23. They moved to Evansville, Indiana, where they lived for 24 years before moving to Columbia in 2007. While in Indiana, they raised their children, Jacey, now 34, and Kyle, now 31.
A job opportunity for Keith as a senior systems programmer with Shelter Insurance brought them to Columbia. Polly became a vice president and trust officer for Landmark Bank before joining The Trust Company in 2012, where she works in wealth management, trust, estate and financial planning.
"Now that I've lost him, I'm glad I was able to start dating him so soon," Polly says.
Now 55, Polly looks back at her nearly 35 years of marriage to Keith with both love and sorrow. She remembers his sense of humor, his love of chocolate and ice cream, his loving devotion as both a father and husband. He was also the ultimate romantic.
"He would hide Hershey's Kisses in my underwear drawer and jewelry box. He knew I loved Cadbury eggs and hid them all around the house for me at Easter," Polly remembers. "Once he hid 48 Post-It notes all over the house for me to find. It took me a year and a half to find them all. Each was numbered with a reason why he loved me."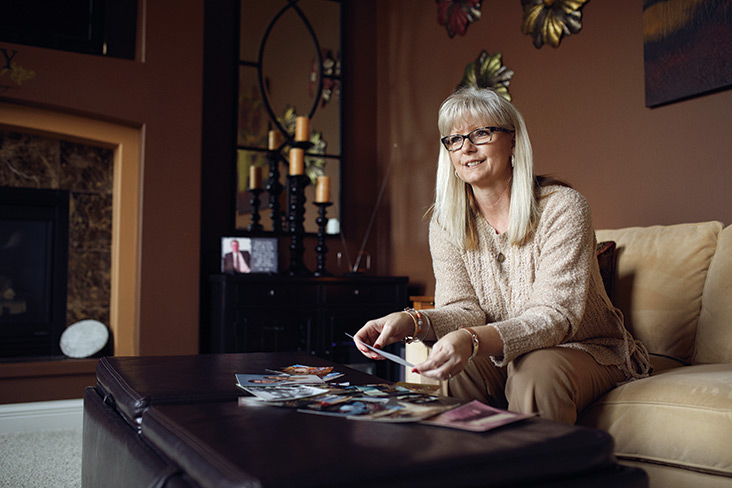 in sickness and health
Polly will never forget the Saturday in January 2018 when she and Keith were running their usual errands, which were made special by shopping for a bicycle for their grandson, who was turning 4 in February. When Keith loaded the bike into the car, however, he found himself winded. He thought he had been battling a chest cold and had been prescribed a 10-day course of antibiotics, but he wasn't improving. Thinking it might be pneumonia, Polly urged Keith to return to the doctor Monday morning, which led to X-rays and scans and, finally, a trip to the hospital.
The doctors at the hospital found a large mass in Keith's lung that was pressing against his heart. He wasn't getting enough oxygen into his bloodstream, and suddenly, one of his lungs collapsed. The doctors were able to intubate him and rush him to the intensive care unit, where he was given sedatives and paralytics to keep his body from convulsing against the tube in his lung that was helping him to breathe. Before Keith lost consciousness, Polly remembers telling him they would get through this and that she loved him. It would be the last time she would ever speak to her husband.
Never a smoker and committed to a healthy lifestyle, Keith was diagnosed with a non-small squamous cell carcinoma in his lung. While radiation might have helped to shrink the tumor, he could not undergo the treatment while on the ventilator that was keeping him alive. Nothing could be done. The doctors asked if Polly wanted them to revive him so she could say goodbye, but she thought it cruel to put him through the physical and emotional pain. Polly made the decision to remove Keith's life support on the evening of January 31. She, Jacey, Kyle, and Kyle's wife, Amanda, held vigil next to Keith's bed all night.
"I just held his hand and told him what the doctor had said and what we should do," Polly says. "I told him that I wanted to see his eyes, to see him smile again, but I couldn't do that to him. His dad died 22 years ago, and I told him he needed to go see his dad."
The morning of February 1, just two days after being admitted to the hospital, Keith died at the age of 58. The family was devastated. The husband and father had seemed fine just days before, and now he was gone. He left behind a family whose lives and hopes for the future had been shattered forever.
til death do us part
Faith has been a driving force in Polly's life since she was 12, and Keith's faith was equally strong. Polly's relationship with God is helping her to overcome her grief in the year since Keith died. But Polly admits that her commitment to God is like any other long-term relationship: It has its ups and downs.
"I was never angrier [with God] than the week of Keith's birthday in July," Polly says. "But I can't be mad at God, because without Jesus dying on the cross, I wouldn't be able to spend eternity with Keith. And I can't be mad at Keith, because he would have never chosen to leave me."
A year after his death, life without Keith is still incomprehensible to Polly, who thought the two had many years of health and happiness ahead of them, including big plans for retirement.
"Keith wanted to retire in 2021," she says. "We already had purchased land in Indiana for our dream retirement home. I just feel lost. This wasn't supposed to be my life right now."
Polly says her loneliness without Keith is crushing, and that she can't imagine life with anyone else but him. She still feels married to Keith, and worries about keeping his memory alive in the years to come. She has made aprons and pillows out of his shirts, and all of his belongings are precisely where he left them, right down to his bar of soap in the shower.
Polly's sorrow six months after Keith's death seemed as fresh and as devastating as the day he died. Now that it's been a year since losing him, Polly is finding a purpose for her grief.
from this day forward
"I've learned a lot about how to help people who are going through this," Polly says. "I know what not to say. When you tell somebody about your loss, the first thing they do is tell you about someone they lost as a way to relate. And then you end up saying things to make them feel better."
Though she's read many books about grief and attended a support group for a while, Polly has struggled to find an approach to grief that resonates with her. She suspects other widows are experiencing the same trouble. Shortly after Keith's death, Polly felt that God was preparing her for something, but she wasn't sure what it was at the time. Now she believes it was to help others heal from the loss of a loved one. In 2019, she hopes to start her own support group for clients who are widows.
"I want it to be something they can come to and feel comfortable to cry, to feel encouraged, and to be prayed for," Polly says. "I think God will use my pain to heal others."
Polly wants the support group to provide a relaxed environment in which women can just hang out and mourn their losses together or dive into constructive conversation — whatever feels most helpful at the time.
"I want people to know that it's OK to not be OK for a while," she says. "If you don't grieve now, you're going to feel it eventually."
Despite her grief, Polly's strength, resilience, and faith in God shine through her tears. No one can ever replace Keith, but Polly is comforted by knowing she will see him again someday.
"Keith always told me I was the strongest woman he knew. And I always told him that was because of him," she says. "He seriously was my best friend, and I don't want people to pity me, because I lived the greatest love story for nearly 40 years," Polly says. "I know I'm going to be OK. I just keep telling myself that.