Shelf Life: A Mother's Heart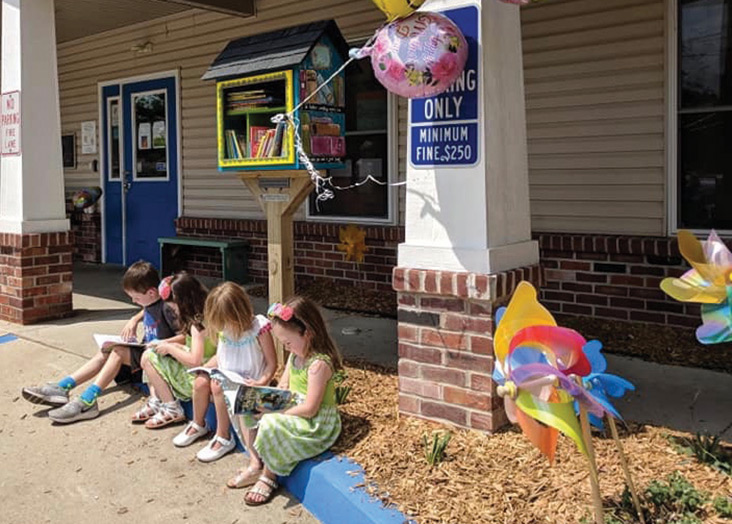 Kate Bartel Kromann's legacy lives on through Little Free Libraries.
When Kate Bartel Kromann became a mother, her whole world changed, like it does for any mother. As a journalist, Kate had a dedicated, inquisitive spirit. Upon the birth of her children, she embraced this spirit and threw herself wholeheartedly into her new assignment as a parent. She quit her job and became a stay-at-home mom, volunteering at her church to fill any down time that she had.
Her journalistic background had given Kate a love for research, and she was purposeful in seeking out knowledge that would benefit her as a mother. As a result, the importance of literacy and active, experiential play became a major part of her parenting philosophy.
One afternoon while Kate was walking with her children and her mother, Susan Bartel, the family came across what appeared to be a large birdhouse filled with books — a little lending library. Kate recognized the importance of access to reading materials, and she and Susan remarked on how fun it would be to start a little library of their own.
In September 2015, Kate died unexpectedly at the age of 31. Throughout her life, Kate had been filled with a determination and passion to help others. Her family and friends created a memorial fund, Kate's Heart, as they felt that it was important that this spirit live on in the community she loved to serve.
In college, Kate had started a student organization, Mizzou Center Stage Dance, where students volunteered their time teaching dance to children in the community who couldn't afford to take lessons. In 2016, Center Stage held their annual recital in her honor. When another Center Stage mother heard the story of Kate's passion, she was so touched that she reached out to Susan with books to donate in Kate's honor.
Susan was then reminded of her afternoon walk with Kate and the little library that she had loved. Adding to these libraries seemed like the perfect way to continue to develop Kate's Heart. "It's something she would have loved to have been involved with," says Susan.
Last Mother's Day, Kate's Heart dedicated its first library to the Little Free Library Project at the Mary Lee Johnston Center off Hinkson Road. About a month later, Kate's Heart was able to add another library in the St. Louis area, near a mobile home park in Chesterfield.
Kate's Heart currently has three more libraries ready to place in the spring of 2019. Each of the libraries are built, painted, and donated locally. A volunteer steward keeps the libraries stocked with an assortment of books. To best serve the community, the libraries are placed in underserved areas.
In addition to the libraries, Kate's Heart has created "Kate Packs" or "Kids' Activities to Empower." The packs include similarly themed books paired with a reader's guide designed to assist parents in reading alongside their children. The packs also include additional materials such as puppets or toys that can enhance the child's reading experience.
Kate's Heart will begin distributing packs through preschools and local organizations on Kate's birthday, February 14. Celebrating the packs on Kate's birthday is bittersweet for Susan, as it encapsulates Kate's humble nature. "Kate wouldn't have wanted to draw attention to herself," Susan adds. "Her enthusiasm was about getting materials and books into the hands of kids who otherwise wouldn't have access."