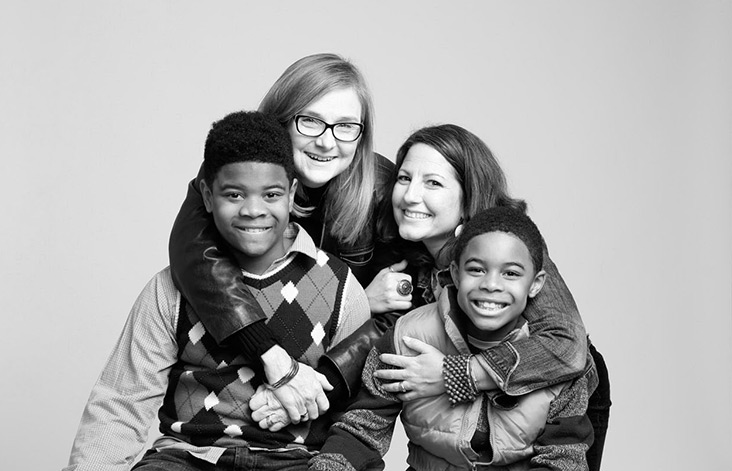 Three Columbia families defined by love.
photos by Keith Borgmeyer
The first same-sex couple in their county to adopt two young boys. A single dad balancing work with raising two young daughters. Three generations under one roof sharing stories of their heritage. Meet three families who call Columbia home and prove that, however you define it, family means unconditional love and support.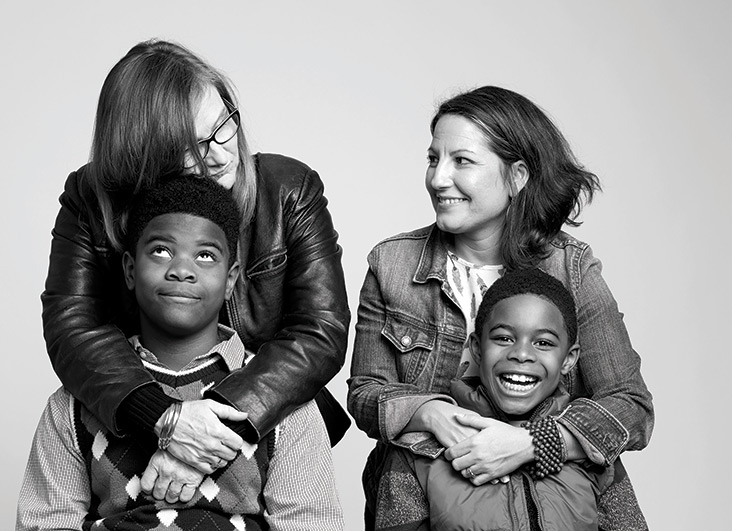 Every Child Deserves Two Parents
Rebecca McCorkle and Ashley Byrd met in their native South Carolina through the music scene in 2001. "We stayed up late one night talking about politics, religion, and babies," Rebecca says, "and we've been together ever since."
The couple knew they wanted to become parents. Growing their family through adoption came naturally, as both had prior experiences with adoption — Rebecca's sister and Ashley's mother were both adopted.
Rebecca was working as a medical social worker when a friend who worked for the South Carolina Department of Social Services contacted her. "I can help your family be the perfect family," Rebecca remembers her saying. It was Ashley who first got the call that they had two brothers, 2 and 3 years old, available for adoption.
"Once we saw their pictures, there was no question whatsoever," Ashley recalls. "You could tell they had personality — big time." Trey came to them first from foster care, and then his older brother, Marion, arrived a few weeks later. "It's the best thing we've done," says Ashley.
Rebecca and Ashley raised the boys for about a year before the adoption was finalized in 2011; because of the law at the time, only Ashley applied as the adoptive parent. Friends and family members overflowed into the jury box the day the adoption was to be finalized in court.
As they tell the story, it's impossible not to get teary-eyed over a scene that sounds straight from a movie: after asking Rebecca if she also intended to raise the children as her own, the judge talked about handling hard things all day long, and that this was the only good thing she'd do that day. "Every child deserves two parents, and if there are two parents that want to love two children, then they should be given the opportunity," the judge declared. "Somebody get me the paperwork and let's make this happen."
Cue the cinematic scene: The bailiff was crying, and Rebecca's father slapped him on the shoulders in pure joy. It was a quite a celebration, complete with photos of the boys sitting on the judge's lap.
"We were the first gay couple to jointly adopt in our county in South Carolina," says Ashley. "We did it quietly so things could keep moving. It set a precedent that you can't return from."
The family moved to Columbia in 2014, when Ashley accepted a new role with Learfield Communications. They were deciding between living in Jefferson City or Columbia and were told that "Columbia will welcome you with open arms. You can't go wrong anywhere you live or with any school you attend," says Rebecca.
Today, Rebecca works as a parent educator with Parents as Teachers. The boys attend the Waldorf City Garden School, where they enjoy the school's integration into downtown Columbia and into nature. Marion, 11, swims with the Columbia Swim Club and plays the bass guitar. Trey, 10, keeps busy with basketball and tennis and takes drum lessons.
"We're just a regular family," says Marion. "We're wacky, loving, really caring — and pretty awesome."
"We worry like every parent worries," Ashley adds. Parental worries aside, "we feel like we're exactly in the place where we're supposed to be — with a wonderful church family, school family, and neighborhood family."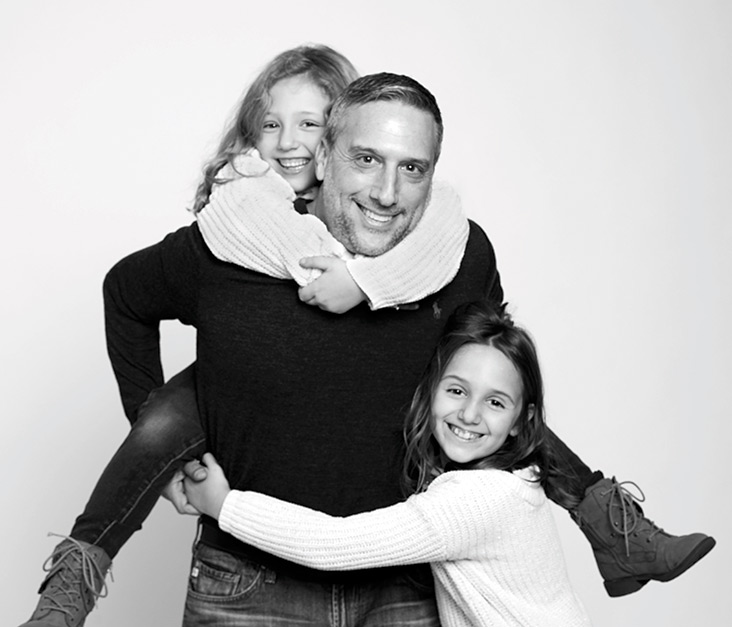 Unicorns, Mermaids, and Sushi with Dad
Josh Reichlin spends a lot of time surrounded by unicorns and mermaids, and he wouldn't have it any other way. Josh, a client advisor at BMW of Columbia, is a single dad to Ava, 6, and Sophia, 8. The girls are in first and third grade in Columbia.
"I've taught the girls to love sushi," he says proudly, but later jokingly admits he may regret this after a large sushi bill at a local restaurant celebrating his daughter's birthday.
The family enjoys Friday night pizza and movie nights. Sophia takes piano lessons and is a budding artist, and both girls will soon start horseback riding lessons. They also like to travel together, particularly to warmer climates, and recently enjoyed a trip to San Diego over Thanksgiving.
As a single dad who works more than 50 hours a week, Josh sometimes has to be three different places at once while trying to continue to be successful in the workplace. A Columbia native, Josh gets help from family in town. The girls' grandmother provides after-school care while Josh works.
He also realizes, of course, that he's not a mom. "I think the girls know that I don't have the motherly instinct, but they've got three grandmas that are all local and four aunts," he says, "so they get a lot of positive female influences from extended family."
Josh hopes the girls grow up learning about all different types of families. He tells them that "nowadays there are so many different families, and you have a lot of people around who love you. Some have mom only, some have dad only, some have mom and dad, some have mom and mom, and I hope that the diverse associations they have with people they know and interact with will teach them to be open-minded and respectful."
The challenge is more in the day-to-day routine — and the technology woes that all parents deal with. "If only I could keep them off their iPads as much as possible," Josh says.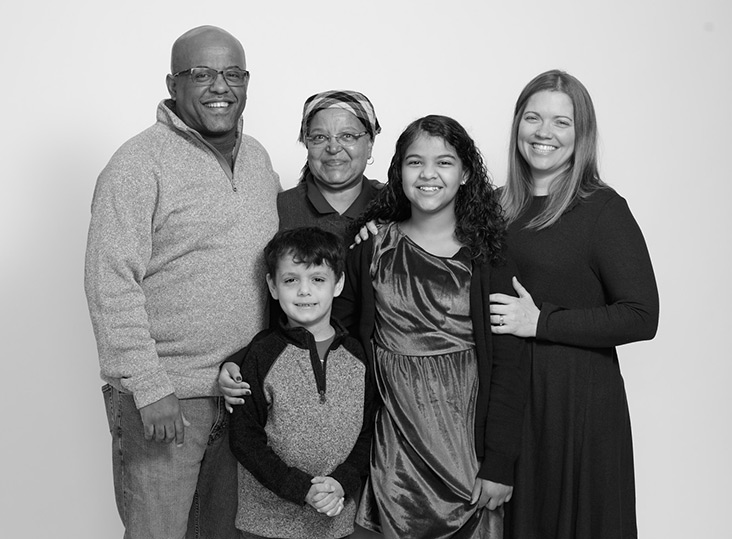 Three Generations of Faith and Love
"For two years of our lives, we intersected but we never met," says Sarah Galatta of her husband, Aboma. They attended the same church for years, but didn't meet until 2007, when both began volunteering for a children's tutoring program. "He was really good with the kids, and that drew my eye a lot," says Sarah.
Sarah grew up in Harrisonville, Missouri, and came to Columbia to study child life development at MU. Aboma's family came to the U.S. from Ethiopia in 1979 seeking political asylum, and he grew up in Columbia, graduating from Hickman High School and MU with a degree in religious studies. Married since 2008, with children Mayah, 9, and Corban, 8, the family recently welcomed Aboma's parents to live with them here in Columbia.
"I wholeheartedly believe my parents wanted to go back to Ethiopia, but our country is not stable enough for them to return permanently," Aboma says. "Living with us opens up opportunities for them to travel and go back as much as they can before they can't travel anymore." In fact, his parents are planning a trip to Ethiopia for several months next year.
Sarah's two sets of grandparents lived a mile away from her childhood home. Having her in-laws move in also meant that her own children would experience knowing their roots and history. With three generations now under one roof, the children learn new things from their grandparents every day, and the whole family reconnects over shared stories and memories.
"I didn't grow up knowing my grandparents," Aboma says. "Our kids get to know their grandparents and their quirks and know that out of that comes love. That's the greatest part of all this."
Mayah and Corban love Ethiopian food — something Aboma admits he pushed away as a kid before returning to as an adult — and love hearing the family histories their dad has never heard himself. "They really get to know their roots and openly say 'I want to visit Ethiopia and see what it's like there,'" he says. The family is making plans to travel there someday.
Sarah home schools Mayah and Corban and enjoys seeing the new things they're excited to learn. "One cool thing that's come out of this," Sarah says, "is that [Aboma's] parents are teaching the kids the native Oromo language. They've learned, through his parents being here, simple things like 'I love you' or 'thank you' in the language."
Teaching their children their family histories and roots is clearly important to the Galatta family, as is their faith. "God and faith are big to us," Aboma says. "We know it's our mandate to take care of our parents, and we try to serve that mandate the best way possible and adapt it to this generation of how we could do it."
As they look forward, the Galatta family would like to someday remodel their home to give the grandparents more of their own space. "We want them to be comfortable where they are and be happy," Aboma says. "The picture we paint is that family is important to us. It's one big relationship."