story and photo courtesy of the Columbia Art League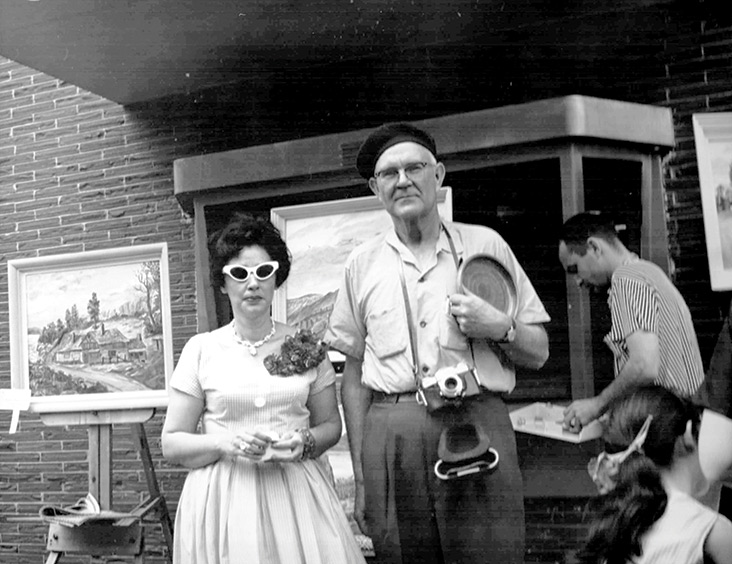 The Columbia Art League celebrates 60 years.
In 1983, the Columbia Art League building on Tenth Street was gutted by a devastating fire. The banner headline on Thursday, October 13, expressed the dismal truth: "Columbia Art League Needs Your Assistance."
But this plucky arts organization — thriving on volunteers through thick and thin — survived and grew stronger in the following decades after that fire. And the resilience of this strong community-oriented gallery is often credited for laying important groundwork for the vibrancy of Columbia's booming art scene today.
A strength of the Columbia Art League is that it has perennially recreated itself while also staying committed to its goals of fostering artists, art lovers, and art students. "Create, appreciate, and learn" has now become the alternate meaning of CAL.
CAL's ever-evolving vision makes for some of the most fascinating stories as relayed by Executive Director Holly Stitt and CAL Historian Kathy Walther. In the early years, CAL supported all the arts, including dance, theater, mime, visual arts, and yoga. Legend has it that CAL hosted the first yoga class taught by Mary Lou Bussabarger in Columbia in 1967. The Maplewood Barn Theater and KOPN boards were originally projects that spun off from the same volunteers who incorporated CAL as a nonprofit.
Bob Bussabarger, the well-known head of the MU Art Department in the 1960s and 1970s and longtime CAL member, organized a group of women art teachers to help him teach art to the incarcerated and those with mental illness. While art therapy is now a recognized treatment, "you can't imagine how controversial this program was in the 1970s" says Kathy.
Holly and Kathy are also quick to point out that membership dues provide CAL's core funding and that the energy of the volunteers carries the organization through all of its exhibition, education, and outreach programs. Current volunteer staffing for their signature event, Art in the Park, takes countless hours from over 200 volunteers. Volunteers Andy Smith and Ellen Dominique vie for longest standing participation as gallery volunteers. Joanne Berneche, a former board president, may be the most senior artist and member who is still active in exhibitions.
CAL's corporate support has history as well. Central Bank of Boone County is their oldest corporate sponsor and has continually hosted the Boone County Art Show on Eighth Street in October since 1959.
Since February of 1959, the Columbia Art League has anticipated and met the evolving needs of Columbia's art scene. Not a highbrow gallery and not a museum, CAL represents a heartening vision of what active citizens can do for their community.
At the time of the 1983 fire, Vicki Wilson was quoted as saying "the Art League is not a building or a group of paintings — it is a community group with enthusiasm and dedication to the arts."