photos by Sadie Thibodeaux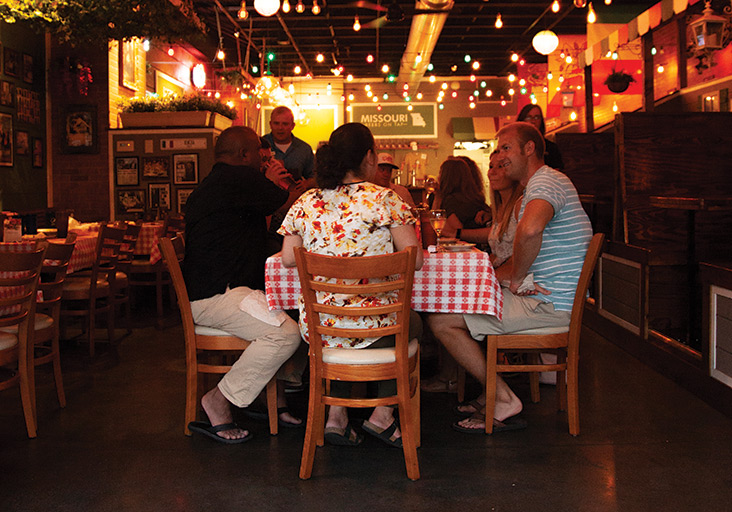 Columbia Culinary Tours offer a taste of the best downtown has to offer.
Columbia is filled with so many culinary gems that it may feel overwhelming trying to decide which ones to visit first. Columbia Culinary Tours allowed me to get a glimpse of some of the best locally-owned restaurants that downtown has to offer. Our tour guide for the night, owner Jim McNeil, provided insight into the love he has for his hometown and why he was inspired to showcase Columbia's finest eating establishments.
Room 38 Restaurant & Lounge
The first stop on our tour was Room 38. Our group was guided to the outdoor patio lined with white couches and decorated with ivy and wall art that read, "Cheers." We gazed upon active downtown Columbia while soothing music added to the sophisticated and fun vibe of the restaurant. Each person was treated to a pear and prosciutto flatbread and rhubarb mojito. The flatbread was unique and excellent!
While we savored each morsel, a staff member provided us with the restaurant's history. She noted that the building's corner space that now houses the restaurant used to hold many different businesses, most notably a corner café and pharmacy. Our culinary group was never quiet, whether discussing golf or our predictions for what restaurant we were visiting next; we made an instant connection.
While walking to our next location, Jim spouted facts about the history of Columbia. He told us the name of the first settlement, the origin of Columbia's name, and the history of Broadway Street. After a five-minute walk, we landed at our second restaurant, Coley's.
Coley's American Bistro
We sat inside one of their two cozy dining areas with classic music and mood lighting creating a warm ambiance. Our waitress served Coley's signature nachos, sautéed shrimp in a garlic and white wine sauce, and mini brie burgers. The group debated on which of the three was best, but we could not reach a consensus, as each dish was quite savory and delicious.
To pair with our tasty bites, we drank a red wine sangria that our waitress humorously described as "jungle juice." We learned that Coley's started 10 years ago as a result of an MU senior's capstone project. The food had a deliciously modern flair and, once again, everyone cleared their plates and their cup.
After leaving Coley's and making our short journey to the next location, Jim asked us what we all thought was the first speed limit in Columbia. After the group had fun guessing incorrectly, he informed us that it was eight miles per hour, the average speed of a horse's trot.
Boone Olive Oil
Our third location was the rustic Boone Olive Oil. Not technically a restaurant, but still a hidden Columbia gem. The store had closed for the evening, so a staff member took time to educate us on the uniqueness of Boone Olive Oil. We were surprised to learn that most olive oil sold in grocery stores is only required to have 10 percent olive oil in it. She assured us that is not the case at Boone Olive Oil, and that they sell the freshest olive oil and vinaigrettes. They even sell a rare $100 vinaigrette that is used more as a status symbol than anything else.
We then sampled two of their olive oils — a lighter option and a darker option — and one vinaigrette for a proper taste test. We held it between our hands to "warm it up." After it was warm, we were instructed to slurp the oil to access all the flavor undertones. All three were surprisingly great, but the vinaigrette was especially memorable. After the taste test was complete, we got the chance to wander around the store and taste test their extensive collection of fresh oils.
Günter Hans
Our fourth stop lead us to Günter Hans, a European bar and café. The interior was a pleasing combination of European rustic architecture and trendy pub. We were given three different wine testers: a rosé, a pinot noir, and a Velten. A staff member gave us an extensive history on the three wines and the pub itself. While backpacking through Germany, owner Lydia Melton met a lot of people named Hans Günter. Inspired to open a European pub, she decided that it would be a sentimental nod to her journey to flip the common name.
Before it was Günter Hans, the 46-person space and outdoor patio housed a newspaper company and a pasta factory. After our history lesson, we were given hearty waffles on a toothpick with four sweet sauces for dipping, Nutella being the most memorable of the three. After we left Günter Hans, Jim took us by the oldest building in Columbia, the Niedermeyer House on Tenth and Cherry.
Bambino's Italian Cafe
Last, but certainly not least, the group was led to Bambino's. I knew I was going to get some Italian food before I even sat down. Italian-inspired art covered the wall and the colors of the Italian flag lined an awning that hung over a row of lengthy booths.
First, we were served mouth-watering cheesy artichoke dip along with toasted ravioli. We were than given a choice of their house wines: chardonnay, cabernet, or Moscato. For dessert we got to sample their tiramisu, which made everyone in the group sing praise. The manager noted that Bambino's signature items are their toasted ravioli, Italian margaritas, and tiramisu.
As the night came to a bittersweet end, everyone in the group was full of the finest food that Columbia has to offer, some of Columbia's best-kept historical secrets, and new friendships.