photos by Sadie Thibodeaux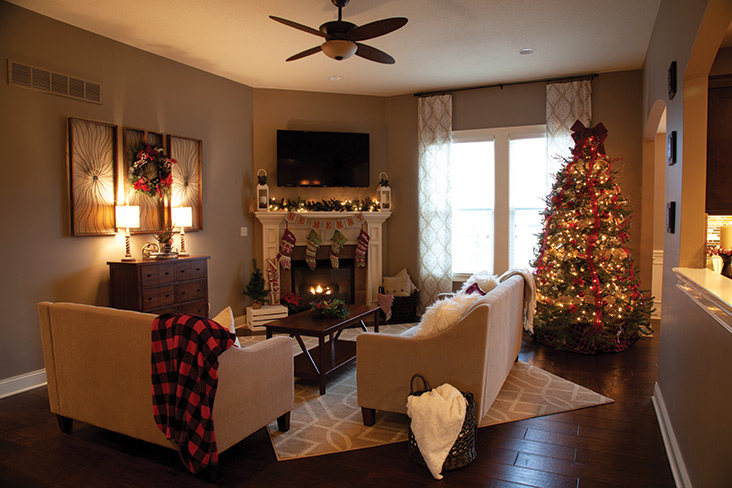 Natalie Wier warms up her holiday decor with buffalo check.
Home décor trends may come and go, but after 168 years, buffalo check is still more popular than ever, especially this time of year.
From the throw pillows on her couch to the bow atop her tree and the napkins accenting the place settings on her dining room table, the bold red and black pattern is what inspired Natalie Wier's holiday decorations this year.
"I chose to decorate the house in neutrals like ivory, tan, and gray, with accents of espresso in our floors and furniture," says Natalie, a sonographer for Advanced Radiology. "Then I wanted to add pops of red for the holidays." She decided to start with buffalo check.
Natalie's love for the season can be seen and smelled from the moment you walk through the front door. A welcome wreath greets guests, followed by the warmth of a crackling fire, the smell of pine, and stockings hung on the mantel with care.
Even the kids have gotten in the spirit. "The living room is so cozy that my daughter has asked to sleep on the couch," says Natalie. "And now she wants to purchase a tree for her room."
The Wier family includes Natalie's husband, Aaron, their 5-year-old daughter, Addison, and 2-year-old son, Luke. They moved into their home on Shackelford Court in Steeplechase Estates in 2014.
What's the hardest aspect of decorating for the holidays? "Keeping the kids from pulling the bows off the dining room chairs," Natalie answers quickly. The ornaments have also been a struggle. "I've learned that when the box says its shatterproof, it doesn't mean it's really shatterproof," Natalie admits.
But even the frustrations don't deter Natalie. "It's a lot of work, but rewarding when you get to enjoy it," she says.
Natalie loves to decorate and always has a list of upcoming projects. "I'm a Pinterest junkie," she says. "That's where I get all of my ideas." Once inspired, her theme came together with help from Hobby Lobby, Target, Big Lots, and Jo-Ann Fabric and Crafts.
As December 25 inches closer, Natalie looks forward to sharing her holiday cheer by hosting her dad's side of the family. "I love all things Christmas," Natalie says. "It's my favorite holiday."