photos by Keith Borgmeyer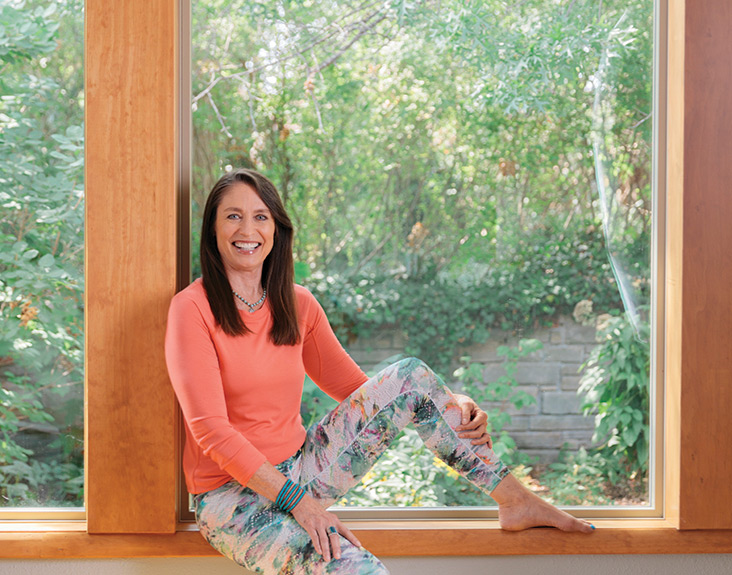 Dr. Lynn Rossy guides others toward mindful eating and living.
"I decided if I got down to a certain weight, I would be happy," Dr. Lynn Rossy recalls. She had spent several years counting calories and trying every fad diet in order to lose the weight she gained during a dark period of her life that had led to overeating. "I remember distinctly the day I got to that weight, and I was happy for one second. Then I heard my mind say, 'But you could lose five more pounds.' And I thought, 'That's it! I'm not doing this anymore.'"
As a clinical psychologist, author, and president of The Center for Mindful Eating, Lynn, 62, has been practicing mindfulness for 20 years. An increasingly popular therapy, mindfulness is a mental state that brings a person's focus into the present through awareness and acceptance of thoughts, emotions, and sensations in the body. Lynn has adapted these principles to the thoughts and behaviors that surround our eating habits and has been teaching a mindfulness-based eating class since 2006. And it's something she practices everyday for herself.
"I don't weigh myself. I pay attention to how my body feels and what my body wants and all kinds of internal signals that give me all the information I need about my body," she says. "A number on a scale does not define me."
That Which Does Not Kill Us
A Columbia native, Lynn says she moved to San Francisco at the age of 21 to find herself. She fell in love, and at 28, she moved to Los Angeles to get married. But the marriage fell apart after one month, and the emotional fallout left Lynn on a path of self-destruction. She turned to drugs and eventually entered rehabilitation, but early in her recovery, she fell into a period of binge eating.
"During my initial recovery, I had a bout of depression and, instead of drugs, turned to food for comfort — chocolate brownies and ice cream were two of my best friends," Lynn says. "The dark night of my soul in Los Angeles was a pivotal point for me. I knew I was either going to die or I was going to get better. When I got better, I knew there was a reason. And that reason has turned out to be teaching and helping others through the practice of mindfulness."
At her mother's suggestion, Lynn moved back to Columbia at the age of 35 for a fresh start. She enrolled at MU, and by 2001, she had completed her bachelor's, master's, and doctoral degrees in psychology. While pursuing her studies, she began to explore mindfulness, something she had been introduced to in rehab, from a clinical perspective. "When I first started doing mindfulness, it was not popular. Nobody knew what it was, and they thought I was strange," Lynn laughs. "My professors in my graduate program were like, 'What is mindfulness? What are you doing?' I had to explain myself a lot."
Lynn also studied insight meditation at Spirit Rock, in California, and she studied mindfulness under Jon Kabat-Zinn, author and creator of the Center for Mindfulness in Medicine, Health Care, and Society at the University of Massachusetts Medical School. In 2002, she became a certified kripalu yoga instructor, as well.
After working at the Student Health Center for five years, Lynn was asked to develop a mindfulness-based eating component in 2006 for MU's Healthy for Life program, which offers a variety of wellness resources to students, faculty, and staff.
"I wasn't planning on teaching mindful eating," Lynn admits. "But the minute I taught my first class, I was hooked because I discovered very quickly the tremendous amount of suffering people have around food and their bodies. That's what I related to — this suffering."
Learning to Look Within
Lynn says it's no surprise that so many struggle in their relationship with food and their bodies, pointing to a pervasive dieting culture as a primary culprit. While her students are predominantly women, they are of every age and body type, including trim and athletic women who struggle with rigid diets. Instead of focusing on a number on a scale, Lynn's mindfulness-based eating approach teaches people to look within as a means to make health and well-being their focus.
"Mindfulness is the ultimate guide and ally in helping you make better food choices," Lynn says in her book. "Beyond self-discipline or willpower, it's about the power of awareness. Behavior change happens when you become aware of what you're doing and why you're doing it."
Her class and her book teach students to stop dieting, step off the scale, and listen to cues from their bodies to identify physical hunger versus emotion-based cravings. "We eat when we're happy, sad, lonely, bored, confused, stressed. But, there are ways of dealing with emotions in ways that are helpful. We discover what those things are when we use the practice of mindfulness to slow down and pay attention to what we really need and what would really soothe us."
Lynn does not tell her students what to eat or not eat, and in fact goes one step further by encouraging them to drop the idea that certain foods are forbidden, which she says sets up a cycle of deprivation and craving that ultimately can lead to binge eating. Instead, mindfulness can be used to know when enough is enough.
At the core of all of these teachings and principles centered on food, however, is the idea of self-respect and love. In Lynn's research from the mindful eating class, she found that as people became more mindful, they also had more compassion for themselves, became more appreciative of their bodies, ate based on physical hunger cues, and significantly reduced overeating.
"You have to learn to love and respect yourself first. When you teach people how to bring more compassion to themselves and to stop the criticism and judgment, they start taking care of themselves better."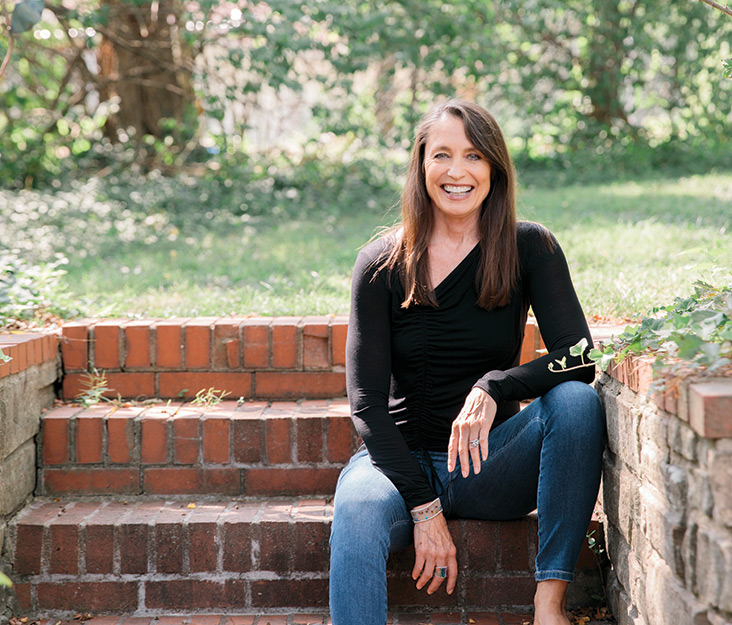 Enjoy Every Moment, Savor Every Bite
From Lynn's first class in 2006 sprang a career committed to helping others through the practice of mindfulness. In 2016, after 10 years with the Healthy for Life program, Lynn was contracted for a year to develop an employee mindfulness program at Veterans United Home Loans. She also published her first book, "The Mindfulness-Based Eating Solution: Proven Strategies to End Overeating, Satisfy Your Hunger & Savor Your Life." She is currently working on her second book.
In 2017, after her time at Veterans United ended, Lynn struck out on her own and opened her own mindfulness practice from her home, teaching her Eat for Life program online several times a year to students around the world. As president of the Center for Mindful Eating, a nonprofit dedicated to training professionals and the general public, she is working on adding a component that businesses can use to incorporate mindful eating into the workplace. She also teaches at alleyCat Yoga twice a week.
Lynn says mindfulness has changed how she relates to life, which has become about "enjoying every moment, savoring every bite." It's a life she wants for others, too. "Mindfulness has made me more generous, patient, curious, forgiving, creative, and kind," she says. "Believe me, I still have a lot of work to do, but I don't have to judge myself for not being perfect. That has been a very big change."