Three Columbia Businesses with Worldwide Reach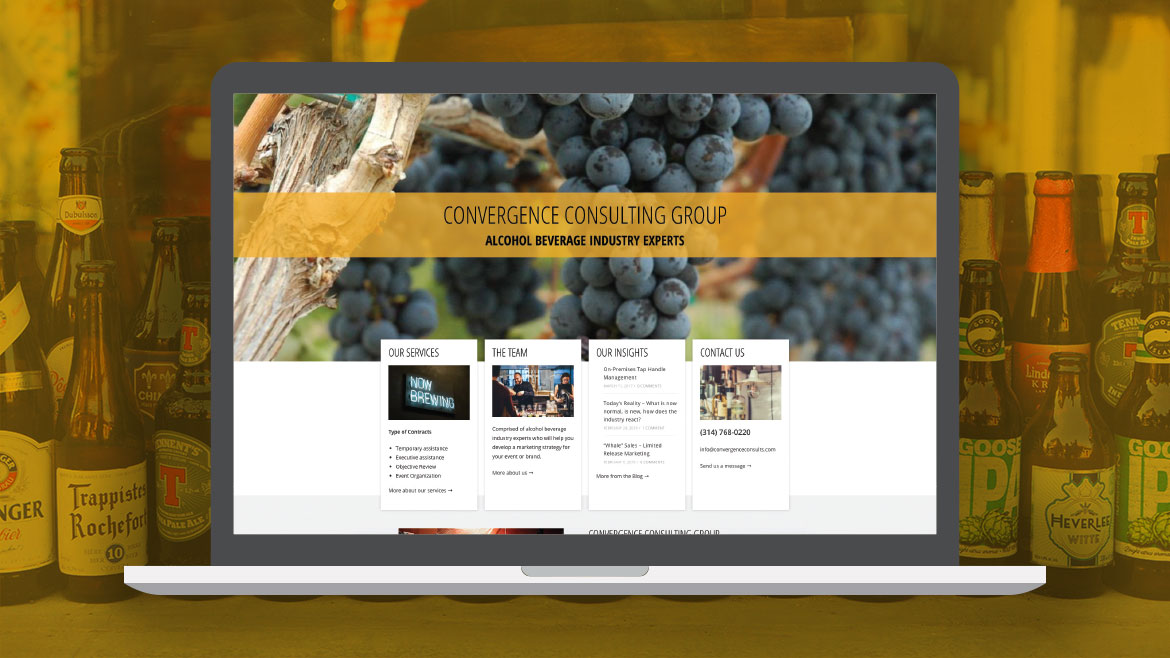 In the mid-1990s, when Tony Marrero graduated with a business degree from Texas Christian University, the internet was more of a curiosity than anything else. Not many people had access to it. Fewer still had any notion as to what it would become.
"The whole idea of the internet was developing in people's minds as a business concept," Marrero says. "It was very strange, and ideas of what it would become were wildly wrong, for the most part. But it was very interesting."
Marrero combined that interest with his degree to start an internet marketing firm in Texas. Nearly a decade later, he moved to Columbia and combined his knack for e-commerce with a lifelong love of soccer to start SoccerPro.com.
Now, from an unassuming building near Cosmopolitan Park, he sells soccer apparel and supplies to people all over the country. He started SoccerPro in 2004, when consumers were still wary of doing business online.
But he knew what was coming. "Timing is everything," Marrero says.
Here's a look at three Columbia-based businesses who rely on e-commerce for their livelihoods: how they got into the space, how the internet has affected their businesses, and what's coming next.
The Rebel Spirit
Jacob Halls came back from Belgium with a briefcase full of European alcohol. When customs asked him if he had anything to declare, he answered honestly. That was a mistake.
"They said, 'Where's your importer license?' I said, 'What are you talking about?'" Halls says. "So it all got taken away. But it got me to thinking, How do I do this?"
Soon, he got his importer's license. One day, a distributor saw Halls showing off his stash at the bar Halls worked at and told him that, as the legal importer, he could technically sell these products to bars in the US. Not long after that, Halls was contacting European distributors to see if they'd be interested in his services selling their products in the states.
A business was born.
"I came to this out of pure luck, chance, entrepreneurial spirit, rebel spirit, 'don't tell me I can't do it' type of thing," Halls says. "I was just a dumb punk teenager who was like, 'You can't tell me I can't bring this in.'"
Halls started Convergence Consulting in 2014. He's part of a 10-member team that offers a wide array of services to bars, breweries, and wineries at all stages of development.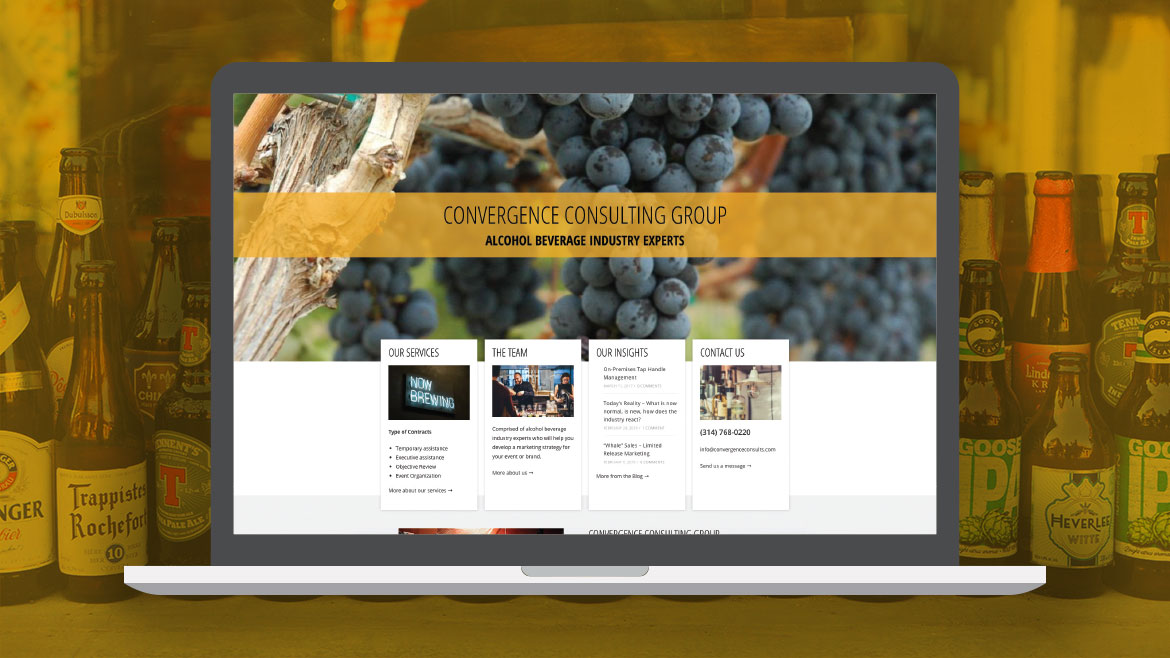 Need help marketing your new brewery? Halls and his team can do it. Have to file licensing paperwork with state or federal agencies and just don't have the time or know-how?
Convergence Consulting's got your back.
"If we can't do it, we help find you someone who can," Halls says. "After we get asked about doing something enough times, I find someone who can and get them on board. Whatever the scale [clients are] at, we can handle it. It's kind of cool."
Convergence Consulting Group does about 60 percent of its business remotely, by Halls' estimation, but it varies greatly from client to client. Some need staff members on the ground for weeks to help launch. Others Halls never meets. Halls says Convergence Consulting has done business with clients in 47 different states and three countries. Firms that offer similar services tend to cluster on the coasts.
"I usually don't try to dip my toes into their pools because, if they're happy, I'll take between the Rockies and the Appalachians," Halls says. "No problem."
Word of mouth drives a good deal of business to Halls' firm, and presentations at trade shows don't hurt, either. Halls is always sure to maintain a presence at the annual South East Craft Beer Fest in Columbia, as well as the Great American Beer Festival in Denver.
He's come a long way from that failed trip through customs.
"It's basically really been following a passion to get here," Halls says. "I like the fact that we've grown organically to where we never promised anything we can't do. We seem like we can be from right next door. [Customers] always think we're quasi-local. That's part of the beauty of being on the internet. We can respond the same day, quickly."
Designing a Business Plan
When he was an upperclassman at Hickman High School, Pat Grathwohl discovered how to turn his artistic talents into a career. He took mechanical drafting as a junior, architectural design as a senior, and, by the late 1960s, he was completing drawings for builders in town.
He started his own business, Total Design Incorporated, in 1989. By the early 2000s, he saw other designers moving their floor plans online.
He had a whole portfolio of plans to work with. He figured he'd give it a shot.
"We threw it out there, and I still have it," Grathwohl says.
TotalPlans.com is home to nearly 400 of Grathwohl's floor plans for houses that range between 1,100 and 5,000 square feet. Most of his business comes from the Midwest, but he's also sold plans to builders in Brazil and Europe.
Other wholesale design sites may have 20,000 to 40,000 plans available for perusal. Grathwohl says that can be overwhelming to consumers.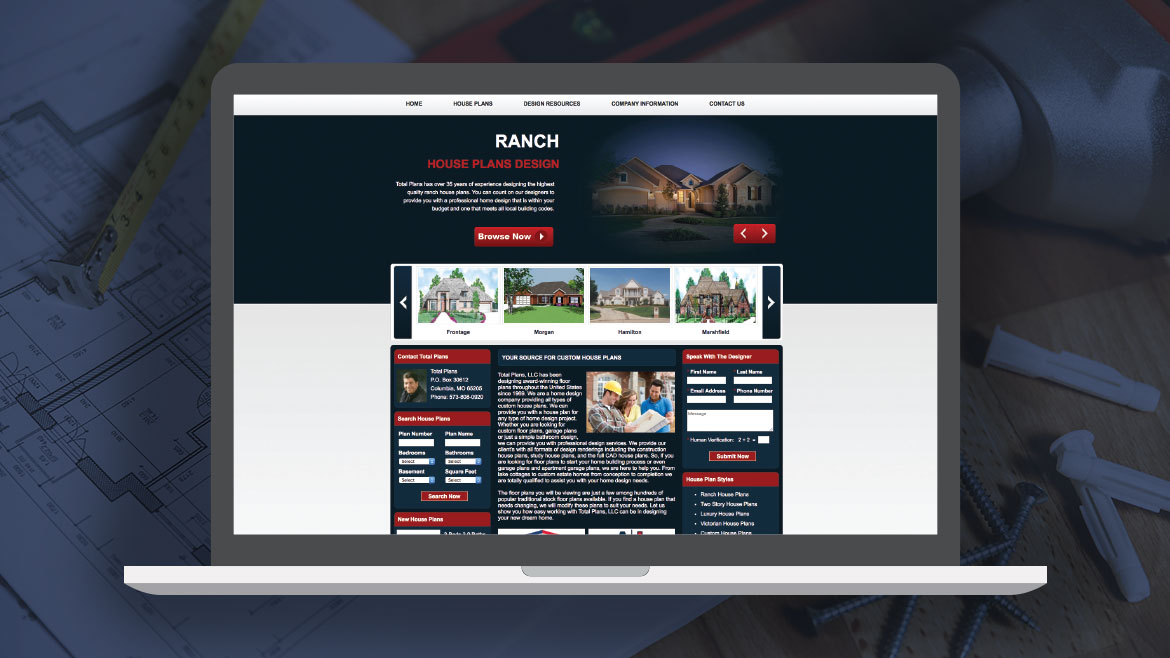 "You can sit there for weeks and weeks going through all those plans and not find what you want. I try to give them that personal touch, where it doesn't really come into play with the larger site plans," Grathwohl says. "I do say on my site that if you can't find anything on my website that works, I'd love to talk about designing a whole new plan for you."
Those in-person meetings don't happen very often. He will get the occasional customer from Columbia that likes a plan online but wants to talk through some changes in person.
He's more than willing to alter his plans to the customer's taste. That's another thing Grathwohl says can set his business apart: He's always looking to add new plans to the database.
"To take the old plans and modify them — like add a new front elevation but still use the same floor plan — is somewhat easy to do, other than putting the new elevation on the site, which takes time," Grathwohl says. "It's a full-time job just to keep [the site] updated and modified."
Grathwohl is also in the process of converting his blueprints to photorealistic representations of the houses they will become using 3D computer modeling software.
Nearly 50 years in, he still knows that adaptation is a necessary part of his business's success.
A Different Kind of Pro
Marrero played soccer his whole life — he was a varsity athlete at TCU — but decided to hang up his cleats after graduation. Although, if he's being honest with himself, the decision was really made for him.
"That wasn't going to be for me, anyway," he says, with a laugh. "I loved the game. I think I'm good at it, but I'm not a pro athlete."
Marrero and a business partner started SoccerPro in 2004 as a brick-and-mortar store. While the soccer community in Columbia was strong, Marrero saw more opportunities in other areas of the country.
"The floorspace that was used for the walk-in of the brick-and-mortar store was becoming a very expensive warehouse for our online inventory," Marrero says.

SoccerPro converted to a dot-com — it does 99 percent of its business online, Marrero says — and was acquired by St. Louis-based Soccer Master in 2009. It does healthy business in areas such as California, Texas, Florida, Chicago, and the Northeast.
People can still come to the Cosmo Park location for their soccer needs. They walk in, sit down at a computer station, pick out what they want, and someone brings it from the warehouse to them.
Marrero's company has carved out a niche with more specialized equipment than the type that would usually go to a big-name sporting goods store. SoccerPro also deals in apparel such as replica national team and club team jerseys.
The new challenge, Marrero says, is competing with manufacturers such as Nike and Adidas, who feel they can market and sell their products to consumers directly.
It's a double-edged sword. Marrero's familiarity with e-commerce helped him launch a successful business, but the ease with which the big brands can now connect with customers through online sales is also putting retailers like SoccerPro out of business.
"We've had to make sure we have a competitive advantage, a unique voice in our business," Marrero said. "If we did not have a different way of presenting these products, there's a really good chance we wouldn't be around right now. The brands ask their partners to be unique and help amplify their message to a different audience. By adding that value, we're surviving.
"You've got to be on your toes. It makes it interesting, challenging, and frustrating all at the same time."