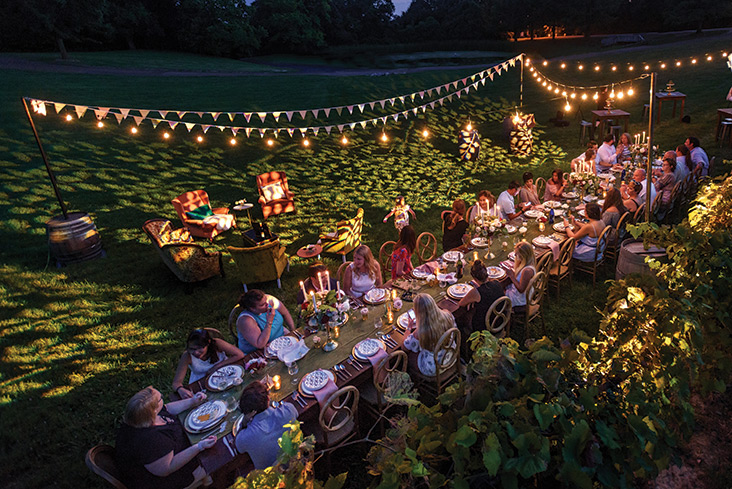 Tips from the pros on throwing a spectacular outdoor party.
by Nina Hebrank & Madison Love | photos by J. Kelley Photography
As summer approaches, we're reminded of all the things we've missed during these past cold months. Leaves are appearing back on the bare trees, tulips are blooming, the air warms, and the outdoors slowly welcomes us back. Summer's arrival invites us to celebrate with friends and family, and what better way than to throw an outdoor party?
Regardless the event, outdoor parties are a classic tribute to summer. Knowing some tips to make yours stand out is always a good idea.
Planning the perfect party can seem overwhelming, but it doesn't have to be. With a little bit of help from some local Columbia vendors, your summer parties will be talked about well into winter.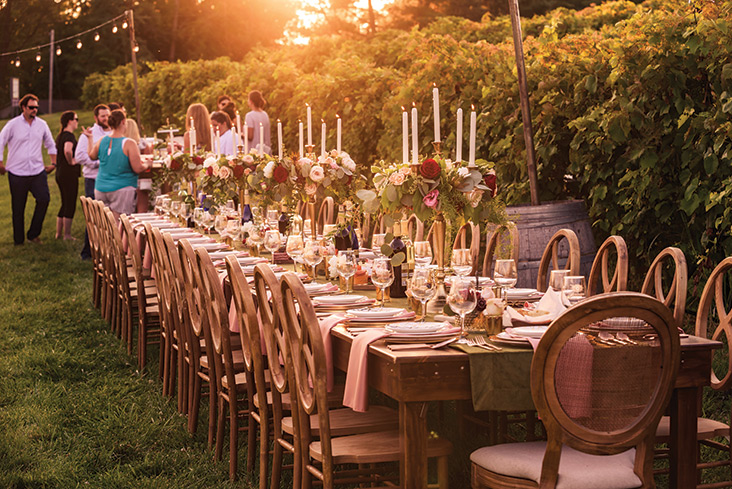 Renting the Essentials
The first thing any party needs is tables and chairs. It seems obvious, but it's easy to underestimate how many you really need. A-1 Party and Event Rental and E. Clare Vintage are two great places to go for help.
"It's the bread and butter of our business," says Elizabeth Henley of A-1. "You're going to need the tables, chairs, tents, linens, and centerpieces at your event."
To throw an entertaining 4th of July barbecue, you can even rent coolers, pitchers, cornhole, large floor fans, badminton, a propane grill, and A-1's Concoction Caravan (their brand new trailer bar). If you're going for a more elegant, stylish look for your summer festivities, there are chandeliers, candelabras, staging, and flooring rentals. Your vendor can even build the venue for you.
"I always recommend a lounge setting for all types of outdoor parties," says Emma Wacker, owner of E. Clare Vintage. "The vintage furniture complements outdoor spaces so well, and they are so cozy and inviting, no matter what the outdoor scenery may be."
Another item that is sure to bring excitement to your outdoor party is a mimosa bar. E. Clare Vintage offers a vintage bar cart rental that can be transformed into anything: champagne bar, sundae bar, popcorn cart, you name it!
Adding these special touches to your party will create lasting memories for your guests. In taking these extra steps, you'll be elevating your party to more than a get-together; it will be an event in and of itself.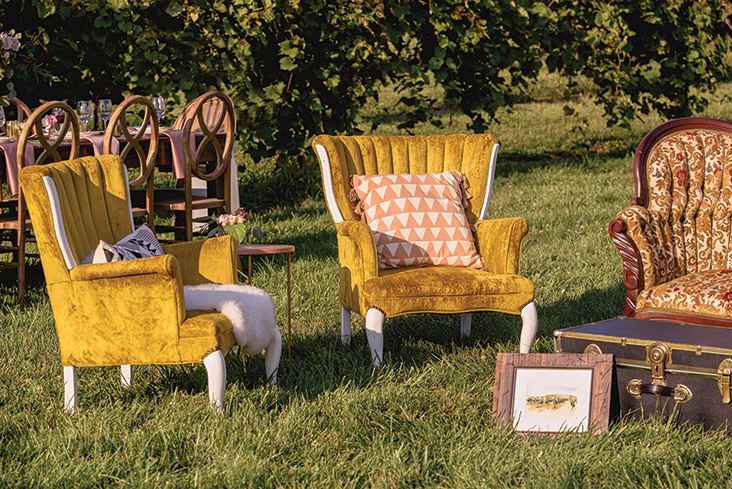 Creating the Ambience
Ryan Adams, owner and lighting specialist for SW Productions, specializes in lighting design, lighting production, pyrotechnic displays, and special effects. He has helped create many fun and uniquely styled parties over the years.
"I've done everything from political campaigns and corporate parties to weddings," Ryan says. "Last summer, I did lighting for a 40th birthday tiki party where they had sand sculptures."
When the night comes out, you're going to need light to keep your party going. With help from Ryan, you could even add a bang to your 4th of July party with fireworks.
Of course, when you have so many eye-catching pieces to your party, you'll want keepsakes to help remember it all. This is where photographers and videographers come in.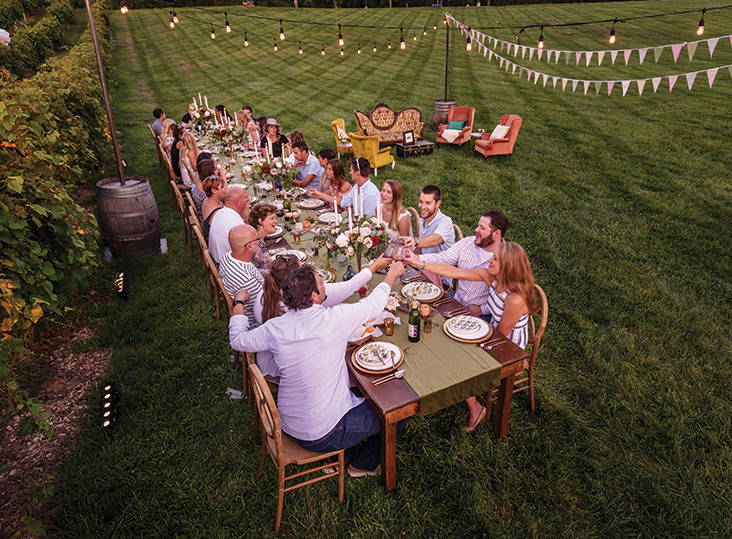 Archiving the Memory
Bussen Productions provides videography and photography for any event and has lots of experience working with a wide variety of clients, including Günter Hans and Logboat Brewing Co.
"You want to capture your event in a unique way," says Karlos Bussen, owner and videographer for Bussen Productions. "You want to hear the laughter and cheers. The event comes back to life through video."
"Photography is another good way to capture your event," says Justin Kelley, owner of J. Kelley Photography. "A lot of people run around with their phones, but I recommend hiring someone, because then you don't have to worry about anything."
J. Kelley Photography also offers full-service photo booths for every occasion. With a 10-by-10 backdrop and a photo-ready camera, they bring all the unique and personalized props you would need to make your party memorable.
"When someone doesn't know what they want, I always tell them do a photo booth," says Anne Churchill, owner and lead planner of AnnaBelle Events. "Put it right in the middle of your party."
SW Productions and Bussen Productions also have photo booths, and each is different. Bussen Productions has a bus called the "Sunset Camper Photobus," which you can rent and take photos in. It's a unique way to spruce up your summer celebration.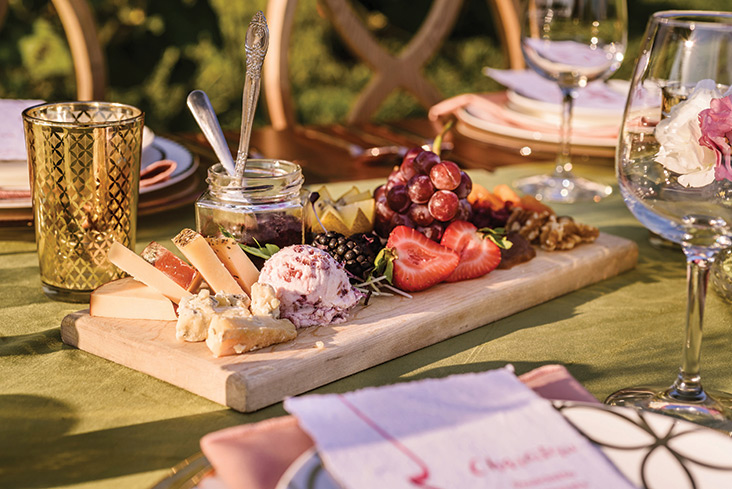 Toasting the Milestone
A party isn't a party without the cocktail menu. Les Bourgeois Vineyards has mastered staying cool in the summer with their wine cocktails.
It's no secret that frosé (that would be "frozen rosé") is a summer favorite once again. It tastes just as good as it looks. You blend a bottle of Les Bourgeois St. Vincent Rosé with ice, fresh strawberries, and a pinch of sugar. Serve in a wine glass and top with a strawberry (or some rose petals, for a dash of elegance).
Along with specialty drinks, it's good to have wine on hand for those wanting to keep it simple. "Our most popular wine is definitely our Riverboat Red," says Mary Lathrop, private events director for Les Bourgeois. "It's a tantalizing blend with aromas of raspberry and cherry. This chilled sweet red wine dazzles the palate with layers of ripe fruit."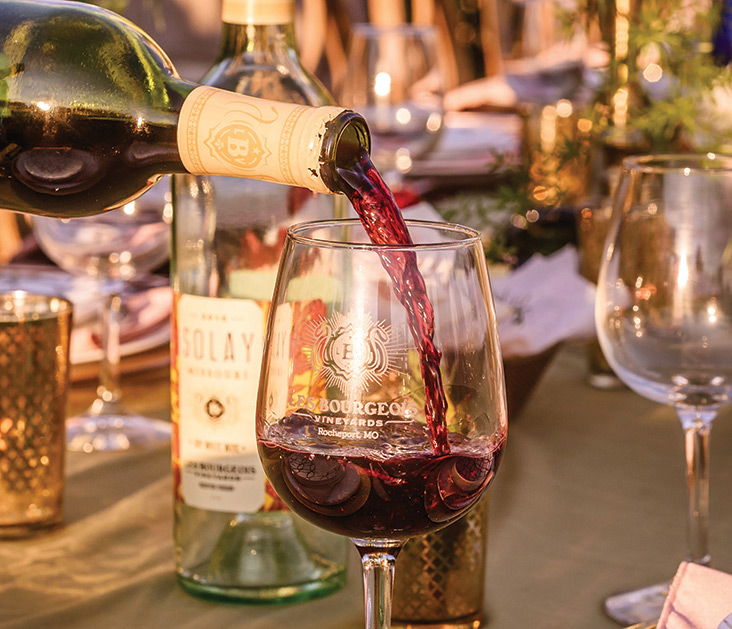 Putting it All Together
Anne Churchill says you don't need an event planner for just weddings. AnnaBelle Events has planned birthday parties, grand openings, styled shoots, sorority and fraternity events, and sporting events.
Event planners always have good recommendations for whatever you're looking to have at your event, whether it be flowers, catering, or entertainment.
As our days get longer and our nights get warmer, you can use these tips to ring in summer and join together with friends and family. Consider adding something new to your usual get-togethers: maybe a tent to keep you cool, eye-catching centerpieces, the Sunset Camper Photobus, gorgeous photography, or a video to pull it all together.

Vendor List
Anne Churchill, event planner
Syd Stansberry, invitations
Justin Kelley & Piper Brintnall, photography
KBW Floral Design, flowers
A-1 Party and Event Rental
Les Bourgeois Vineyards, catering, wine, and location
Emma Wacker, vintage rental and styling
Karlos Bussen, videography
Ryan Adams, lighting