Shelf Life: Sizzlin' Books of Summer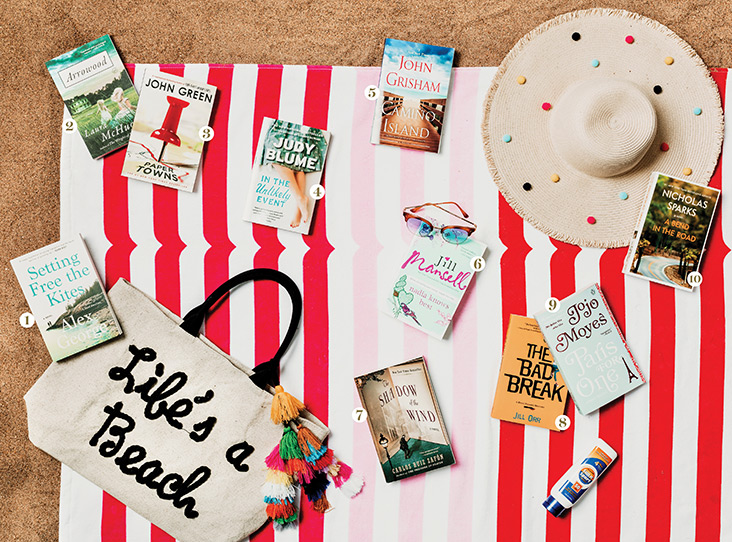 Waste away an afternoon with these titles of mystery, romance, and intrigue.
Here's our top 10 summer reads:
1. Setting Free the Kites
Alex George
The founder of the Unbound Book Festival brings us this narrative on the friendship between two teenagers and the harsh realities of growing up.
2. Arrowood
Laura McHugh
Local award-winning thriller writer Laura McHugh takes us to a historical house on the Mississippi River, where a chilling mystery unfolds.
3. Paper Towns
John Green
The author of "The Fault in Our Stars" pens this coming-of-age story of friendship and love. As the book is set in her hometown of Orlando, our department editor, Madison Love, gives it two thumbs up.
4. In the Unlikely Event
Judy Blume
A beloved author from our childhoods takes us to the 1950s in Elizabeth, New Jersey, where three generations of lives profoundly change one winter.
5. Camino Island
John Grisham
Known for his courtroom capers, John Grisham delivers in this story of a young novelist with writer's block and a circle of literary friends dabbling in unsavory ventures.
6. Nadia Knows Best
Jill Mansell
British author Jill Mansell delights in light-hearted, romantic stories perfect for reading poolside, earning her Editor Beth Bramstedt's seal of approval.
7. Shadow of the Wind
Carlos Ruiz Zafon
Translated from Spanish, this scary, tragic, and thrilling novel set in Barcelona in 1945 captured Publisher Deb Valvo's heart and remains her favorite.
8. The Bad Break
Jill Orr
Obit writer Riley Ellison is up to more mischief in this humorous sequel to local author (and COMO Living Advisory Board member) Jill Orr's first novel, "The Good Byline."
9. Paris for One
Jojo Moyes
Nell is 26 and has never been to Paris. The author of "Me Before You" takes Nell to the romantic city for the most adventurous weekend of her life.
10. A Bend in the Road
Nicholas Sparks
It wouldn't be summer without a romance from Nicholas Sparks. This tale of Miles Ryan's life after the death of his wife will tug at your heartstrings.