CYSK: Sarah Lockwood & Rebecca Burkholder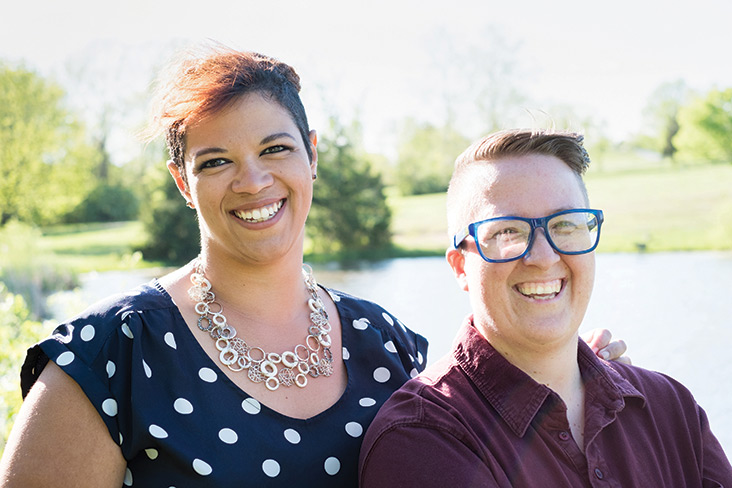 Sarah Lockwood and Rebecca Burkholder make love look effortless.
How did you meet?
Rebecca: We first met at a friend's wedding. Sarah asked if she could cut my hair. I said no, not knowing that she was a hairdresser. We still get a good laugh about that one. We were friends for many years before we started dating.
What do you like to do in your free time?
Sarah: Most nights we hang out and read or binge watch Netflix. I also love to cook and have people over.
R: We love to travel! Mini trips to St. Louis, big out-of-the-country trips, camping with our homemade teardrop camper. We also like hiking, biking, and kayaking.
What is the key to a lasting and healthy relationship?
S: For me, the key is to practice patience, be enthusiastic, and be present in a relationship. The busier we get, the more important it is to prioritize saving energy, time, and humor for home.
R: Trust, honesty, love, and forgiveness. Things will go right and things will go wrong, but it's how you handle the ups and downs that will bring you closer together.
What is the best quality of your partner?
S: Becca talks to anyone, anywhere, anytime. It doesn't matter if we are going to dinner or the DMV — it's going to be an adventure and chance to meet someone new.
R: Being the exact opposite of me. We would have never come this far in our relationship, business, or our lives if we were not strong when the other is weak.
What makes you most proud of your partner?
S: Becca is a jack-of-all-trades. From auto and home repair to accounting and nature photography, if she set out to learn something, she'll master it. I'm always awed to see her tackle projects she may not know much about in the beginning and become successful at it.
R: Being able to watch as her dream to own her own clothing boutique comes to life. I love to see her personality, her fashion choices, and her hard work come together.
How would you describe your relationship in one word?
S: Lighthearted. Becca and I tend to be very silly and spontaneous.
What does the future hold for the two of you?
S: Becca and I have a long list of places to travel to and home improvements to tackle. In a few years, I'd love to start producing my own clothing designs, so I should probably learn to sew soon.
What's your favorite place you've traveled to together?
R: Thailand. Everything was so different. Their religion, food, culture. We were free to roam around their country, and at every new stop, we were made to feel welcome.
How does business play into your relationship dynamics?
S: Our business relationship is a lot like our home relationship. We opened our clothing store, Free Association, this spring, and it works because we're good at opposite things. Becca runs the books and did our build-out because she's great at being organized and paying attention to detail. I love being creative and hands-on, so I'm in the shop ordering clothes and meeting people.
R: We tackle it the same as we do our relationship. We divide it up based on our strengths.
What has been your favorite project to work on together?
S: My favorite project has been our house. We've redone bathrooms, torn up flooring, added storage, and have a hundred other ideas to get through before we're done!