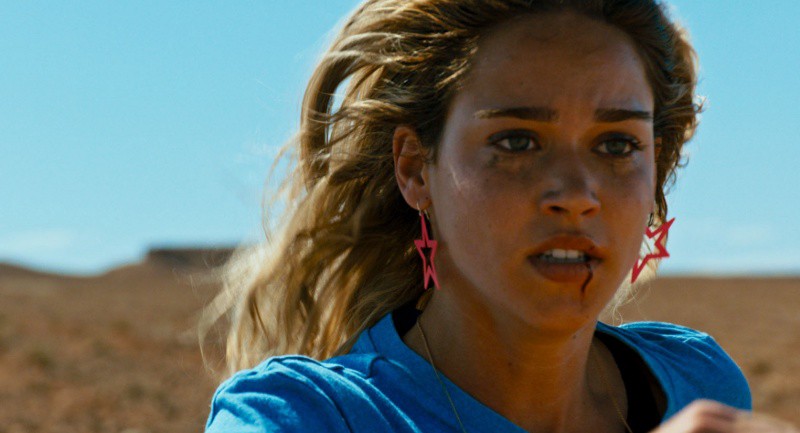 Late into the night at Talking Horse Productions during last year's Citizen Jane Film Festival, a packed house watched as an on-screen heroine destroyed a man who had brutally attacked her in the opening scene of the film. The payback was so deserved and welcome that one audience member stood up and began clapping. Many around him followed with a rowdy hoot and holler.
The film was "Marlina the Murderer in Four Acts," a startling revenge Western from Indonesia that continues to garner critical praise, gracing the lineups of many esteemed film festivals all over the globe. More women filmmakers are looking to turn away from films that feature women as hapless victims, instead turning towards active, powerful protagonists in control of their own fate. It appears audiences are hungry for this change as well.
This May at Ragtag Cinema, the Citizen Jane Suggests film is "Revenge," a midnight movie in which a lone woman pursues her attackers with a total subversion of the male gaze. Jen (played by Matilda Anna Ingrid Lutz), a mistress on vacation with her chiseled lover, loafs around a sleek, modern home perched upon a desolate landscape. When her companion's slovenly friends arrive unannounced, her safety is threatened, leaving her vulnerable, scared, and running through the arid wilderness.
Thinking they are victorious, her tormentors eventually retreat, leaving Jen for dead. But Jen isn't ready to admit defeat: She comes back to life, mad as hell and ready for . . . well, revenge!
In her debut feature, director Coralie Fargeat crafts a film that is both stunning and brutal. The film hums with a palpable sensory rush and painterly beauty; colored light plays off torn bodies, sticky blood pools on a spotless kitchen floor. The heat rising from the rocky sand is nearly felt underfoot.
The intensity of "Revenge" might be difficult for some — even the sound design can induce gut-wrenching feelings at times — but it is a staggering, must-see thriller that is worth every moment of uncomfortable consternation. The pure audacity and risk taking exhibited by Fargeat heralds a welcoming scream to a new generation of female film directors that's full of ideas and unafraid to show them, no matter how gruesome.
While at a screening of "Revenge" during the 2018 Sundance Film Festival, Citizen Jane Director Barbie Banks and I were the ones to begin the round of applause for the ferocious heroine. How could we not?! Though some of the audience reacted with hesitation, others joined in with a spirited clap, knowing that we had all just experienced a new cinematic voice and a new era of challenging, fulfilling roles for women. Be sure to join us in applauding both the fearless protagonist and the fearless director of "Revenge" this month at Ragtag!