CJ Suggests: You Were Never Really Here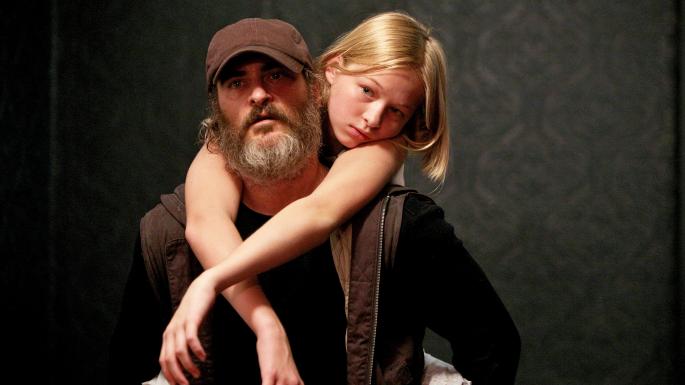 Even though Citizen Jane Film Festival isn't until November, we're starting to get into gear for our 2018 edition, our 11th overall fest and our third with Executive Director Barbie Banks at the helm! Barbie's vision continues to turn to the vibrant Columbia community for collaboration and inspiration to build the best film festival experience possible. In this spirit, CJ's partnership with Ragtag Cinema continues this year.
This month, the Citizen Jane Suggests film screening at Ragtag is Lynne Ramsay's "You Were Never Really Here," a noir thriller that won Joaquin Phoenix a best actor award and Lynne a best screenplay award at the 2017 Cannes Film Festival.
Prior to this film, Lynne directed the indie classic "Morvern Callar" (2002), a feature film about a supermarket clerk who publishes her boyfriend's novel after his death, taking the credit and then embarking on a life changing road trip. Her 2011 film "We Need to Talk About Kevin" featured Tilda Swinton as a mother grappling with how to handle her increasingly unpredictable son, a meditation on the American school shooting epidemic envisioned with an artistic humanism and a charged emotional range.
 "You Were Never Really Here" takes on another troubling social issue that lurks in the shadows: human trafficking. In the film, Joe (Joaquin Phoenix), a military veteran, is called upon to rescue a kidnapped young girl, a journey that takes him to the dark corners of both the world and of his own mind.
Even though this film, and Lynne's others, have gained critical acclaim, her career has had its share of ups and downs: Two recent projects found her leaving the director's chair mid-production. By her own account in an interview with The Guardian, Lynne notes: "I've got a reputation for being difficult. You've got to stick up for what you believe in . . . It's a tough industry, and if you're a woman it's harder, whether you like it or not." Ramsay's words echo a sentiment heard so often in the film industry, that a double standard faced by women that can easily halt or stifle talent, no matter how great.
People regularly ask Citizen Jane Film Festival if we will one day accept films made by men, or if there will be a point when we, as a film festival focused on female filmmakers, are no longer needed, a day when gender parity in the film world is a given and not a struggle. Even if the day does come, the road to this day will have been paved by director's like Lynne, a woman who deserves to be recognized for her legendary achievements and outspoken truths. Citizen Jane will always be here to celebrate the legacy and future of women in film no matter how good things get!
We hope you will come celebrate the genius of Lynne Ramsay with us starting April 20 at Ragtag Cinema.