Designer's Choice: Aaron Dolan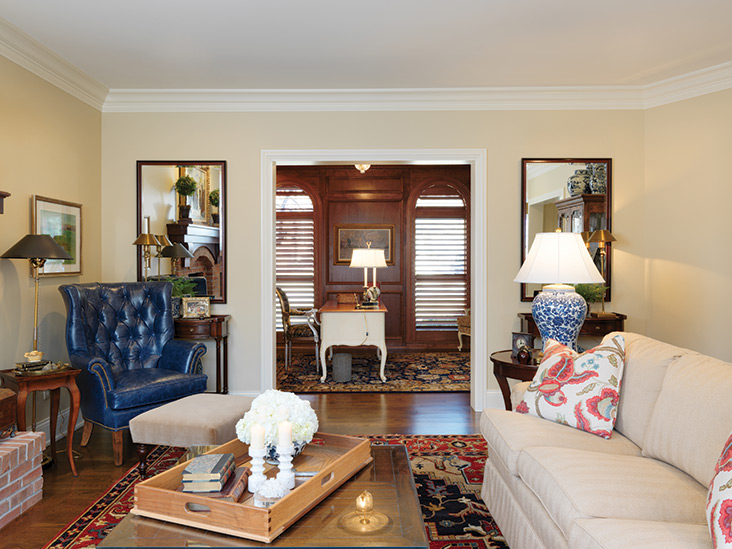 A conversation with Aaron Dolan about his favorite project.
Of Hearth and Home
It's a sunny but crisp afternoon, and I get to spend it meeting Carole Adams and touring her newly-renovated home. Perched on a bar stool in her kitchen, I listen as Carole and Aaron Dolan, owner of Studio Home, share stories about the extensive project they completed together last fall.
"We started talking with Studio Home about turning our screened-in porch into a sun room," Carole says with a laugh. "And several years later, we ended up taking the house down to the studs on all three levels!"
Carole and her husband, Mark, bought their beautiful, two-story Georgian-style home in Lake Woodrail in the summer of 1990. Since then they have remodeled several times, with the most recent upgrade requiring them to move out for an entire year.
Carole's goal with the renovation was to open up the floor plan, add more depth to the house, and create balance. The team agreed the house was good before, but it needed something more.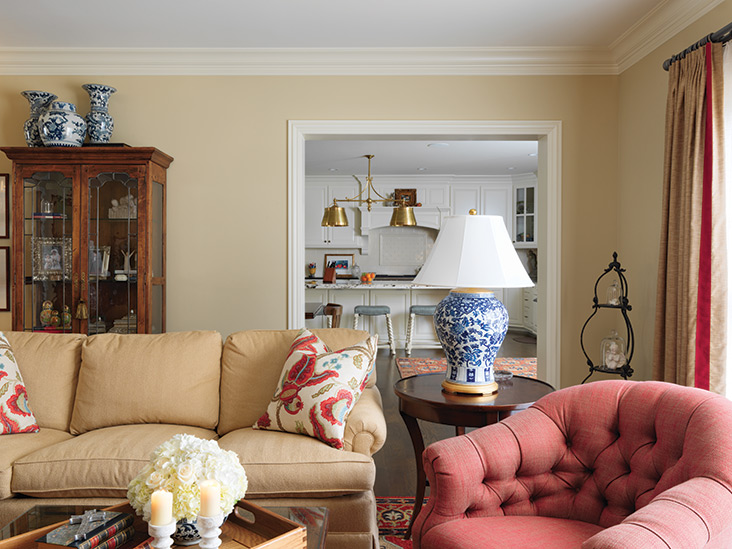 "Mark and Carole lived here and raised a family here," says Aaron. "We asked ourselves, 'How do we keep the integrity of the space, but upgrade it?'"
The team decided to focus on the living room and study — the nucleus of the house. With the exception of the curio and TV cabinets, everything in the living room is new: paint, flooring, casing, and furniture, including the traditional Heriz rug that brings it all together.
Aaron and Carole laugh as they recall the "four Cs" that kept the project on mission — cozy, classic, chunky, and chic, values that can I feel as I immerse myself in the space.
The room features a gold, blue, and red color palette. Aaron used light, medium, and dark shades, with each of the colors changing slightly depending on the saturation he put with it. The red then turns to coral as it transitions into the kitchen and sun room.
Aaron and Carole liked the idea of this space being a winter room, so adding a gas insert to the fireplace (complete with a remote) was a must. "It adds a whole new ambience. It's had a lot of use," Carole says.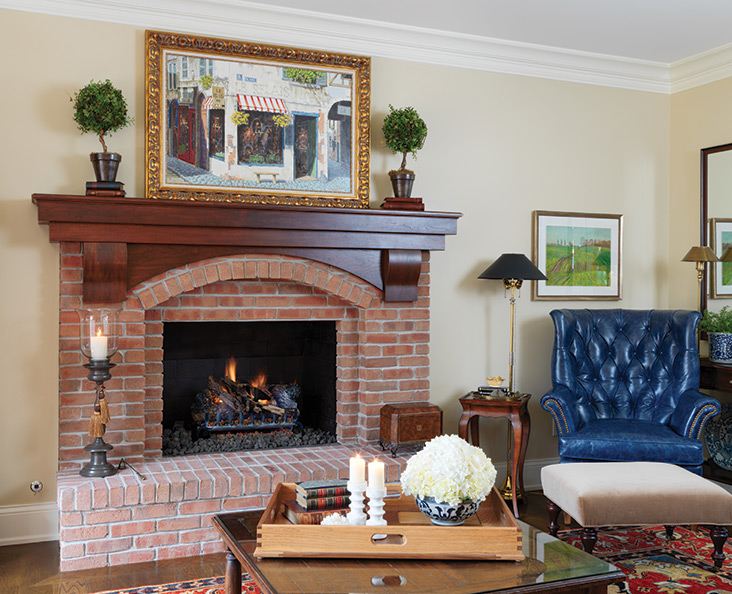 Carole splurged on the fabric for the sofa pillows and added the blue and white lamps. "There's a crisp sophistication that blue and white brings to every room," Aaron adds. "It takes a winter room and brings it into summer. It's timeless."
As our conversation draws to a close, it becomes clear that a fifth "C" has really driven this remodel — Carole. What makes this project special to Aaron is the way the finished product captures the essence of his client and friend. "This room reflects Carole's generosity and hospitality," he shares. "It's her. It's who she is."