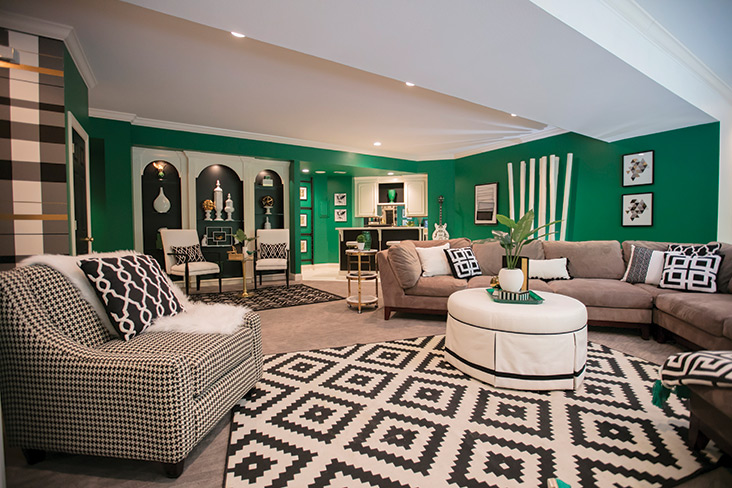 Personalize your palette like a pro.
From a cold, grim landscape covered with ice and snow to the arrival of growth and warmth, spring is a breath of fresh air and the time to set the tone for summer. One way to awaken spring spirits is by adding color and life to a room. With a little help from an expert, inspiring spaces are just a few paragraphs away.
Interior designer, home stager, shop owner, event planner, and tour guide Anne Tuckley does it all. Her newly renovated store, Anne Tuckley Home, and online Etsy shop, Alley 108, showcase her wide range of design abilities. Whether her client is looking for something modern, rustic, garden, or vintage, Tuckley's 14 years of expertise help her adapt to a client's needs.
A trend Anne has rekindled recently is adding a "pop" of color to a room. It all started about three years ago with her fireplace and a trip to the paint store.
"As an artist, I have always experimented with color," she says. "However, the trend dramatically changed from the beige and gold of the late '90s and 2000s to the bold use of color and patterns that are current today. It was literally an overnight change the day I painted the fireplace. I've embraced color and pattern once again after the 'greige' years."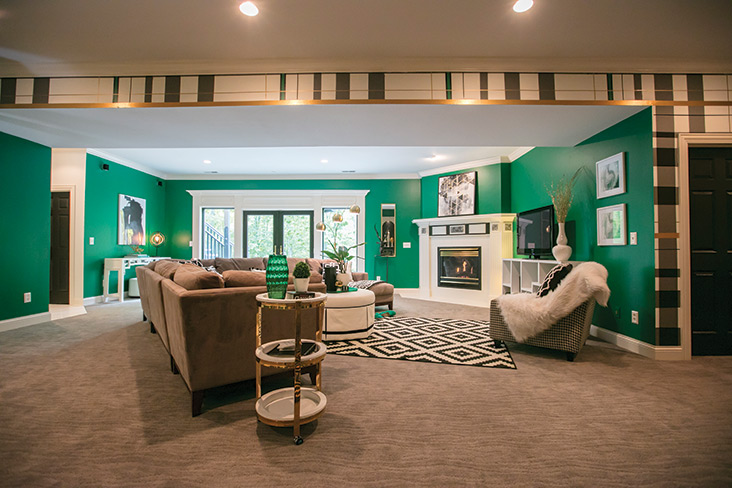 Rooms around her house slowly began to change from beige and gray to pink, blue, orange, and green. Yes, green — Anne's favorite color and her unique living room were inspired by her childhood living room. The living room was the second room Anne renovated in her home, the result of a six-week challenge put on by Calling It Home, a design blog. "I deal best under pressure," Anne says. The six-week constraint was a perfect way to get the best result for her inspired room.
Anne's childhood living room was covered in green carpet with black, white, and gray geometric drapes, a white velvet sofa, and a yellow coffee table. Despite the fact that it was the '70s, a lackluster era for color, Anne's mother loved to use color to make a room playful. "She has a good eye for design and loved making our home beautiful," Anne says.
When Anne heard about Calling It Home's One-room Challenge, she knew this was her opportunity to recreate the room she loved. "It was fun changing the dull gold walls to a vibrant green," she says.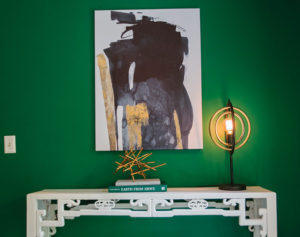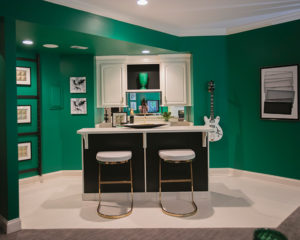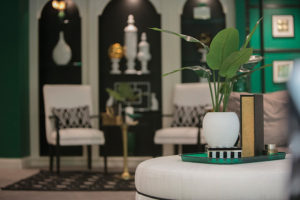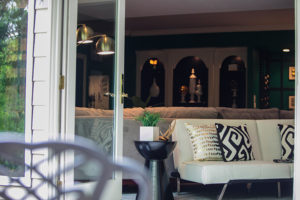 The emerald green, or, as Anne puts it, "gorgeous green," room gets its main pop of color from the walls with hints of the color reaffirmed with simple touches like a green plate, a green bird figurine, and plants. Anne's brand is black and white, which also has a strong presence throughout the room. The combination of black, white, and green creates a calming yet lively atmosphere.
Once the room was completed, her mother saw it and loved it, Anne says. Her mother's geometric drapes were carried through to the new century along with vases and sculptures that hint to the past. It's the perfect modern recreation of a cherished memory.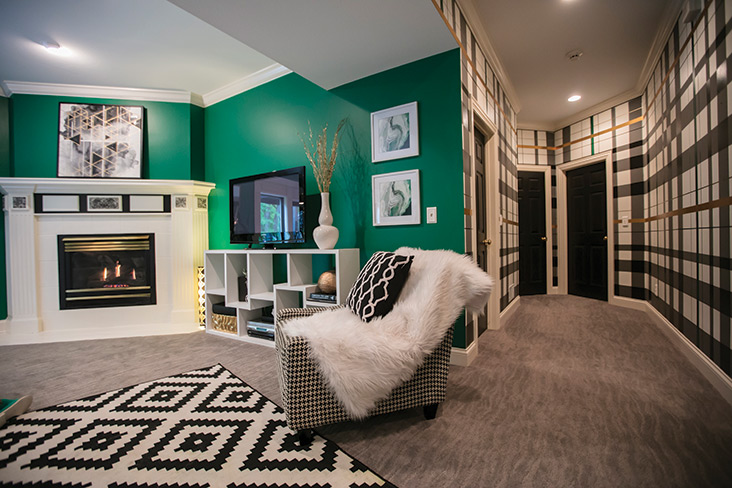 Advice to the Adventurous
Inspired to brighten your home or add new hues to a room? Anne is here to help.
"If it makes you happy, go ahead and paint," Anne says. "Don't be afraid to explore color." If anything goes wrong, it can always be repainted. "Paint can completely change a room and it's not very costly," Anne adds.
Not sure where to start? Anne suggests choosing a favorite color, or a vacation spot, environment, or anything else that triggers a memory or feeling that inspires you and helps you envision where you feel comfortable.
"The color doesn't have to be on a wall; it could be a pop," Anne says. Adding brightness in a rug or even a piece of clothing is an option; for one client, Anne framed the client's favorite scarf over her mantle. From there, she was able to choose colors while also focusing on the star of the show — the scarf.
Anne says a simple way to make color work in a room is to bring in black. "I am enjoying painting walls black to see how objects pop with the dark background," Anne says. Complementary colors are also safe ways to incorporate spunk in a room. "Opposites always match: red and green, blue and orange," she says.
Gray has become a neutral color over time. If gray must be incorporated, Anne advises experimenting with different shades of gray. "People feel safe with beige and gray," Anne says, "but color is everything."
Stuck? "If you're not ready to do an entire wall, you could paint the back of built-in shelves or an accent wall," Anne says. Color is easy to add to stairwells, powder rooms, ceilings, and bathrooms. "The bathroom is the one room you can go crazy," Anne says.
This spring, as nature blooms in a million different colors, why not explore the whole spectrum? "Get out of your comfort zone," Anne says. Color can create a feeling of excitement or serenity — or whatever feeling you choose.