Designer's Choice: Justin Wilson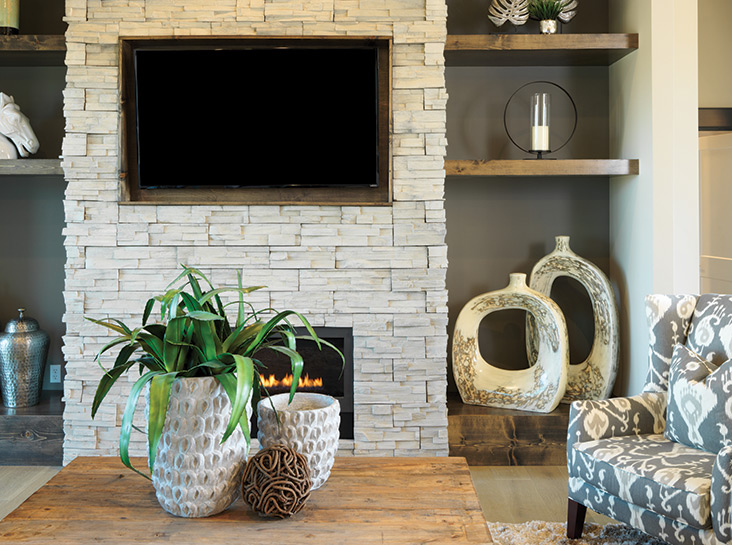 A conversation with Justin Wilson about his favorite project.
Inside and Out
Sun streams through my windshield as I wind around the curves on Route K and head into The Gates subdivision. I pull alongside a Girard model home, my mood brightening as I meander up the walkway, knock on the front door, and am greeted by Justin Wilson, owner of Jasany Home.
His excitement is evident as he shares about what sets this project apart: the corner sliding door that opens the main living area up to the outdoors. "This truly is open-concept living," Justin shares. "The whole main level can turn into one big space."
The sliding door, which was made by Western Window and inspired by the state of Texas, was purchased from Boone County Millwork. "When you look up new builds in Texas, they do a lot of these," says Justin, "but we were the first builder to install one in Columbia."
And Justin, who is accustomed to finding new ways to do things, was happy to be the first one to suggest it.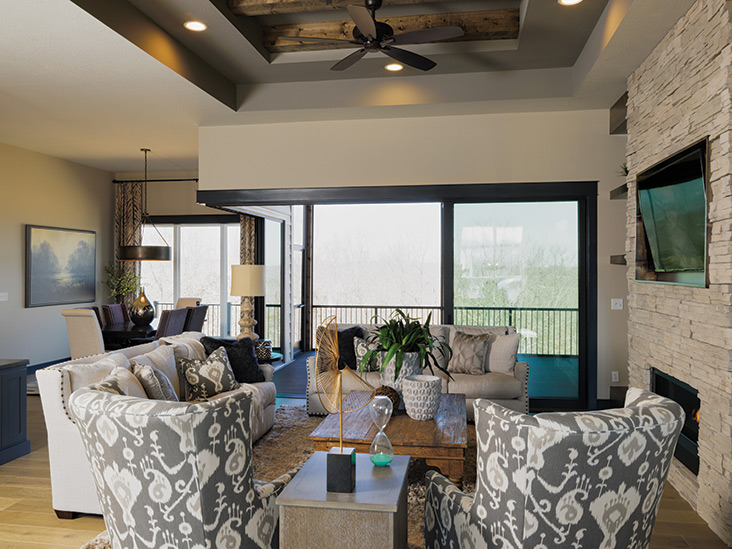 As I'm leaning on the kitchen cabinets, taking in Justin's vision for creating luxury living spaces, I almost forget that I'm talking to the interior designer, not the builder. Justin has been involved since the home's inception, and his close working relationship with his builders is not taken for granted.
"I've never worked with a builder who's this involved with a designer," he shares. "It's a lot of work, but it gives the home a curated look from front to back."
And the cohesiveness is evident from the moment you cross the threshold: Justin and Zack Girard have created a cozy, elegant, open-style family home that caters to an entertaining lifestyle.
To enhance those feelings, Justin chose warm neutrals that can be mixed with anything. He added wooden beams in the ceiling and built-in bookshelves, to add a rustic flare. He then accented the room with a Universal sofa, wing chairs from Rowe Fine Furnishings, and artwork from his showroom.
"From the moment you walk through the front door, you are greeted with an abundance of natural light," Zack shares. "it perfectly accents the beautiful furniture Justin has provided and staged."
The living room sits center stage but is surrounded by hospitality spaces — a kitchen with a large bar and eating area, as well as a formal dining room. Once the furniture arrives, the outdoor deck will serve as another dining space, ready to host the next dinner or cocktail party.
As Justin scans the space, he once again points out the glass wall that was slated to be three windows. "The slider makes it a totally different room," he says, subtly but confidently illustrating what makes this project uniquely him.