Online & at Home: Meet Scout & Nimble's Jesse Bodine
photos by Drew Piester & Emily Sewell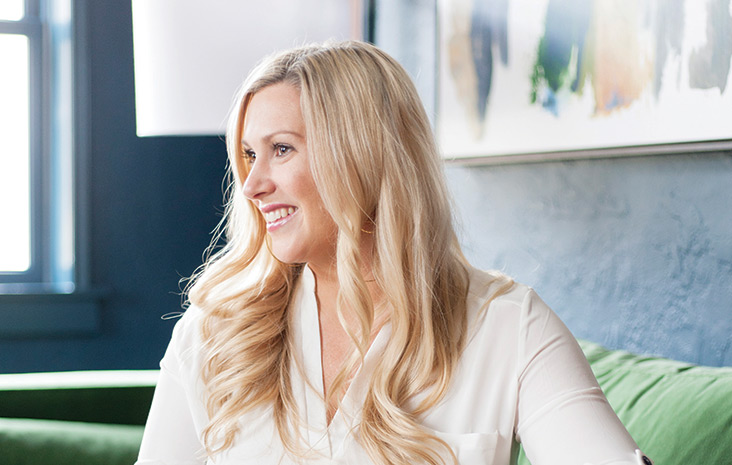 Design has always been a passion of mine," says Jesse Bodine, president and co-founder of Scout & Nimble, an online home décor and furniture retailer. "When I was little, I would ask for décor items instead of toys. I was constantly rearranging my room and watching home decorating shows on TV."
Jesse also had a love for math and science — in high school, she told herself it was a more practical choice to go into the medical field, so she began a career in nursing after college. It wasn't until she gave birth to her first child in 2007 and stayed home part-time that she started decorating around the house more and "feeding that creative side," she says.
It was also around this time that Jesse started blogging about design. She named her blog "Scout & Nimble," the names her beloved and inspirational grandmother gave to her two trusty, old vehicles. It was a fun side project — something to pass the time until she got back to full-time nursing.
"Then Pintrest happened, and my blog exploded," Jesse says. "Friends and family kept asking for design help, and I eventually thought, 'I should actually make this a legit business!'"
Jesse is self-taught in design technique, and she didn't market herself, but nonetheless, her business blossomed through word-of-mouth. She was asked to consult on everything from spatial planning to paint and furniture selection to full room design. Eventually clients were seeking her services on remodels, new construction, and custom homes. Jesse's talent quickly gained notoriety, and she began running into challenges as she started working full-time as an independent, Midwest designer.
"I had trouble sourcing furniture, and I lacked the tools and resources to really grow my business," says Jesse. "The busier I became, the more frustrating it got. My husband became my sounding board."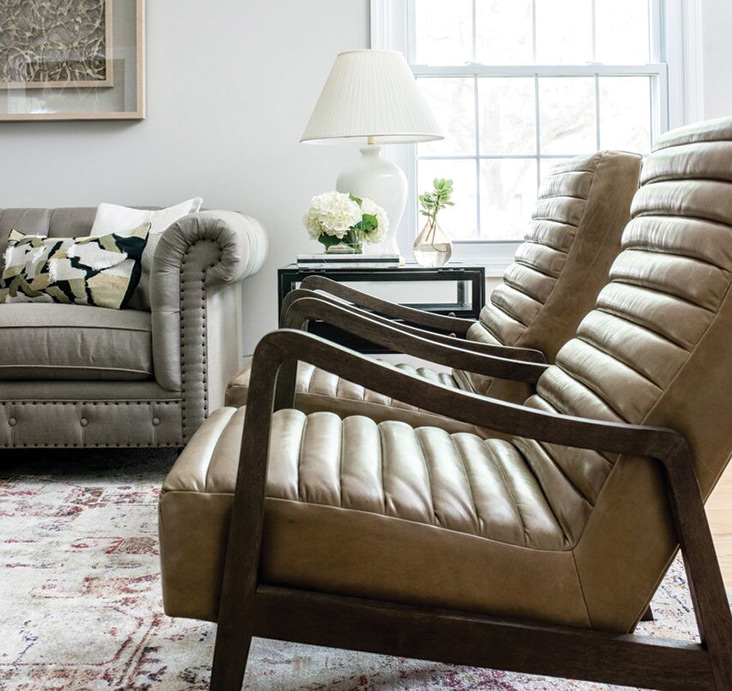 So Jesse and her husband, Sam, started to dream up a website that was "designer-driven and focused, but would help consumers shop and buy products with confidence," she says. "The next thing we knew, these little conversations about this dream started to become a regular topic 24/7, and we knew that we had to build it. People, of course, thought that we were crazy for risking everything and dumping our own money into a business that people said wouldn't work."
But it wasn't until after talking with other home design bloggers, hiring an SEO specialist to assess the need in the marketplace, and contacting suppliers that the Bodines decided "to test the waters."
The essence of their idea was to build a designer-driven and curated retail site that sold furniture and home décor. "We bought two tickets to the Atlanta Furniture Market to approach suppliers with our idea and gauge whether or not they would jump on board," says Jesse. "The response we received was exactly what we needed to validate our research, and off we went!"
Today, what started as a Midwestern woman's passion for aesthetics has grown into a national brand, spearheaded by Jesse, Sam (CEO and co-founder), and their friend James Roberts (COO and co-founder).
In addition to being an online home décor and furniture retailer, Scout & Nimble also provides their trade customers — interior designers — with designer tools and resources that allow them to grow and scale their business through brand awareness. Through the website, visitors can shop by designer, by "shoppable room," or by item.
"We've had an amazing amount of growth this year," says Jesse. "We've really had to control our growth in designers to provide excellent customer service."
Jesse and her team work out of REDI's Innovation Hub, a co-working and start-up space, with their nine local employees. (They have another seven employees who work outside the office all over the country.)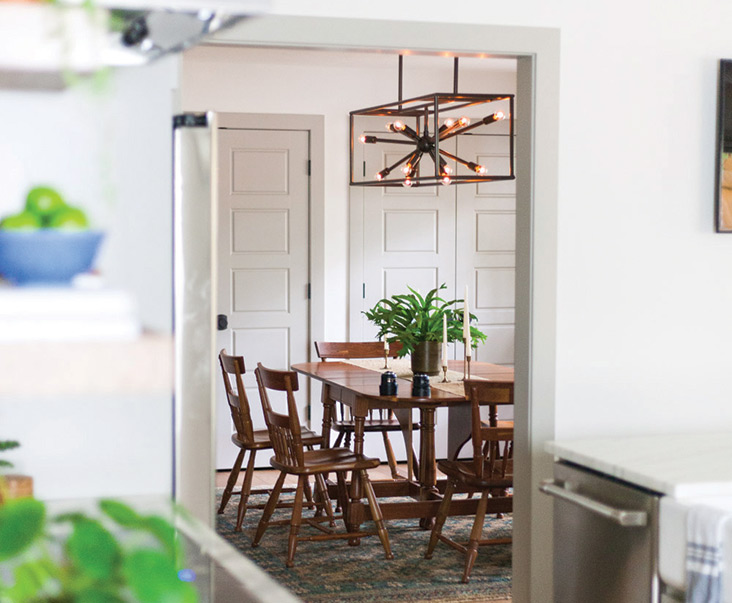 MARKETING & OPERATIONS
When asked about the work week, Jesse exclaims, "That's a loaded question — we keep busy!" says Jesse. "Luckily we have an amazing team who help to juggle the many day-to-day tasks."
Jesse's contributions to the business include implementing most of the design and visual elements, managing all of the designer and social media relations, and managing the blog content on the website. Managing Scout & Nimble's Instagram, which has more than 213,000 followers, is her favorite responsibility.
Sam handles the e-commerce operations. He also manages several different teams who work on site design and functionality, product management, customer service, order fulfillment, paid search and email marketing, and drumming up future development ideas. James is a data scientist and assists with analytical analysis, financials, and future projections.
"I know it sounds like a lot," says Jesse, "but at the rate we're growing, we truly do work on each and every aspect of the business on a weekly basis. We feel that for where we are as a business, we need to be in tune with all aspects at all times in order to make sure that we're properly allocating our resources and have the versatility to make changes on the fly."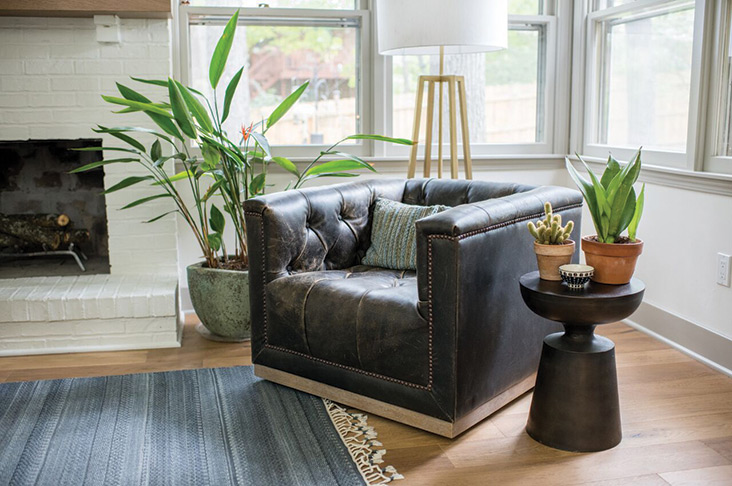 The majority of Scout & Nimble's sales are outside of Missouri; if she were to break it down, Jesse estimates that 95 percent of their sales are in other states, while her local personal design projects account for roughly five percent of their sales, although Jesse's personal projects are done over the country as well. Currently, the company is working on 24 design projects, eight of which are outside Columbia.
"It wasn't always that way, though," says Jesse. "Starting off, we wanted to grow slowly as we were figuring things out, so we were utilizing the local side of things to help build, experiment, and grow the e-commerce site. The e-commerce site is the scalable part of our business, which is our main focus, but I will always be taking on select local projects because of my love for design."
One may ask, "But how the heck do you design a space that's several states away?" Scout & Nimble is able to feather remote — and often luxury — nests all across the country by using the technique of "e-design." Though travel depends on the client and the type of project, the process typically involves at least a couple of site visits, lots of Facetime calls and walk-throughs, and "progress shots."
"The client will measure the dimensions, and we'll source the selections and execute the design plan," says Jesse. "There's a lot of 'Move the rug here,' and 'Move the sofa over,' and 'Put this on your coffee table.' We get very close to our clients, which is a lot of fun!"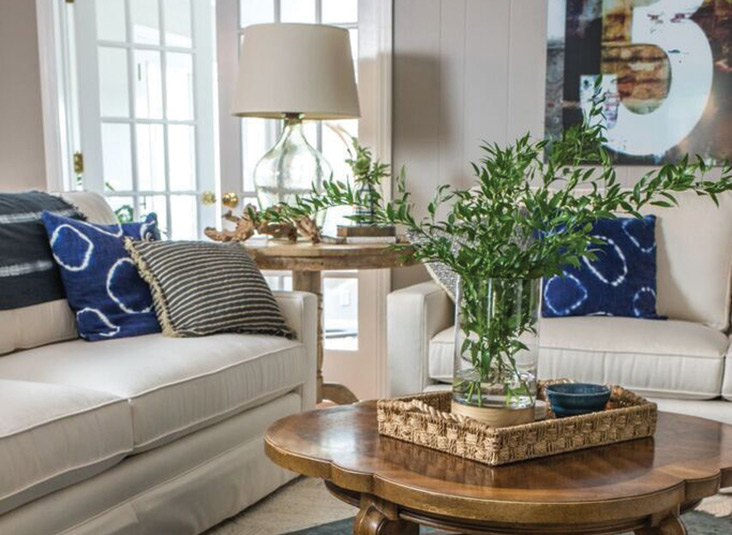 CREATIVITY & DESIGN
But no clients are closer than the ones at home in Columbia. A couple of recent favorites come to mind for Jesse: in one instance, the Scout & Nimble team did a "full gut-job on the cutest three-bedroom house," starting with the kitchen.
"These clients were so much fun to work with," Jesse says of the new owners of the 40-year-old house. "They had such great style and craved that modern, eclectic vibe, yet they were also drawn to spaces with a warm, vintage style."
The team went with white walls and a warm gray on the trim throughout the home, and then repeated that same color on the kitchen cabinets, which "gives the entire space a fresh and modern feel," Jesse says.
In another project, a couple of years back, the Scout & Nimble team helped a client with the addition and remodel of a newly-purchased home. For two years, they held off on doing anything with one particular room because the clients wanted to live in the house for a while to see how they wanted to use the space.
"They always had dreams of having a library in their home (pictured below), and we were able to make it a reality," says Jesse. "It was important to us to create a space that immediately drew the eye in and made guests feel welcome, since the room is located right next to the front door, but we also needed to make the space demand attention to balance the gorgeous living room, which is on the opposite side. It had to be perfectly balanced."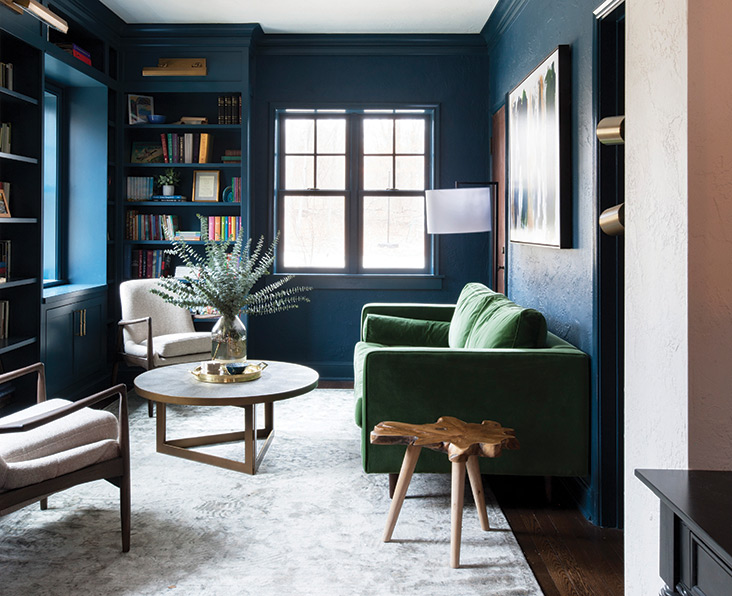 Whether the clients are near or far, some key components tend to be crucial in creating a successful project.
"In these projects there was a great amount of trust between us and the clients, which always results in our best work and allows for amazing transformations," Jesse says. "Trust is huge when it comes to what we do."
Jesse believes that the clients in these two scenarios also allowed the team to push them beyond their comfort zone, and in the end, it allowed the team to give the client a unique look that reflects their family, lifestyle, and personality.
"I love when people are willing to go down a path that not many are willing to travel," says Jesse. "All good things come from stepping out of your comfort zone. And I love when I can create something unique that promotes my client's personality. Your surroundings affect so much of how you feel in your day-to-day."
That seems to be an instinct that Jesse picked up at a young age. Now, she's sharing it across the country.