Health Journeys: The Personal Trainers Behind COMO Business
photos by Keith Borgmeyer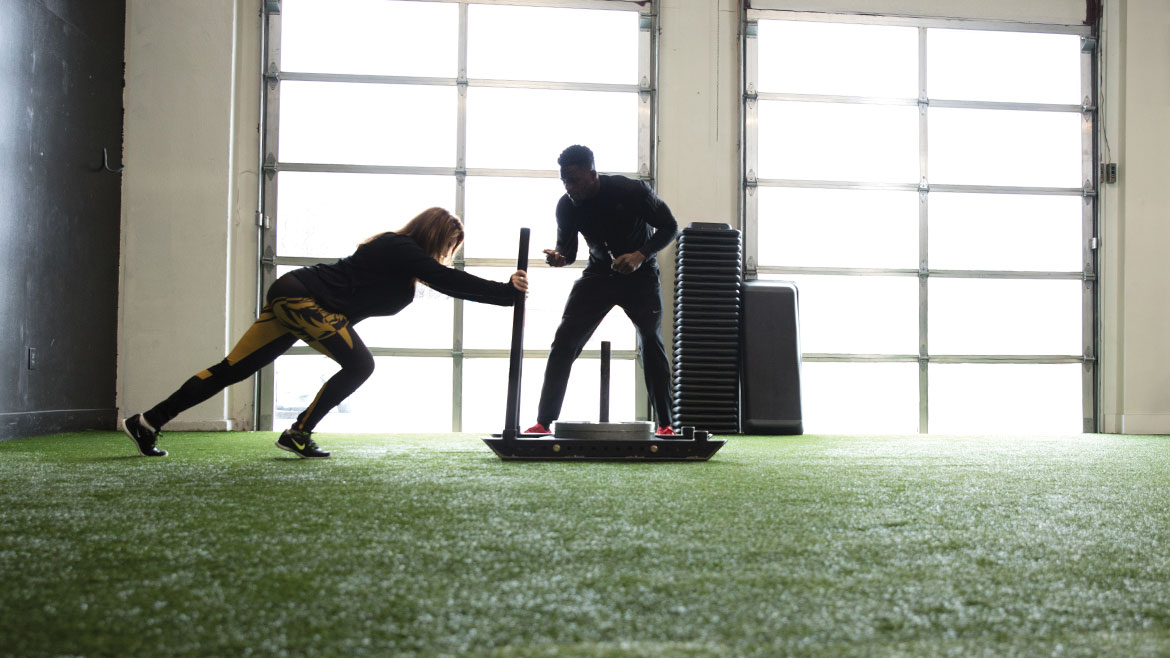 What kind of relationship can we expect from someone we're paying to tell us what to do? We're likely to choose a stranger, so we can cut ties if things don't go well. Our tendency is to put careful boundaries in place to preserve the professional relationship. But sometimes a friendship develops — and that can be a good thing.
Here are three Columbia professionals who took a chance on trusting their health to physical trainers who have helped them develop a work ethic in every part of their lives, especially in business.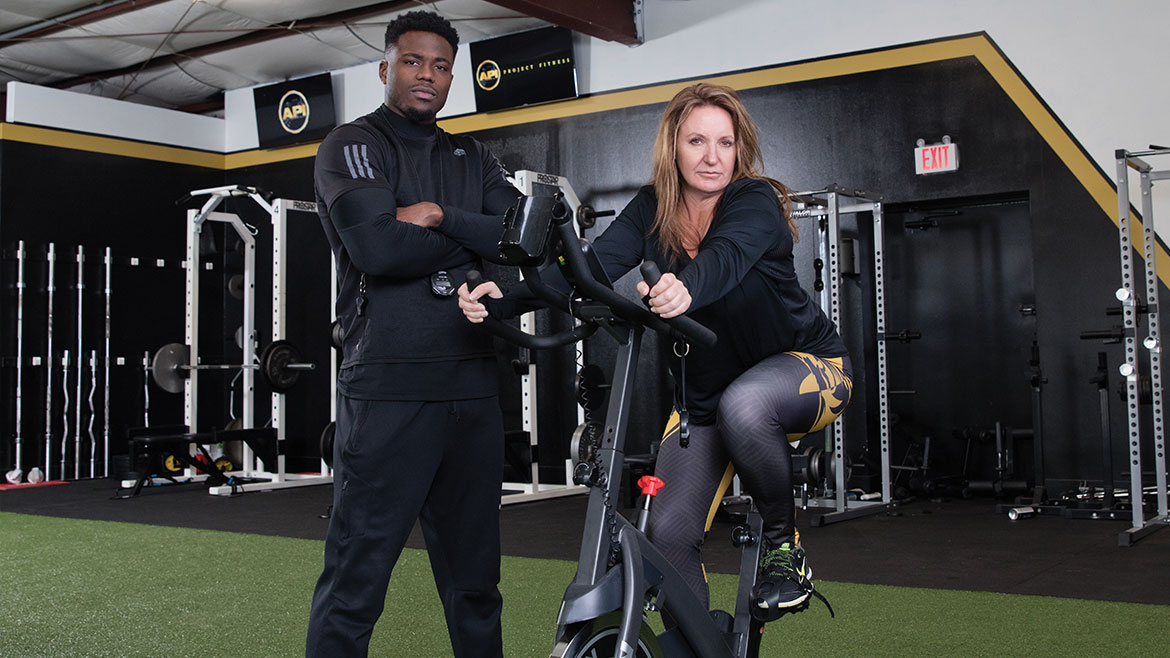 Jerrell Jackson and Tracy Taylor
"It sounds crazy," Tracy Taylor admits, "but I think my trainer has made me a better mom. And, in my job, a better worker."
Her declaration is a testament to Jerrell Jackson. In the year they've been working together, Taylor has become accustomed to Jackson's physical training sessions doubling as life development. "It's definitely more with him than just physical training," she says. "He gets into your head and makes you want to change everything, to do better at everything."
"It's my job to pull out the motivation she already has," Jackson says, "which is why I focus on taking out the distractions. We zone in on one thing and concentrate on that."
One of Jackson's guiding principles as a personal trainer is to build a friendship with his clients early in the process to establish trust, develop a rapport, and strengthen their bond. Were it not for this principle, Taylor would have quit meeting with Jackson when she fractured her foot shortly into their journey. For a month and a half, they could only exercise her upper body. "With any other trainer, I would have quit and not come back," she says. "Jerrell made the difference. I knew he would have been very disappointed that I would let something like that stop me. And I don't ever want to disappoint him, because we're friends. I knew he wasn't going to let me go away because I hurt my foot."
Jackson played wide receiver at MU from 2008 to 2011 before embarking on a professional career in the NFL and, briefly, the Canadian Football League. His experience lends him considerable credibility; he knows first-hand the hard work it takes to reach goals, so he's passionate about his clients reaching theirs, whatever they may be. "It may not be the same feeling scoring a touchdown against the San Francisco 49ers, but I know the excitement Tracy feels when she steps on that scale and she puts on that dress, feeling amazing," Jackson says.
"Physically, I have to carry a lot of equipment," Taylor says. "It's easier to do now because I'm stronger and I'm in better shape. It used to be a struggle. I was heavier and I felt weak when carrying stuff."
The success they've achieved together has generated a mutual love, respect, and trust for one another. Last year, Jackson's mother and father each lost their homes in the wake of Hurricane Harvey. When he traveled to his hometown of Houston to lend them a hand, Taylor loaned him her car so he could haul donations from clients and friends. "When she trusted me with her car, it let me know how I impact her life," Jackson says.
His impact on Taylor has transformed more than her physical health. "He's real about everything," she says. "He's become my part-time therapist as well, because I can talk to him and trust him on a different level than just as a trainer."
Jackson reciprocates the appreciation. "I think Tracy has a genuine relationship with me that if I need anything, she's there for me," he says. "This is someone in my corner, and if I need her, she won't disappear from me."
Jackson tries to instill an element of mental conditioning in his workouts, believing it builds a strong work ethic in the client's everyday life. Taylor has developed that mindset, which she carries in raising her kids, operating her own court reporting business, and, as she says, "in every aspect of life."
"Whenever I'm training, I'm training your mind more than anything," Jackson says. "If your mind is strong, your body will follow. If your mind is weak, your body will quit every single time. If you want to get that promotion, if you want to get that raise, if you want to better that relationship with people in your life, if you want to get stronger, faster, lose weight — it all takes you pushing yourself further."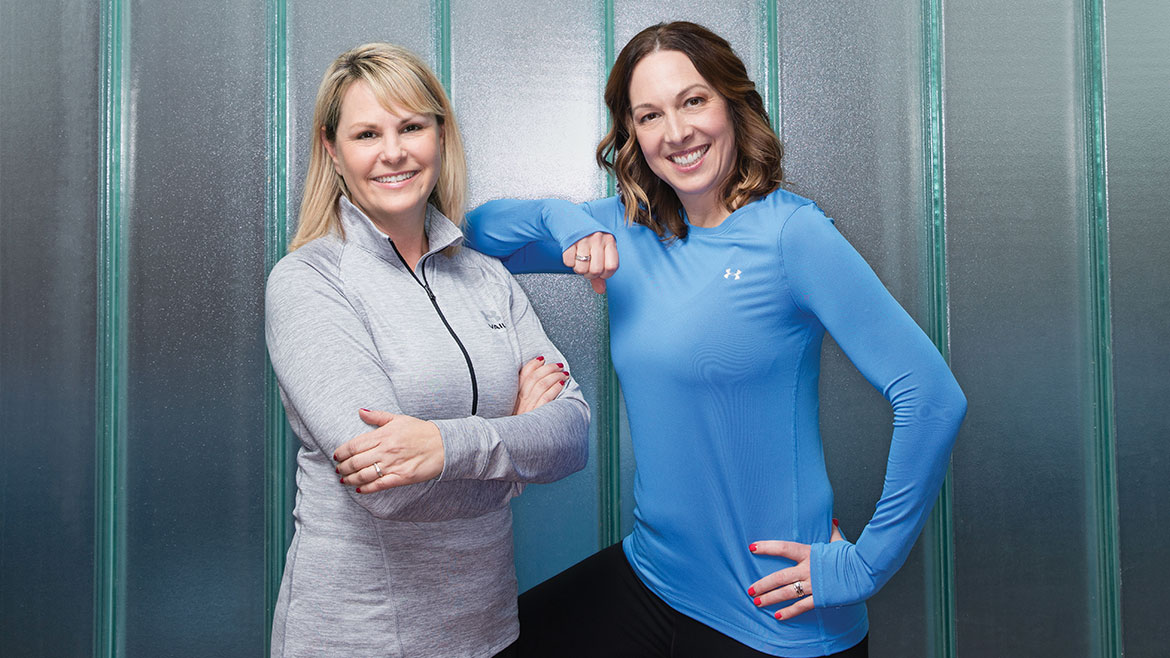 Amanda Barnes and Kim Becking
On any given workout with Kim Becking, trainer Amanda Barnes knows "the two of us are going to discuss something that's close to both of us, vent if we need to, come up with ideas about this and that, and it's going to help me with the rest of my day."
"I had a male trainer while living in Kansas City, and we did not have this type of relationship," Becking says. She felt her old trainer was good at focusing on strength training, but didn't tailor his training in Barnes's style, which is more holistic, focusing on being emotionally and physically healthy in equal parts. "It's the physical, it's the emotional, it's the nutritional aspects, all of it, because I'm a whole person with different things going on in my life," Becking says.
"But it's all connected," Barnes interjects. "I think everything is connected, whether it's our muscles connecting throughout our body or what we're doing in our lives connected to what our lives are becoming. . . . We are women in our 40s, and we need to not worry so much about the number on the waistband or the number on the dress."
After battling breast cancer, Becking began exercising because "it took me a while to rebuild and get back to a point where I felt strong again. Now that I'm 46, I want to be healthy and I want to be strong."
Her success is evident. "Kim has gotten stronger," Amanda testifies, "and she is setting such a good example for her kids, too. They're seeing transformation, learning they also can put their health first and be strong. They see their mom being a healthy role model."
In the process of working out with Barnes for four years, she's learned that her best success comes when keeping her life balanced — and when she doesn't, she gets called out. "I can tell when she hasn't exercised," Barnes says. "She does need to have a balance in her life — if she's all work, it's not good for her emotional well-being."
It's also not good for her business. "I do motivational speaking and I talk about this, but I have to live it myself," Becking says. "I walk the walk. Making that commitment has been absolutely life changing not only in my physical well-being, but in my mental health as well. It has allowed me to be more productive, have more clarity, and have more focus."
Barnes affirms the connection. "As you get stronger physically, you're also getting stronger emotionally and mentally, and sometimes I think it parlays professionally," she says.
Becking and Barnes succeed because of mutual respect, admiration, and love. "We've had sessions where we have spent the entire time having therapy and walking and not even touching a weight," Barnes says. "Sometimes we need that, and it's just as important as doing 50 squats."
Becking knows full well how life-giving those sessions have been, and she's come to trust Barnes as a friend and confidant, a result of her trainer proving to be more than simply a professional who is paid to focus on physical health.
The trust flows both ways. "We keep each other in check when it comes to our life goals beyond the physical stuff," Barnes says. "She knows what my goals are for myself and just as I'm asking her questions, she'll ask me if I've followed through on important things. You can't spend time with someone on this type of journey without having that relationship and that connection. It has to be there. Otherwise, I don't know if everyone can achieve what they need to."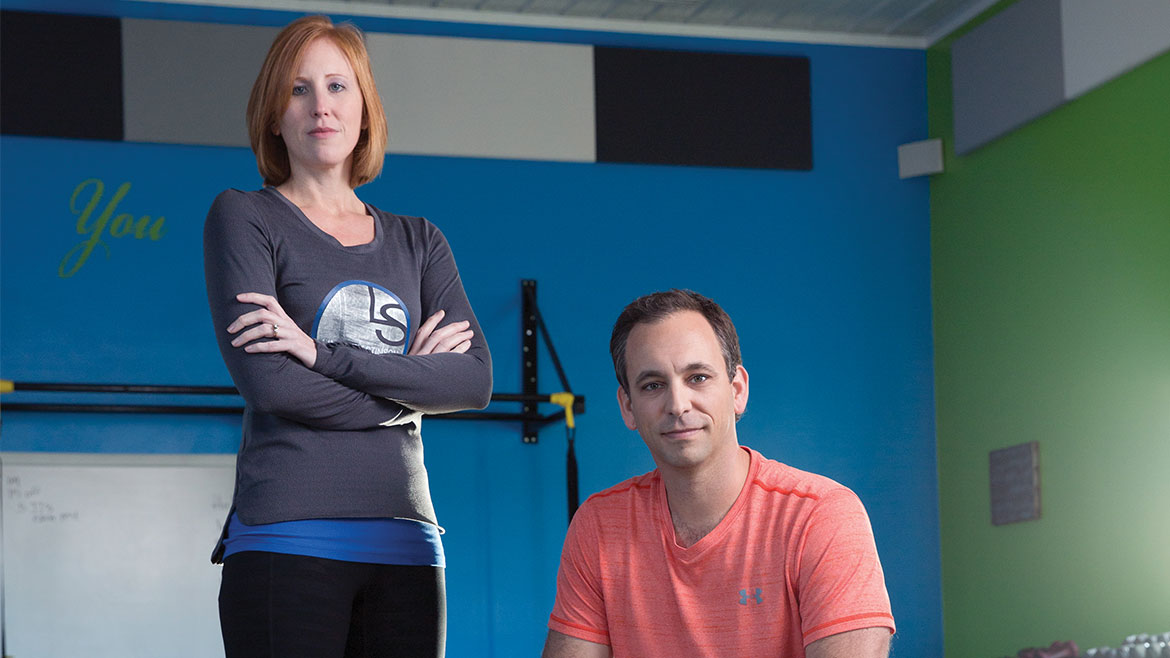 Lindsey Stinson and Nicholas Golda
Dr. Nicholas Golda made the decision to prioritize his own health early in his career — very early, in fact. "After my residency training, I became heavier than I needed to be," he says. "I saw my primary care doctor and it was the first time in my life someone looked at me and said, 'You need to lose weight.'"
Golda didn't rush to find a personal trainer. He's a dermatology surgeon specializing in facial reconstruction related to skin cancer, and he always felt too busy to seek out the right person to help him.
Fortunately, he came across Lindsey Stinson. "She trained my wife for a long time before training me," Golda says. "I would lift weights at home and my wife would train with Lindsey." Seeing the health results Stinson produced in his wife, Stephanie, led Golda to join their workouts and put his confidence in Stinson. "I was positive about the process in advance because of my wife's positive experiences," he says. "I knew Lindsey wasn't going to sell me a bill of goods. The motivation was strictly health."
"It was an easy transition when Nick started working out with his wife," Stinson recalls, "because he was wanting change. He was willing, and he was ready."
When Stephanie took on a new job that conflicted with their workout day, Nick didn't drop out. "My wife impressed upon me the importance of taking it seriously, both diet and exercise, and Lindsey does a good job of emphasizing how those two come together," he says. "For me, it's been quite a bit more about managing my diet and working out in a manner that's smart."
When they started working out together, Golda wasn't eating enough. "He was not giving himself enough fuel to burn fat," Stinson says. "He would not eat anything all day and just go crazy at night." (Nick interjects a quiet confession: "I would eat my kid's food too.")
Golda isn't on a diet plan now; he's simply more mindful of when he eats, how much he eats, and no longer indulges in his children's macaroni and cheese.
Stinson and Golda have devised workout plans to help him counter the physical demands of his job, where he has to stand and perform surgeries and make rounds to care for eight to 10 people. He's had lower back issues and muscle strain, which he and Lindsey addressed by working together to strengthen his core.
Golda has extra motivation to work hard as well: there's a history of heart disease in his family. He wants to see his two little girls grow up and have children of their own. "I want to be able to have useful life where I'm living full and active, doing things and engaging with my family and my friends for as long as possible," he says.
Considering Golda lives in Pierpont and Stinson's gym is in Hallsville (about a 30-minute drive), his commitment to keep working with Stinson speaks volumes about their shared dedication to his goals. "I give Nick the opportunity to Skype if he wants because of his busy schedule," she says, "but he knows he works so much harder here and he makes it a point to come . . . the one thing I love about our relationship is I know he's committed. He makes that effort and he realizes getting here is going to make him better in the long run."
To Golda, it's an ongoing investment of invaluable time. "I've seen the results," he says. "There is no room to dispute this is time well spent. I'm accomplishing something with Lindsey I wouldn't be able to provide for myself. This journey for me has been one where I focus on myself and I've got accountability and I see results. You can't beat that."