Bridging the Gap: CenterPointe and Mental Health Care in Columbia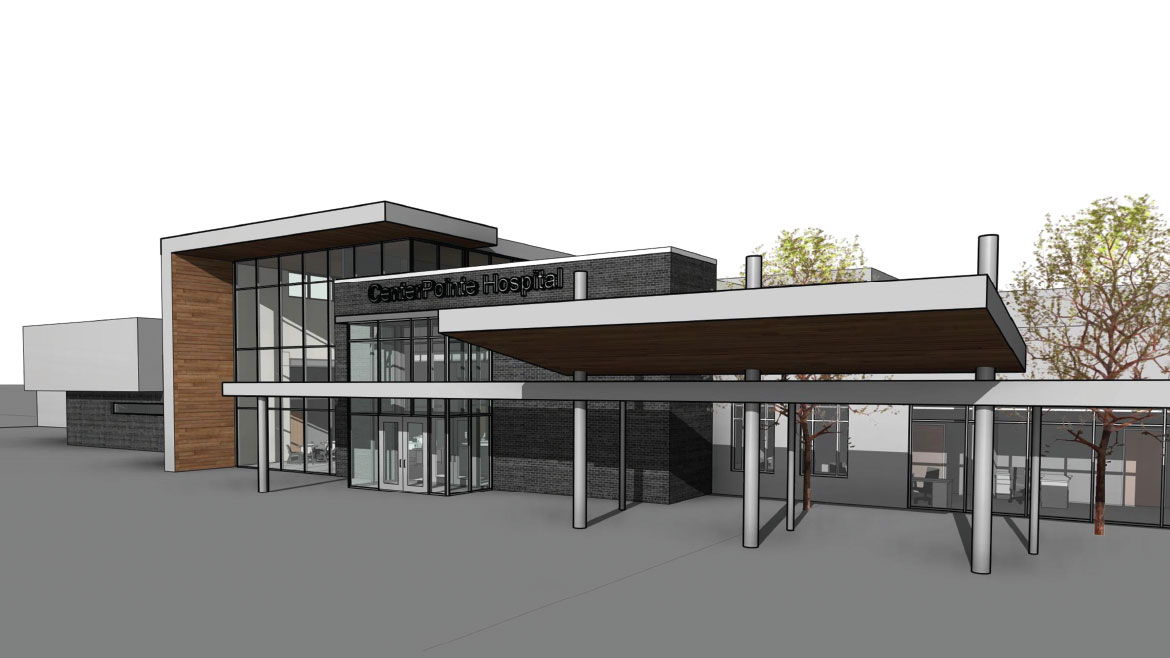 A few years ago, the leadership at CenterPointe Behavioral Health System noticed a trend taking place within its two inpatient mental health facilities in Missouri.
CenterPointe Hospital, a 150-bed facility in Weldon Spring, was receiving a sizable number of patients from Mid-Missouri, who were driving two to three hours for services that weren't available in their communities. The same went for CenterPointe's Signature Psychiatric Hospital, a 36-bed facility on the other side of the state, on the North Kansas City Hospital campus.
Doctors and administrators knew that access to mental health treatment in rural areas is scarce, but even patients from Jefferson City and Columbia just weren't able to find the help they needed close to home.
"A lot of times, we turn away patients from the Columbia area because we don't have a bed available," says Sheila Hunt, regional director of business development for the St. Louis-based CBHS. "The number of patients we admit from across the state of Missouri is just growing and growing. In a lot of the rural areas in Missouri, people are traveling three and four hours just to get psychiatric or addiction treatment services. There are just not enough services."
CenterPointe saw an opportunity to close the gap in the middle of the state and began planning a new inpatient facility in Columbia. The Missouri Health Facilities Review Committee, which reviews and approves all health care facility plans, accepted CenterPointe's proposal for a new facility in July 2016; the City of Columbia's Planning and Zoning Commission signed off on construction in January 2017, and CenterPointe broke ground a month later. Construction began in earnest last fall, and CenterPointe is anticipating a Fall 2018 opening date for the 72-bed, $22 million CenterPointe Hospital of Columbia. The new hospital will be located where International Drive and Rangeline Street meet, about five miles north of downtown.
Buddy Turner, CBHS executive chairman and chief executive officer, envisions a place that can accommodate overnight stays for severe mental health patients while also allowing CenterPointe to greatly expand the outpatient psychiatric and substance-abuse treatment capabilities already established in its office on W. Nifong Boulevard, which opened in 2014.
"We try to find different types of services — gaps of services in a community — and, when you look at Columbia, we started with general outpatient services, then added group services, then some more intensive outpatient programs," Turner says. "That led us to pursue a certificate of need to add inpatient beds. It's all just a natural outgrowth of that outpatient facility."
In Turner's 25 years in health care, he has witnessed a change in how people think about mental illness. It is no longer as stigmatized as it once was. People are less ashamed to seek out help. He wants CenterPointe to be the place Mid-Missourians go for that help.
"The University system offers some services, and there are other medical centers that offer some services, but we'll be the only freestanding, pure psychiatric hospital in the region, and we think there's a pretty significant need," Turner says. "Our hospital will look and feel just like any other hospital. It'll be a really nice haven for people who need care."
Addressing a Need
CenterPointe first filed its letter of intent with the state's Health Facilities Review Committee in March 2016. There was just one problem: Oceans Healthcare, a company based in Texas, already had a proposal before the committee for a 60-bed, $12.7 million psychiatric facility for elderly patients in Columbia.
"It was quite the interesting process," Turner says.
The committee rejected Oceans' proposal on March 7 after a public hearing in which health care professionals from Columbia, Jefferson City, and surrounding communities stated that Mid-Missouri already had the capability to house mental health patients in the over-55 community.
CenterPointe's proposal, on the other hand, hinged on meeting the psychiatric needs of adolescents and younger adults. It passed unanimously.
"Our proposal resonated with more people because we were looking at, big-picture, what was best for the community," Turner says. "Not trying to replicate services, but really trying to fill in those gaps. We think this hospital does it."
It helped that CenterPointe already had a presence in Columbia. Its outpatient office on Nifong employs two full-time physicians, two full-time nurse practitioners, and some contracted therapists. They currently see patients in all age ranges with all types of mental health disorders.
It was a good start, but not really enough to service the community.
"We're barely covering the need. We're still seeing a number of people having to leave the community to seek out care," Turner says. "The push, and the real driver behind us looking for an inpatient hospital, was not just the inpatient business, but also to do an expansion of our outpatient system, too. We need to be able to provide all those different services to the community."
Turner and Hunt say CenterPointe will be able to pair its outpatient facility with the new hospital to provide patients a "continuum of services" — basically, meeting the patients where they are and assessing what next steps are necessary, keeping it all within the CenterPointe system.
"Someone can enter at any level of service," Hunt says. "If they don't need to be in the hospital, we don't want them to be in the hospital, but the more serious the condition, the higher the level of care. There is a lot of fluidity between inpatient, outpatient, and the different levels of outpatient. It's very much based on the individual patient's needs. No one is alike."
Turner also sees the potential for exponential expansion in CenterPointe's capabilities for treating addiction and substance abuse. Non-heroin opioid deaths in Missouri have risen from just over 90 in the first quarter of 2013 to 160 in the first quarter of 2017, according to the Missouri Department of Health and Senior Services. The department recorded more than 900 deaths due to heroin and opioid use in Missouri in 2016. Boone County and the seven counties that border it — Randolph, Howard, Cooper, Moniteau, Cole, Callaway and Audrain — experienced more than 120 deaths due to heroin and opioid overdoses from 2012 to 2016.
Combating opioid addiction has been a point of emphasis for Governor Eric Greitens, who signed an executive order in July directing the departments to launch a program monitoring the flow of prescription drugs in the state.
Turner says the new hospital will have detoxification services as well as the ability to treat underlying mental health issues that may lead patients to addiction.
CenterPointe also has a residential treatment facility in St. Louis for longer-term rehab stays.
"The idea is to try to get people back into their natural home environment," Hunt says. "Or they may be in a nursing home, group home, or some type of supportive environment in the community, and then they'll attend outpatient services."
Courting the Community
Turner says he has already hired a CEO for the new hospital. He hopes for that person to be on-site by the spring to start developing relationships with people in the community.
CenterPointe Hospital of Columbia will employ around 175 to 200 people. By the time construction is about halfway through — a target date of early spring 2018 — Turner hopes to have the facility's management team hired and on location so it can start preparing for the grand opening.
Turner and Hunt are tentatively hoping for an October unveiling. If the weather is especially bad this winter, it could push back into November, but a mild winter could push the opening up into September.
"We'll do an open house (prior to opening)," Turner said. "It's always a good opportunity for people in the community, especially those that have some stigmas associated with psychiatric hospitals. I think they'll be surprised."
On the ground, Hunt says, Mid-Missourians are eager for the facility to be completed. CBHS leadership has made multiple trips to Columbia and every time, Hunt says, the same question pops up: How quick can you get here?
"People tell us how excited they are that we're coming and that we just can't get there quick enough for them," Hunt says. "We're feeling a lot of anticipation from the community, and that excites us, that the community is welcoming us and feels the need for behavioral health and addiction treatment. We anticipate continuing our growth after the hospital is built based on the community needs."
CBHS has been laying the groundwork for this expansion since 2014, starting with the opening of the outpatient facility, through consultations with local providers to see where gaps in services existed, to the certificate of need process with the state review board, and on into the start of construction on CenterPointe Hospital of Columbia.
The goal is a one-stop shop for mental health care.
"We'll have 72 in-patient beds, outpatient services, some physician offices," Turner said. "That allows us to assist patients who need step-down services or after-care appointments. On that same outpatient wing, it'll also provide some additional group services to adults. You can see patients on an outpatient basis and, many times, prevent an unnecessary hospitalization using that service."
They've already seen an overflow of Mid-Missouri residents who need help driving to hospitals halfway across the state. Once the hospital is built, help will be closer to home.
"What we didn't want to do is come in and provide redundant services," Turner says. "We wanted to start meeting some of those unmet needs."