photos by Love Tree Studios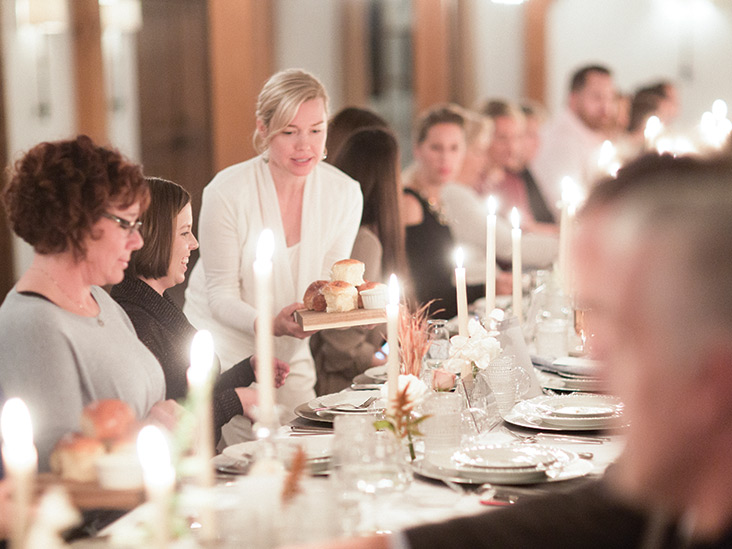 Treat yourself to dinner at Blue Bell Farm.
When have you lingered over a glass of wine, treated your palate to a new taste, and savored a farm-fresh meal one course at a time all while enjoying lively conversation around a communal table?
For me, it was the recent Air Dinner at Blue Bell Farm.
The Experience
The evening started with a leisurely 20-minute drive from Columbia to Fayette. After finessing the curves of Highway 240, I took a right onto a gravel road, passing cattle grazing in front of an old farmhouse. The setting sun covered the surrounding trees in a yellow glow and revealed a picturesque, white-washed two-story barn in the distance.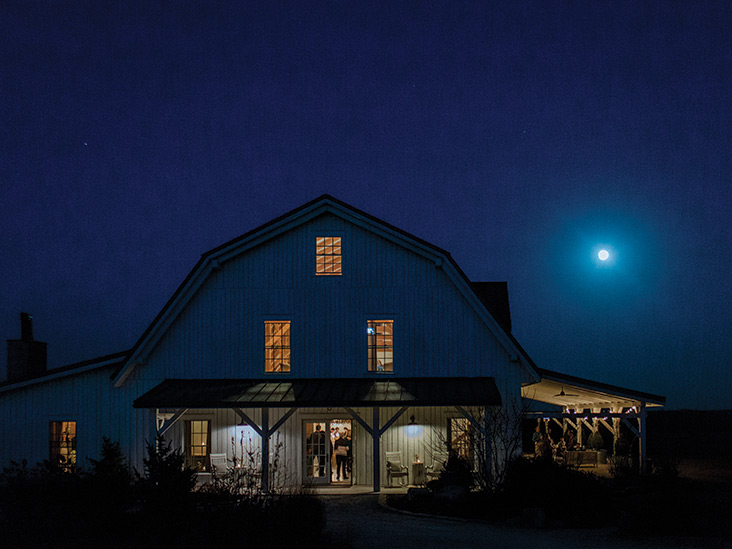 It was warm for a Saturday night in December. A fire blazed in the distance and the smell of smoked meat filled the air.
Once inside the barn, I was greeted by our hostess and offered a Winter Wind cocktail featuring vodka, St-Germain, ginger, lemon, sage, and club soda. I took a moment to stroll around, admiring the honey-hued oak timber frame, old barn doors, vaulted ceiling, and white-washed pine walls.
The main hall was spacious and airy and featured two communal tables, each elegantly set for 36 guests. The place settings and décor were works of art in themselves, with white candles, fresh flowers, glass place cards, and silver flatware accenting the "air" theme. Shimmering steel blue napkins and opaque menu cards enhanced the sophistication.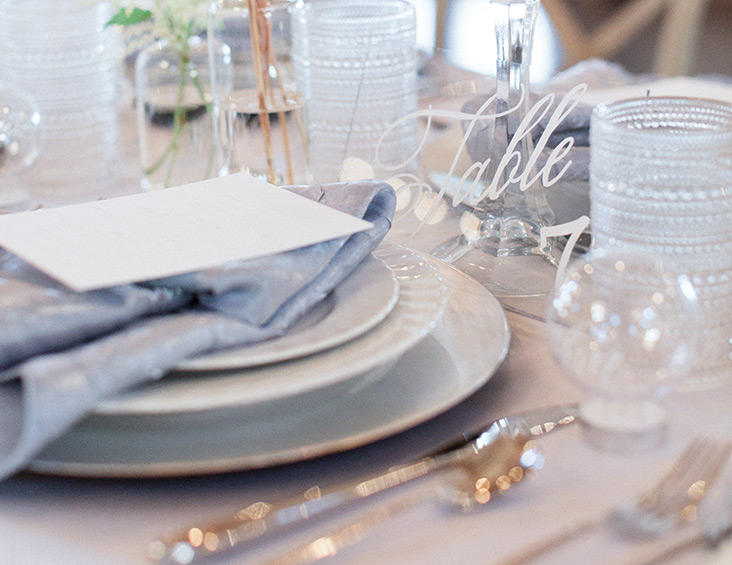 After cocktail hour in the Barn Wood Bar, I was seated around a long table in a group of six for a five-course, family-style dinner. The meal featured the creations of Gerard Craft (owner and chef of the St. Louis restaurants Pastaria, Sardella, Brasserie, Taste, and Porano) and the wine pairings of A Bommarito Wines.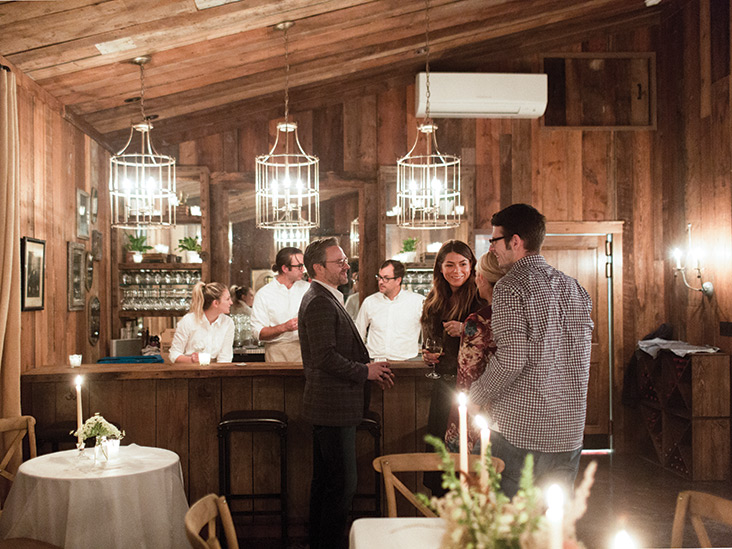 As the dishes circled the table, conversation ensued about our exposure to Blue Bell Farm. Some had attended a dinner before, others a wedding or event, while some, like me, were experiencing life at the farm for the first time. We shared the excitement to branch out beyond our usual fare and try something new.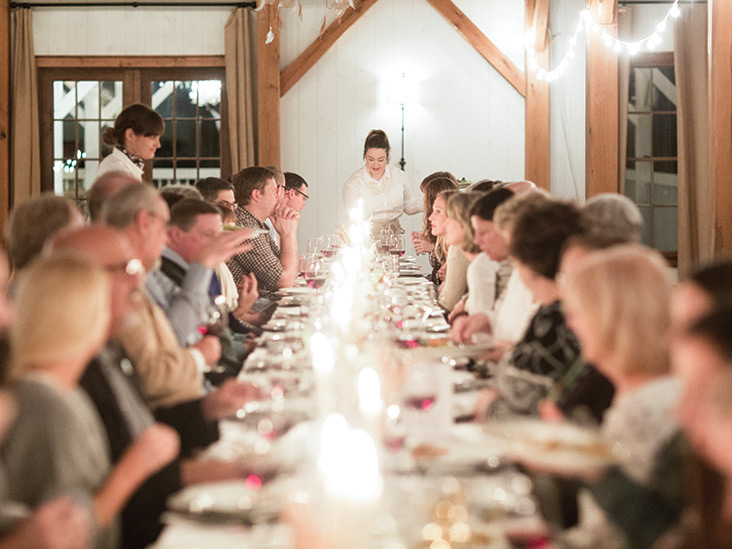 The evening surpassed my expectations. While I would usually pass on raw fish, the lightly smoked hamachi was light, fresh, and lemony. Our table savored the sweet taste of the duck liver ravioli cooked in a brown butter sauce. The main course featured two Missouri favorites: smoked chicken and grits with goat cheese, both sourced from nearby farms. And with each course came a new glass of wine.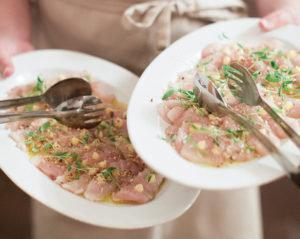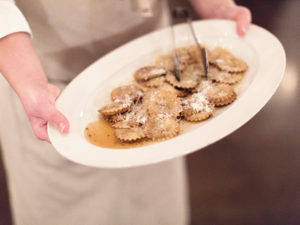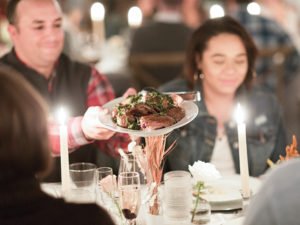 After much laughing, lingering, and relishing, the meal ended with another palate pleaser – spiced Pavlova with orange and cranberry. The meringue dish featured a sweet, crisp crust with a light marshmallow inside. Paired with a sparkling shiraz, it was a breathtaking end to a perfect evening — and the culmination of a vision for Derek and Jamie Bryant.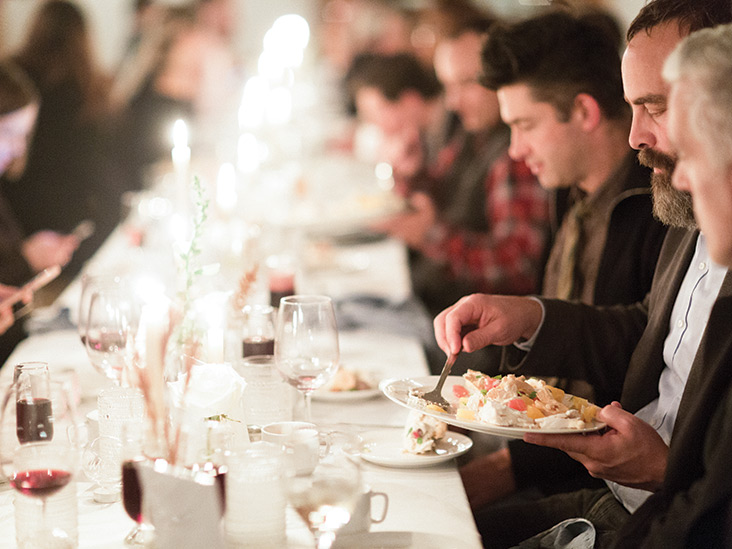 The Dream
Blue Bell Farm has been in Derek Bryant's family since 1812 and currently includes 300 acres. He and Jamie have been operating the farm since 2011, when they moved from St. Louis and started a greenhouse in the farmhouse kitchen.
"We got involved with an organization called Slow Food in St. Louis and became interested in producing our own food," Jamie shares. "I apprenticed at an organic farm, and we had a huge garden and chickens. We thought we were ready."
They started the farm-to-table dinners at the farm in 2015, after spending the early years selling their homegrown foods at the Columbia Farmer's Market and renting out the farm as a venue for weddings and events.
"After we built the barn, we wanted to pair our food with events to bring the farm full circle," Jamie explains, "but we had a hard time finding caterers who wanted to use local food."
Their solution? To support local farmers and utilize their food by hosting farm-to-table dinners.
For this year's dinner theme, Jamie was inspired by Secret Supper, a company owned by an Oregon duo who specialize in adventurist dining experiences — the menu and location are only revealed to guests 24 hours before the event. Jamie decided to bring the concept to Mid-Missouri by securing a guest chef for each dinner and experimenting with different types of cuisine and locations on the farm.
"Guests don't know the menu or location until they arrive," Jamie says. "We take advantage of different scenery on the farm. So far, I think dinner guests have enjoyed the surprise."
The Water Dinner, for example, featured Tex-Mex from Columbia chef Lindsey Spratt, of Boss Taco, and was held beside the pond. The Earth Dinner was held inside the farm's greenhouse, and when weather turned chilly, the final two dinners were served inside the barn.
Since the first dinner, Jamie and Derek have made some improvements. The first change was moving from a buffet-style dinner to family-style service and adding tableside wine pairings with each course. "Now our guests can enjoy dinner conversation uninterrupted and develop new friendships at the communal table," says Jamie.
They moved the dinners to the weekends, focused the dates to be in the main growing season, and began collaborating with other local businesses. They also created a theme for the dinner series. 2017 featured the four elements: water, earth, fire, and air.
"Because of the collaboration, the end product from last year to now is a night and day difference," Jamie shares. "It's been a blessing to work with such creative partners and outstanding chefs and farms."
Laura Korte, Blue Bell's farm manager, cares for their beef cattle, pigs, and turkeys and raises pastured chickens on a nearby farm. They also grow some of their own fruits, herbs, and greens. Guest chefs are encouraged to use Blue Bell's stock for their main course, and other ingredients are typically sourced from local farms near Blue Bell or the chef's hometown.
"The dinners give the chefs an opportunity to be a little more experimental," Jamie says. "They can think outside of the box. Some guest chefs choose to prepare food over an outside fire."
What's next for Blue Bell Farm? "We plan to bring the farm dinners back in 2018, as well as some pop-up date night events," Jamie shares. "We look forward to creating seasonal menus that are inspired by beautiful vegetables, fruit, and herbs from the garden."
Sound inviting? Treat yourself to dinner at Blue Bell Farm. Your next dining adventure may only be a reservation away.
Air Dinner Partners
Love Tree Studios
Sugarberry Blooms
A-1 Party Event Rental
Pretty Little Things
The Ink Café
Farmers
Doublestar Farms
Baetje Farms
Buttonwood Farms
Air Menu
Blue Bell Farm – December 2, 2017
First Course
LIGHTLY SMOKED HAMACHI
Preserved Meyer lemon puree, olive oil, crushed black walnuts
Gerard Bertrand Cremant Rose, France
Second Course
DUCK LIVER RAVIOLI
Served with hibiscus vinegar
Domaine De Cristia Cotes De Rhone Blanc, 2016, France
Third Course
ORANGE-CUMIN BRAISED CARROTS
Dehydrated with chestnut custard, yogurt, spicy candied pistachios
Nicolas Potel Bourgogne Pinot Noir, 2015, France
Main Course
SMOKED CHICKEN
Sorrel salsa verde, Missouri grits with Missouri goat cheese
Domaine Du Jongier Cotes De Rhone, 2016, France
Dessert
PAVLOVA
Orange, cranberry, and spices
The Chook Sparkling Shiraz, Australia
Chef
Chef Gerard Craft
Owner and chef of Pastaria, Sardella, and Brasserie by Niche Restaurants
Wine Pairings by A Bommarito Wines.