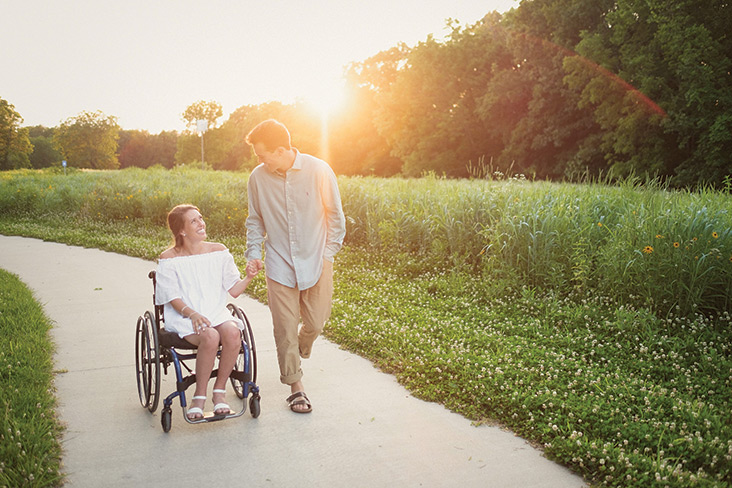 Kathleen Oglesby to wed Kory McDonald.
photo by Scott Patrick Myers Photography
February 16, 2015, was a day that Kathleen Oglesby will never forget. She was involved in a sledding accident that left her paralyzed.
This past May, more than two years later, Kathleen experienced another memory-making day. Only this one had a much happier ending.
The celebration started with a game, one Kathleen and Kory McDonald have played each of the last three years on their birthdays. The couple goes to four or five locations around Columbia, where they play a different mini-game; the loser pulls a funny consequence out of the consequence jar and must perform the action. While much more thoughtful and individual details go into its preparation, the game itself is relatively simple.
Kathleen's birthday game on May 31, however, came with a slight alteration.
"The consequences are a total surprise for whoever's birthday it is," Kathleen shares. "So, Kory made up all the consequences. We went to Schnucks, the mall, his parents' farm, and the fourth location was this deck on a trail that we biked on a lot. We played Tic-Tac-Toe Baggo, and I lost. But I didn't realize that Kory had switched the cups —the new cup only had one consequence. It read, 'Make up a poem in 30 seconds.' So, since I lost, I had to make one up. After I finished, he said 'Oh, I bet I could do better,' and so he recited a poem that he had written, and then he proposed. It was really sweet."
The 23rd birthday-turned-proposal was followed by a backyard barbecue at Kory's parents house, where the newly engaged couple celebrated with friends and family. Smiling ear-to-ear as she told me this story, Kathleen still couldn't believe it happened.
You might remember Kathleen from her "Seasons of Change" story in this magazine a couple years back, where she spoke with us about her accident. "Nothing health-wise has really changed since then," Kathleen says. "I still have those random spots of feeling, but nothing else really. It's kind of like a waiting game pretty much."
After months of rehabilitation and physical therapy, Kathleen has been focusing on getting her life back to normal. Her story's reach was far wider than she ever expected, and it left her completely stunned.
"It was surprising. I got on Facebook and there were a ton of shares of the story and people had tagged me in it. Even people I hadn't talked to in a long time — I was like, wow, its kind of cool that people care enough about your story to read and keep up with it," she says.
As Kathleen reflects back on her time after the accident, she is incredibly thankful for her support system. Especially Kory.
"I think it was hard for him, but he was so strong and relaxed throughout the whole thing. He was the one who was saying, 'We'll take it one day at a time' and 'Whatever happens, happens'. It was so nice having that. It didn't seem like it was a big deal to him, so then it made me feel the same way."
Since the accident, the 2016 MU graduate has been busy starting in the university's nursing program, driving herself around in her new Scion, competing in triathlons, traveling the world — oh, and getting engaged, of course. When asked if she has any exciting upcoming plans, Kathleen laughed and explained that planning a wedding and being in nursing school would keep her plenty busy.
The couple plans to wed on December 31 — ringing in a new year of love, marriage, and hopefully many more blessings for the future Kathleen McDonald.