December at the Galleries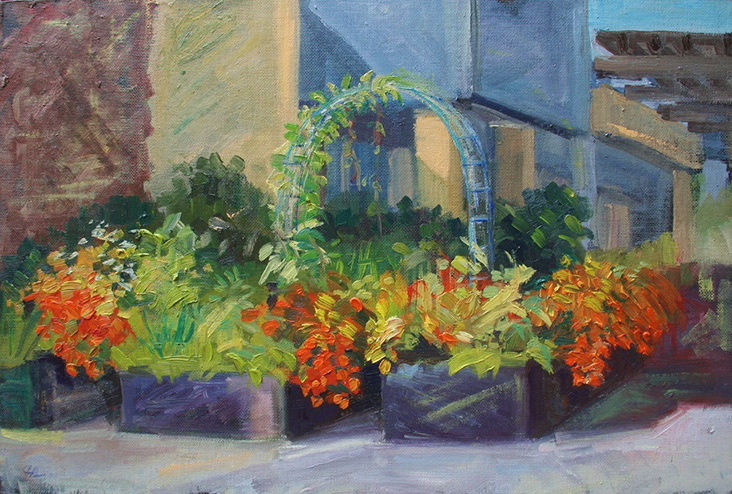 Exhibits feature the work of women master artists.
The long struggle for women in the arts to receive equal representation in galleries is over. Columbia Art League Education Director Karen Shortt-Stout says that, at any given juried show at CAL, female artists today will outnumber male artists by a ratio of three to two. Orr Street Studios also has more female than male artists in their studios; right now the ratio is two to one.
But a few decades ago, things were very different. Betsy Stockstrom, an artist working in St. Louis in the 1950s, told me she could only win admission to a juried show if her entry was labeled with her first initials rather than her first name.
The upshot here is that the Sager Braudis Gallery can still find women master artists from mid-century that remain under the radar compared to their male contemporaries. Rare vintage works by women like Leonora Carrington (1917-2011) and Juanita Guccione (1904-1999) will be on exhibit in the gallery's beautiful display space during December.
At Melissa Williams Fine Art, you can see the work of an important midcentury St. Louis painter, Belle Cramer. Also on display are works by master printmaker Brooke Cameron dating from the 1960s to present day.
Bluestem has a special place in the history of women in the arts — after all, it was founded more than 30 years ago by women artists. This governance of a gallery by a committee of artists is unusual, but in the case of Bluestem, it has been phenomenally successful, leading the gallery to win national awards. This month, Gunilla Murphy joins the partnership at Bluestem. Gunilla, inspired by her Swedish great aunt, weaves gorgeous table runners, napkins, and hand towels. She was a student of one of the original founders of Bluestem, Barbara Overby.
Also this month, Poppy is introducing the work of local ceramist and 1canoe2 owner Beth Snyder. Snyder's ceramics, shown under the name Summer Kitchen Studio, are distinguished by a fresh color palette. Orr Street Studio artists will have their studios open to the public, featuring painting, photography, jewelry, fiber, sculpture, and more. Absolute Vintage is displaying contemporary work by Jennifer Simpson, and Elsa Kelley-Marcum's paintings will be featured at Makes Scents.
And when you're browsing among the female artists showing at Columbia Art League, look for Amy Meyer's "Strawberry" (pictured below) and Collette Brumbaugh's "Lucky's Market Flowers" (pictured above).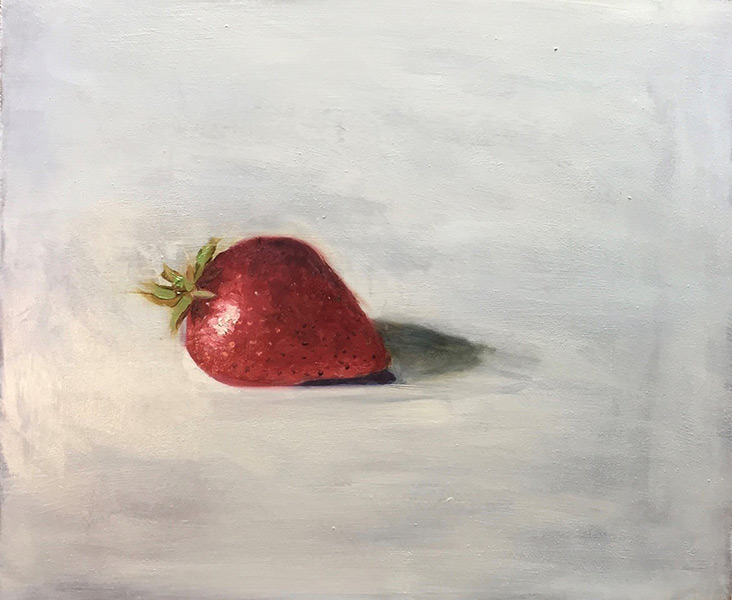 December Exhibits
Sager Braudis Gallery
Masters Exhibit, December 1-30
Opening reception: December 1, 6 to 9 p.m.
1025 E. Walnut St.
Melissa Williams Fine Art
Belle Cramer in the 1950s
Brooke Cameron, printmaking
Opening: December 1, 5 to 9 p.m.
Upstairs at 11 S. Ninth St.
Bluestem
Gunilla Johnson Murphy, weaver
Living Windows, First Friday
13 S. Ninth St.
Poppy
Beth Snyder, ceramics
Living Windows, First Friday
920 E. Broadway
Absolute Vintage
Jennifer Simpson, featured artist
Living Windows, First Friday
917 E. Broadway
Makes Scents
Elsa Kelley-Marcum, featured artist
Living Windows, First Friday
19 S. Ninth St.