10 Last-Minute Halloween Costumes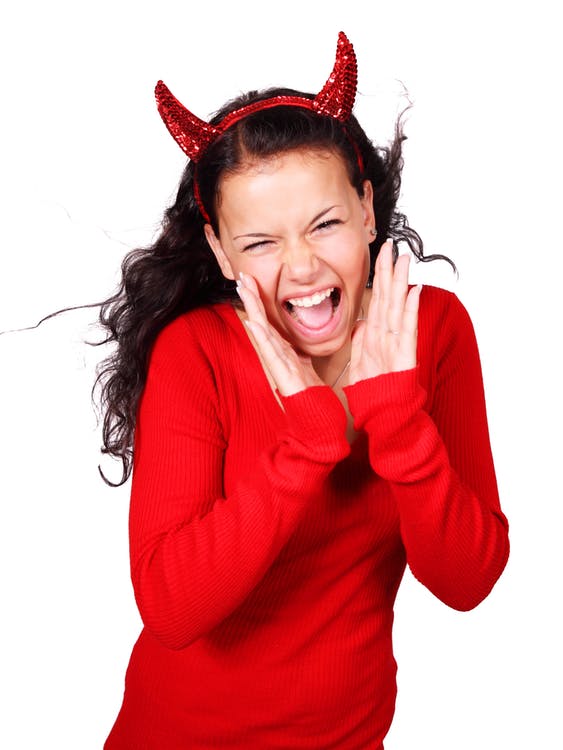 Halloween procrastinators, we have your back! See below for some simple, last-minute costume ideas.
     1. Wine Bottle
You will need: Brown construction paper and a red, white, or rosé colored dress
Tape the sides of the construction paper together so it looks like a cork, and then fasten it to a headband. Voilá! That's it.
Dirty Hippie
You will need: Big sunglasses, anything tie-dye, and brown eye shadow
Anyone can make a hippie costume from items already in their closet. To turn it up a notch, brush on some brown eye shadow on your face and arms to look as dirt and you have a clever yet effortless costume.
Cactus
You will need: A green over-sized long sleeve shirt, black sharpie, pink hair flower
With your sharpie, mark the spikes of the cactus by drawing the letter V. They should be spaced out and drawn all over your shirt. When asked what your costume is, make a U shape with your arms and watch as you dazzle your party guests.
Goddess
You will need: A white bed sheet, twine, and a gold ribbon or headband
Make a toga out of your sheet, synch your waist with the twine and let the extra string dangle down from where you tied it. Next, tie the ribbon around your head so it lays on your forehead then curl your hair. Say you are Aphrodite (the goddess of love), Athena (the goddess of wisdom), or Artemis (the goddess of nature).
Deer
You will need: costume makeup, brown dress, twigs
Use your artistic talents to transform your face into the face of a deer! Then, with clips or a headband, secure the twigs (antlers) to the back of your head and create two small buns on both sides of your head to look like ears.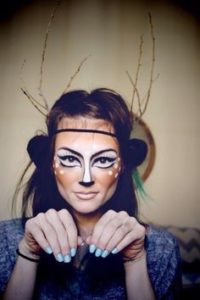 Jake from State Farm or Flo from Progressive
You will need: Red shirt, name sticker that says "Jake," khakis (for Jake) or white pants, shirt, smock, red lipstick (for Flo)
These two are always a crowd pleaser! This is a simple yet creative costume that's guaranteed to set you apart from the crowd.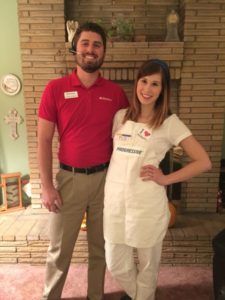 Medusa
You will need: Small plastic snakes bobby pins (the large ones)
Throughout your hair, make small braids (about 10 of them) and tightly curl the rest of your hair. Then attach the snakes to your braids with the bobby pins — if they feel too loose, use small hair clips instead. Finish it off with some green eye shadow and red lips and you have a costume to remember!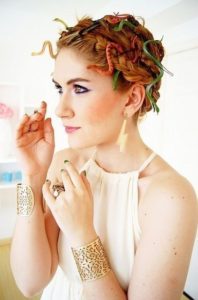 Your favorite emoji
You will need: Costume makeup
Use the costume makeup to transform your face into your favorite emoji. Be sure to set with finishing spray so it lasts all night.
Smarty-pants
You will need: A bag of Smarties candy, big glasses, bowtie, safety pins (small)
This simple costume will leave your friends in awe of your creativity! With the safety pins, attach the Smarties your pants. For extra security, tape the packaging of the Smarties closed so it doesn't unwrap while you walk.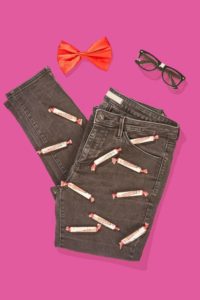 Cards Against Humanity
You will need: a friend, black and white construction paper, string, black sharpie, white-out
Find the funniest match of cards and recreate them on your construction paper! Once finished, poke small holes in the top left and right corners of the paper and lace the string through so the card can hang from your neck like a necklace.