Couple You Should Know: Larry and Paula Chapman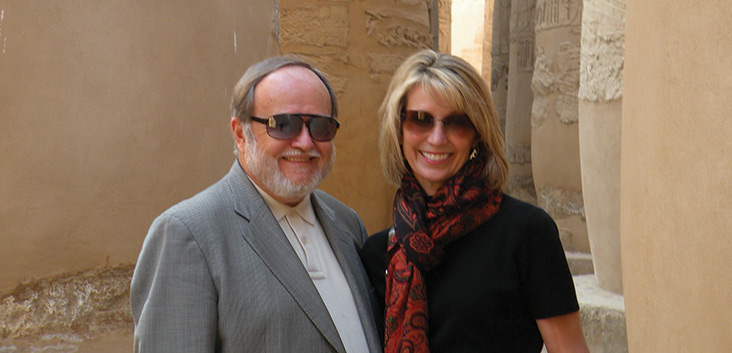 A 17-year age difference couldn't keep Larry and Paula Chapman apart.
Dr. Larry Chapman, who has been in practice with Boone Hospital for 51 years, and his wife, Paula, talk about their first date, traveling, and what they appreciate about each other.
What brought you to Columbia?
Larry: I came to Columbia in 1954 on a Mizzou Basketball scholarship. I chose MU because they were opening a new medical school. The University had 6,500 students and the population of Columbia was 35,000. I enjoy the intellectual and cultural opportunities here, as well as participating in the growth of the health industry.
How did you two meet?
Paula: We met at Boone Hospital. I was a senior at MU and worked the weekend switchboard, which was located in the emergency room. Larry was seeing a patient, and we chatted while he was waiting on lab results. He was funny, and I knew he was someone special.
Larry: Early one morning, I saw Paula getting on her bicycle after a night's work. I called her for a date at 7:30 a.m., as soon as she got home.
What was your first date?
Paula: We went to the Flaming Pit. Larry brought a good friend with him because he was so nervous! We had a fantastic time and he had the courage to take me out alone for our next date.
How long have you been together?
Paula: We were engaged six weeks after our first date and celebrated 42 years of marriage in June. I was getting ready to join the Peace Corps and planning to relocate out West when I returned, but meeting Larry put an immediate end to those plans.
What is your favorite art or culture activity in Columbia?
Paula: Without a doubt, the True/False Film Festival. It brings so many fascinating people to town, and the documentaries are amazing and quite memorable — you cry, you laugh, but you never forget the impact of these films.
What is your favorite place you've traveled together?
Larry: We've been to Italy three times. The people and the history are unparalleled. We had the opportunity to be part of the Pope's audience on one trip.
What is the best quality of your partner?
Paula: His caring for others, sense of humor, generosity, and ability to not take things too seriously.
Larry: That she sees the best in everyone and puts their needs before her own.
What is something people don't know about you?
Paula: Other than our 17-year age difference, I'd say how laid back we both are.
Larry: That Paula trained for three years with the retired personal chef of the Duke and Duchess of Windsor, and she had an outstanding Italian restaurant that was written up in the Kansas City Star.
What does the future hold for the two of you?
Paula: Hopefully, many more years together laughing and loving life.
Larry: Continuing to enjoy each other and retiring on the Gulf Coast of Florida.