Columbia is a huge college town. Everyone bleeds black and gold, especially on game day. The streets are filled with Mizzou fans all hoping to take home another win for the tigers. One of the biggest parts of game day is the tailgating.
Executive Tailgating is a locally-owned provider of entertainment tailgates, creating the ultimate outdoor entertainment experience. Owners Blair Murphy and Ryan Campbell were both born and raised in Columbia and are proud alumni of the University of Missouri.
Murphy and Campbell have always been avid tailgaters. Every year, they choose an away game to see with a group of their friends. A couple years ago, they attended a Vanderbilt game and discovered a decked-out tailgate trailer. Murphy and Campbell discovered there was a need for those same tailgate trailer rentals in Columbia.
"If you want a first-class experience in tailgating, we're the only ones," Murphy says. "No one else offers what we offer."
Their Executive Tailgating trailer can be rented for half or full days and is fully equipped with three TVs and soundbars, Mobile Direct TV satellite, full-sized refrigerator, two on-board bathrooms, barstools, BBQ grill, fully wired entertainment systems, and more. There are tons of options for add-ons like heaters, fans, tents, etc. Executive Tailgating even delivers and sets up the trailer so you don't have to.
The trailer is not just for tailgating, it can also be used for family reunions, graduations, music concerts and festivals, weddings, block parties, golf tournaments, charity events, you name it!
"There's a lot of cool things you can do with it," Murphy says. "We get tons of compliments."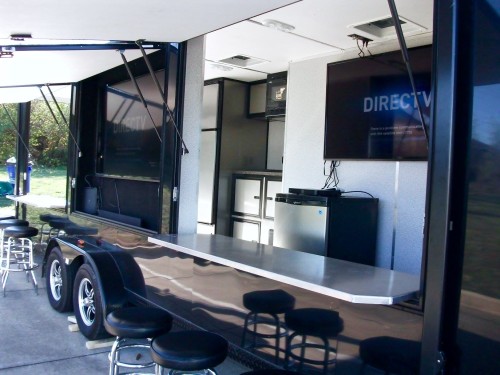 Executive Tailgating
2513 Chelan Circle
Columbia, Mo 65203
(573) 289-3994