Missouri River Relief: Good, Trashy Fun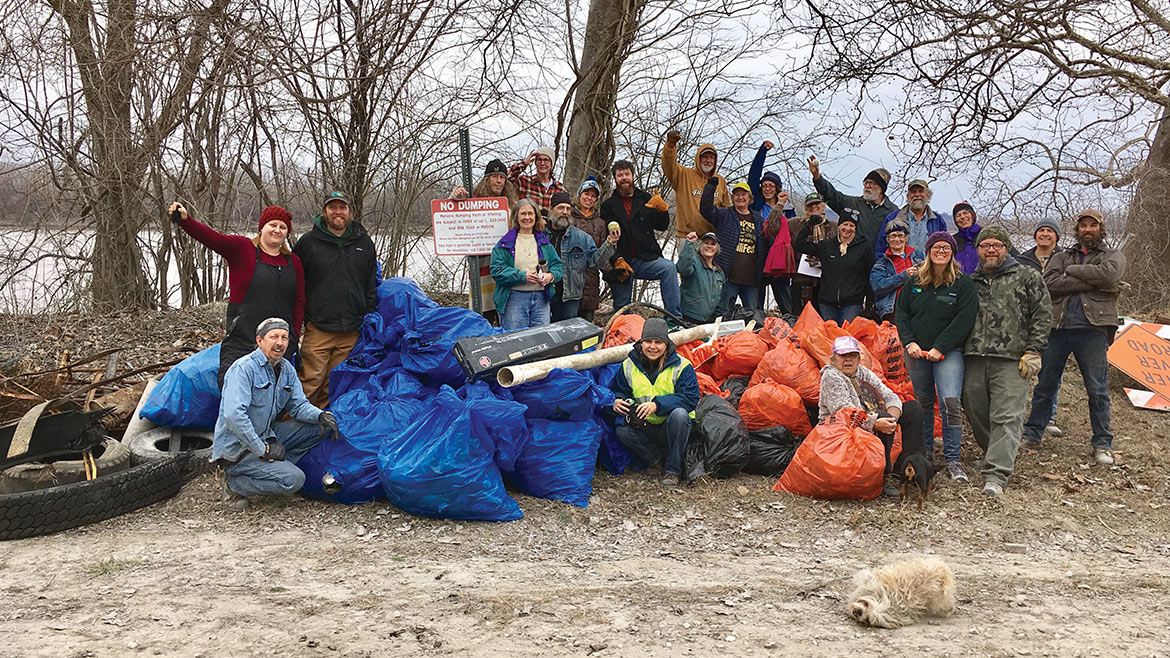 The Missouri River, a.k.a. The Big Muddy.  It's the longest river in America, flowing 2,300 miles before joining the Mississippi in St. Louis. Considered the center of life for the Great Plains, the Missouri has served as the main artery for exploration, food, trade, and transportation for millions of people over thousands of years.
Missouri River Relief was founded in 2001 to engage people in the exploration, enjoyment, and restoration of this national resource.
"The Missouri River is one of the natural wonders of our state," says program manager Steve Schnarr, who started volunteering in 2001 and joined the staff in 2006. "It's the longest river in the country and it runs right through our state. I enjoy giving people the opportunity to develop a relationship with the river."
River Clean-ups
Schnarr and his teammates foster connection between people and the river in three significant ways — river education, river recreation, and river clean-ups.
Between 2001 and 2016, Missouri River Relief held 160 river clean-up projects covering 1,144 river miles and collecting 876 tons of trash. A typical year includes 20 clean-up events along the Missouri River, but for 2017, the organization will focus on five. "This year we're putting an emphasis on a robust education program," Schnarr says, "and scaling back on clean-ups."
The cutback makes those five projects that much more significant — the next one is planned for October 21 in Boonville. Volunteers show up the day of the event and traverse the woods and sandbars near the river picking up any trash they come across; Schnarr says, "Without exception, they are adventurous and hard working." Schnarr estimates it will take the help of 200 people from the community to make the Boonville clean-up happen.
Missouri River Relief also relies heavily on its "crew," a community of 50 to 60 unpaid staff members who make the river part of their lives. "Our crew is super active," Schnarr says. "They organize and plan events, drive the boats, and give safety talks." The crew will set up camp a few days ahead of an event and pitch their tents for the weekend, prepared to coordinate the 200 river cleaners coming to help.
River Education
Kristen Schulte has been the education coordinator at Missouri River Relief since June 2015. She previously worked for Missouri Botanical Gardens and national parks across the country, and she's thrilled with her decision to join Missouri River Relief.
"People feel most connected to a place or an experience," Schulte says, "so we chose a philosophy of place-based and experiential education." The organization, through Schulte's education efforts, help students of all ages build confidence in the river by becoming knowledgeable ecologists, insightful historians, and conscientious community members.
Schulte was recently energized by Missouri River Days at Eagle Bluffs Conservation Area. In the last week of August, the organization gave 750 Columbia fourth graders a hands-on experience of the river — by the river. Each day for three days, they walked 250 students through four stations, including a guided hike, experience with live fish, and a boat ride on the river. In April, they'll repeat the process for another 750 Columbia fourth graders.
"I've worked at some of the most beautiful places in the country," Schulte says, "but being in Missouri, I get to expose students to new things that are right in their backyard."
River Recreation
Supporting recreation on the river can involve supplying safety boats for local races like the Missouri River 340, a 340-mile kayak and canoe race through the river from Kansas City to St. Charles in early August. Schnarr and his teammates were there, camping throughout the week, supplying four of the boats needed for emergency support.
The team is also excited about the upcoming Race to the Dome on September 30. This race provides two options for competitors, a 15.8-mile course from Hartsburg to Wilson Serenity Point, in Jefferson City, or a 27.6-mile trek from Providence Landing, on Perche Creek, to Jefferson City. "This is a great race for both casual and competitive paddlers," Schnarr says.
Whether cleaning, educating, or paddling, Missouri River Relief is about creating a community of people who love the river.
"One volunteer came to a past event and had never camped before," Schnarr recalls. "Within a few years, she knew the river in a way that most people don't. And when I first started, I really enjoyed getting out on the river, but I didn't have a community. What's special is when you meet other amazing people and give back together."
**********************************************
Most Common trash Items of 2016
956 Bags of trash
443 Tires
126 Bags of recyclables
49 Hunks of Styrofoam
39 Five-gallon buckets
31 Large tubs
23 Assorted balls
22 Coolers
19 Propane tanks
15 Chairs
15 Most Unique Finds in 15 Years
Messages in bottles (40 to 50 over 15 years)
A Chicken Dance Elmo
One sturgeon DNA sample from the USFWS
Picture of Beavis & Butthead sitting on a couch
Wind chimes made from Bud Light bottles
Pair of ruby red slippers
Full jug of atrazine
Pair of angel wings
Giant candle shaped like a strawberry
1957 fiberglass Saber boat
Set of national bylaws from the Hell's Lovers Motorcycle club
One kilo of cocaine wrapped in duct tape (turned in to the police)
Cobbler's shoes
Bullet-holed sign that reads: "$50 Reward for information leading to arrest and conviction of any person or persons found willfully mutilating or destroying this sign."
Baby doll parts