photos by Keith Borgmeyer
by Lydia Melton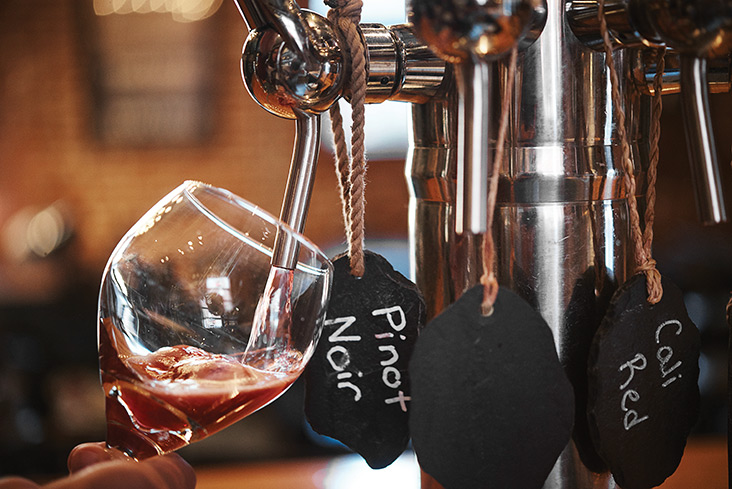 Savoring each glass the way the winemaker intended.
My name is Lydia Melton. I'm the owner and founder over at Günter Hans, meaning I wear a lot of hats behind the scenes, and you'll rarely see me. In fact, I try to make it a point to remain unseen. If you see me, it means I'm not doing the best part of my job: dreaming of Europe and hunting delicious, rare beer. Let me explain…
You know how some beers are hard to find? My job is to find rare European beers and curate a current and interesting list of them for our tap system. This is so our customers can enjoy unique and exceptional beers the way they are meant to be savored. If you've been in our restaurant, you hopefully already know that part.
What you probably don't know is that I'm on the hunt for delicious wine as well. That's right — Günter Hans is taking wine and putting it on tap. Cue the chorus.
What does this mean? And why are we singing?
In short, wine on tap means that every glass tastes fresh, like a newly opened bottle. This also means our wine won't spoil, leaving you without the fear of receiving an off-tasting glass from our staff. This leaves nothing but a delicious ensemble of flavors, the way the winemaker intended it to be.
Our system is both complex and extremely simple. When it comes to the basics, wine on tap comes straight from a barrel keg kept under pressure with nitrogen. This ensures that your wine remains untouched by oxygen before it hits the glass. Unlike bottles, there's no possibility for cork taint (the effects of a cork gone bad — think of the smell of a musty basement, nasty sponge, or grandpa's favorite outdoor couch mid-summer).
After spending the time to learn wine, its varietals, regional differences, and specific tastes, the customer shouldn't have to worry about ordering from an open bottle that might have been sitting too long. Simply smell, sip, and savor!
Aside from attaining a delicious glass every time, there are other benefits to wine on tap. Since there are no bottles or corks in use, landfills are less full. No bottles and no corks also means that the customer gets a better glass of wine for less money — they don't have to pay the added cost of breakage on bottles or the cost of the bottle and cork itself. Every glass is delicious, fresh, and inexpensive.
Whether you choose to drink great beer or wine on tap at Günter Hans, we are sourcing the best products and pairing it with intentional hospitality. Cheers to good times, good food, and good drinks!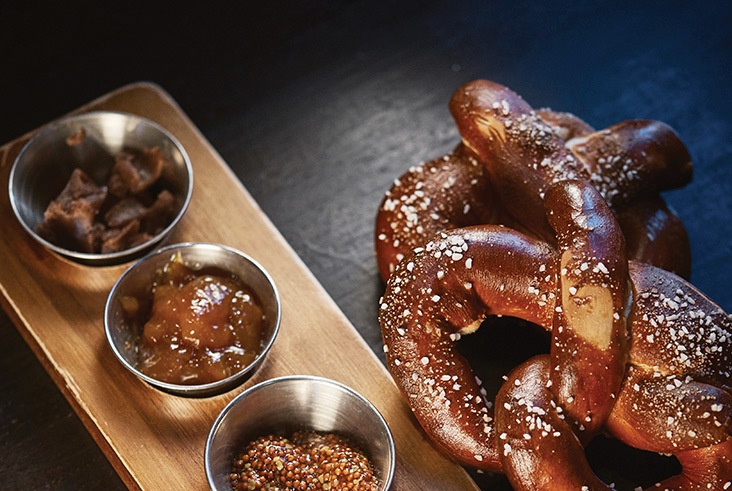 Visit Europe without a passport.
Günter Hans is the first of its kind: a local café that features European-inspired light meals, snacks, desserts, and drinks. It's a little bit of everything, all done right.
"When it comes to food, we don't do much, but what we do, we do extraordinarily well," says owner Lydia Melton. Here's a sampling of their food and snacks:
Traditional bretzels. (That's German for pretzels.)
Gourmet dips (mustard, cinnamon butter, cheese)
Liège waffles with toppings (apricot, raspberry, cinnamon butter, Swiss farm honey, Nutella, and whipped cream — to name a few)
Bretzel sandwich and European crisps
Bratwurst and European crisps (served on a bretzel bun)
European cheese plate (cheeses paired with a robust Italian-style salami. Served with fresh crackers and light Swiss jam.)
If you pay them a visit, you'll know that their menu is unique and their style is non-traditional, but so is Columbia! That's one of the many reasons they're excited to be here.