Girls on the Run: More Than a Running Club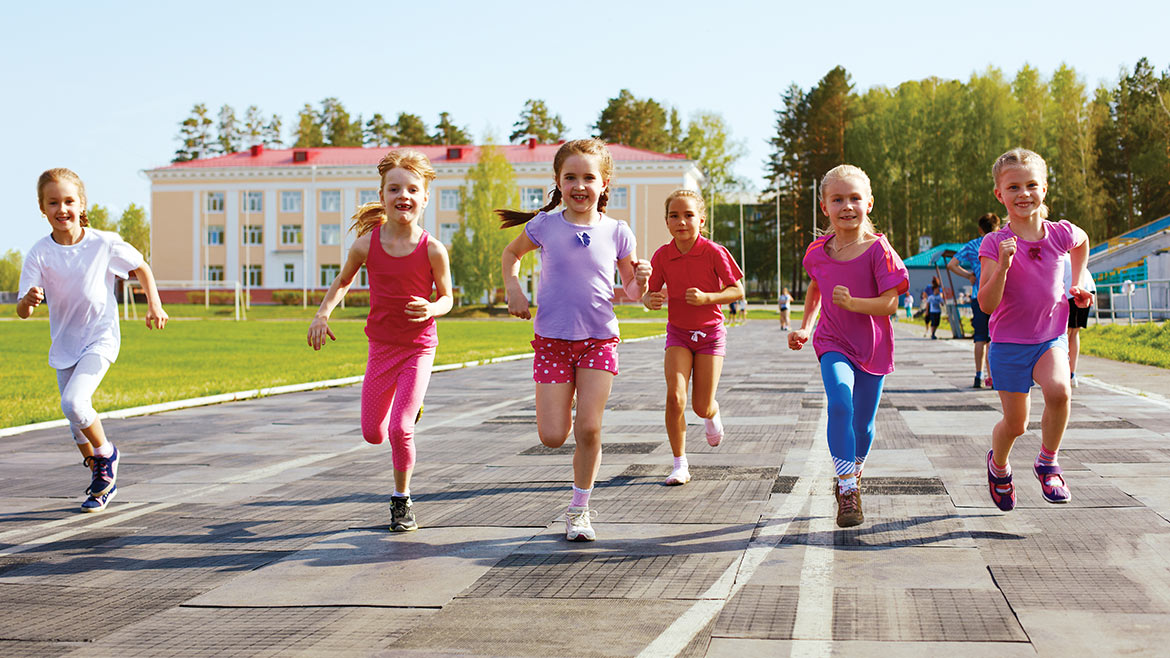 Elizabeth, an Alpha Hart Lewis Elementary School student, was different from many girls in her class. Her self-esteem was low; she was hesitant to participate in group discussion. Her teacher thought she might enjoy Girls on the Run Heart of Missouri chapter, an after-school program, and encouraged her to participate.
At the first practices, Elizabeth's coaches noticed many of the same things her teacher had noticed. She often ran or walked alone at Girls on the Run for the first few weeks.
Then the coaches noticed a change in her. Elizabeth completed workouts with new friends by her side, and she even nominated her new friends for "Energy Awards" at the end of practice. The program, as it does for so many girls, was bringing out a whole new side of her for everyone to see.
All-around Health

"[Girls on the Run] really brings them together in a new way," executive director Cheryl Unterschutz says.
Girls on the Run is a 10-week program offered in the fall and spring that uses tailored curriculum, discussions, and running workouts to encourage joy, health, and confidence in third through eighth grade girls. The program encourages making intentional decisions, building healthy relationships, and being comfortable in your own skin.
Heart of Missouri Girls on the Run is an independent council of Girls on the Run International, which has more than 200 councils in the United States and was founded in 1996. To date, the local chapter has provided programming to more than 1,000 girls since 2011.
The program is non-competitive; there is not a focus on beating certain times, unless a girl chooses to make that her own goal. "It's not just a running club," board president Valerie Slayton says.
At the end of the year, all of the teams, along with their adult running partners and community runners, participate in a celebration of their training: a 5K run.
"The first race I attended, I didn't know any of the girls out there, but I cried," board member and parent Angie Cantin says. "It was so moving and inspirational to see them having fun with friends and achieving their goals. I have been the designated crier ever since."
At her 5K, Elizabeth was the last on the course, but not for long. As she neared the finish line, her Alpha Hart teammates joined her and ran alongside her. That's what Girls on the Run is all about.
"It's about a little girl who discovered her own value," Unterschutz says. "It's about girls supporting each other and helping each other reach their goals."


Origins

The program started in Columbia six years ago with 25 girls at two elementary schools, Fairview and New Haven. The program meets at most Columbia schools now, though girls are welcome to practice at a different school if needed or wanted.
"I read about it in the school newsletter and was immediately interested in what they were doing," Cantin says. "To empower girls to be confident and healthy and joyful really spoke to me."
The 10 women who started the program didn't know each other, but they knew about the national organization headquartered in Charlotte, North Carolina and shared the common goal of starting an organization like it in Columbia. They fundraised through garage and bake sales to generate the $7,500 startup fee.
"We just want to make sure that we're carrying on their mission," Slayton says. "Our primary goal is to make sure that we're growing the program to serve as many girls in the program as we can and just make sure that we're providing the best possible service to the girls."
Unterschutz became executive director in 2015 and has a background in fitness, education, and nonprofit work. She was personally drawn to the program's focus on bullying and body image.
"Our girls are inundated with so much negative stuff these days," she says. "It's hard for them to be able to discern what's right and what's wrong — what's healthy and what's not — and our program addresses that."
Cantin says her daughter enjoyed learning about herself and about what certain marketers are trying to sell. Slayton says that, since its start, the program has "expanded exponentially."
The organization offers programs in Hannibal, Macon, Southern Boone, and Boonville and will offer the program in Jefferson City next fall. They hope to expand to Fulton soon.
"My goal is to reach more communities, especially smaller, rural communities that would benefit from the programming, and to grow our staff so that we can support more girls," Unterschutz says.
Community Connection

Girls on the Run also needs volunteers. The twice-yearly 5K recently moved from A.L. Gustin Golf Course to Bear Creek Trail due to an increase in turnout. Girls on the Run served more than 200 girls last year, and more than 100 volunteers were needed at the 5K. The board is also looking for a consistent team to plan the 5K from year to year.
Those looking to volunteer more regularly can become coaches; the program needs approximately 60 or 70 coaches per season. Coaches lead practice two times a week; each team has anywhere from two to six coaches. Unterschutz says many coaches are teachers and college students. She would love to see more businesswomen and men involved. (Yes, men can be coaches, board members, and running partners too.)
"The community connection is huge," Unterschutz says.
Girls on the Run partners with the Boys and Girls Club of Columbia; students in the organization can participate in Girls on the Run for free. About 38 percent of girls in the program participate for free or at a scholarship rate. They also work with Columbia Parks and Recreation, the ARC, Moving Ahead, and Great Circle.
Each season, the girls on each team give back to their community by organizing a service project. Past projects include visiting nursing home residents, making blankets and donating to the humane society, and baking treats for teachers.
The mission of Girls on the Run is to inspire girls to activate their potential and pursue their dreams. Unterschutz hopes, in Columbia and elsewhere, Girls on the Run will someday become as much of a household name as the Girl Scouts and be able to reach more girls like Elizabeth.

Girls on the Run
Mission: Inspire girls to be joyful, healthy, and confident using a fun, experience-based curriculum which creatively integrates running.
Number of employees: 1 full-time, 1 part-time
Executive Director: Cheryl Unterschutz
Community Members Served: 200 girls in 2016
Board of Directors
Valerie Slayton (President)

Mara Roberts (Vice president)

Michelle Haner (Secretary)

Angie Cantin (Treasurer)

Andrea Lisenby

Kelsey Thompson

Stephanie Thomeczek

Emily Wright

Jason Valentine

Brittany Overman

Maureen Kokoska
Needs: 5K volunteers and coaches