Women Who Ride: Sylvia Donnelly
photos by Keith Borgmeyer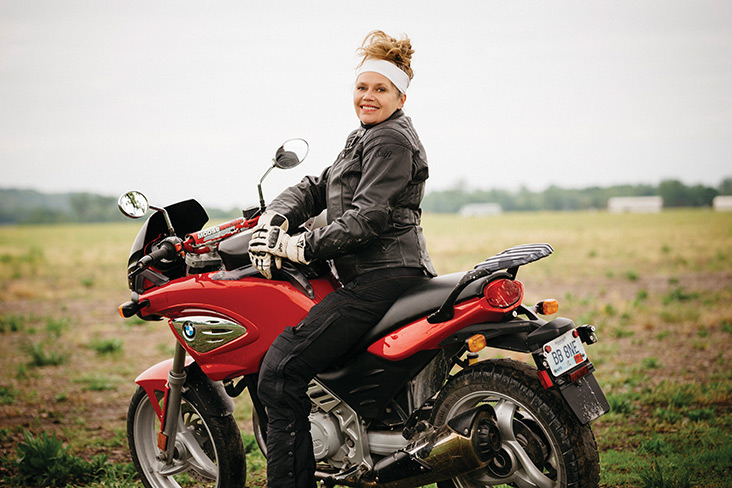 Local bikers experience what the rest of us only fantasize about.
The year was 1967 — the Summer of Love — and in a small town near Ann Arbor, Michigan, Sylvia Donnelly's father drove her mother to work every day on his old BSA 650 Lightning. So when people ask Sylvia when she started riding, she replies, "In utero!"
"My father would joke and say I was late, so he spent weeks riding over bumpy roads, trying to get me out," she says. Growing up, Sylvia enjoyed riding as a passenger, but she was picky. "Just because someone has a motorcycle doesn't mean they know how to drive them," she explains.
While in college at MU, she was one of the first women in Columbia to have, as she describes it, "a hardcore mountain bike." She loved riding the local trails, and she used the bike as her main form of transportation. But she kept dreaming of motorcycles.
"You know how you fantasize about what you're going to do — your bucket list? I had this burning desire to ride motorcycles," she says.
Riding was Sylvia's native language — the engine sounds were like a lullaby. When Sylvia rode behind her husband, Bill, she was so comfortable that she sometimes fell asleep holding onto him. And when Bill asked her what she wanted for her birthday in 2005, she asked for a motorcycle training course.
"I took that weekend class, and I thought, this is as cool as I thought it was going to be!" she says. She bought her BMW F650 CS the following spring. Now she and Bill have an assortment of bikes, ranging from smaller dirt bikes to high powered models. "It's our favorite form of exploring the world," she says.
Together they've explored Costa Rica and the Czech Republic on rented bikes. Sylvia rides behind Bill and navigates when they're overseas, since Bill has over 40 years of riding experience, but rides her own bike when they're exploring North America.
Sylvia lives in Hartsburg, where she and Bill have a farm and own the Hartsburg Grand, a newly rehabbed event center. "There's some beautiful riding locally around here, along the Missouri River," she says. They take frequent trips out of state as well. "Eureka Springs, Arkansas is one of our favorite places to visit, and we've been out west. We did two weeks out there and put 4,000 miles on our bikes through South Dakota, Wyoming, Montana, and Colorado, just having a blast."
Riding is a meditative practice for Sylvia. "You'll find that it's a very centering experience," she says. "You must be completely involved. Your body's involved, your mind's involved, your senses are all involved. Everything gets a lot clearer, sharper, and it forces you to focus," she says.
Although many people get into riding for the thrill of it, "it doesn't feel like it's the risk and the adrenaline that's driving me," she says. "It's much more about the spirituality, the community, and being out with nature."
Having come of age around motorcycles, Sylvia also understands how impactful she can be on young people who see her riding — she can be what kids think of when they picture a rider. "Motorcycling as a female, there's a positive feeling that I'm out here doing things that so many young girls and boys don't see very often, and how important that is," she says. Sylvia has known little boys who can't believe that she rides motorcycles, or ones who wanted to take a ride on her bike and couldn't believe that a woman was driving.
"There are things you do that you know are benefiting the evolution and awareness of people," Sylvia shares. "And as people, we are free to explore and choose the road less traveled."
Meet the other motorcycle mavens: Sandy Thompson, Betty Houston, and Mary Brown.