Women Who Ride: Mid-MO Lady Riders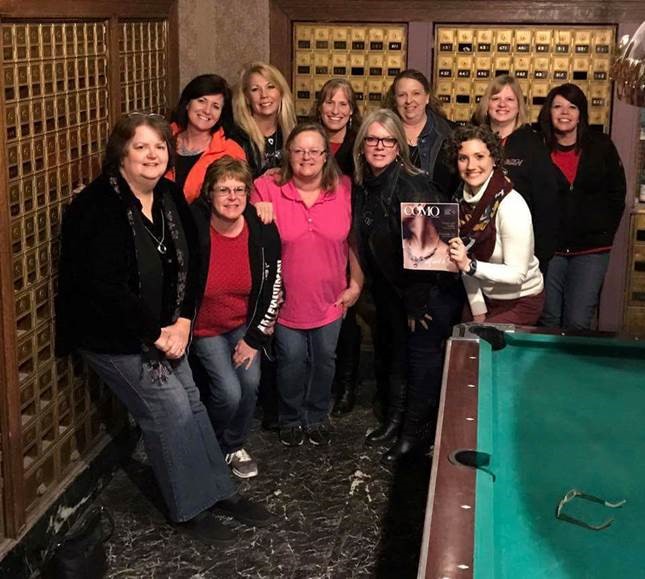 Local bikers experience what the rest of us only fantasize about.
The 23 members of the Mid-MO Lady Riders motorcycle group are as diverse as the bikes they ride. Their day jobs run the gamut from Montessori school teacher to IT trainer, but their shared love of long-distance riding on cruisers and touring bikes makes them equal members of a unique sisterhood.
"Bikers get a bad rap most of the time," says Staci Matney, who's worked at MU for 25 years. "But you will never meet another group with bigger hearts."
Karen Schrader, who works for Jones Beltone Hearing and Audiology, helped organize the group in 2011 as an offshoot of the Central Missouri Riders. This nearly 700-member group, open to all riders, formed in 2009 and is organized by Mid-MO Lady Rider Dawn Cremeans and her husband, Tom.
"Most of the members have joined through word of mouth," says Karen. "We're welcoming, open, and it's free to join. You just have to be willing to come to the dinners, ride or love to ride, and above all, participate."
The group meets monthly at various mid-Missouri restaurants to catch up and share their love of riding. When the weather is nice, riding to and from the restaurant is a highlight of the dinner.
Most of the women are in their 40s or older, and while some are quite seasoned, many are relatively new to riding. Karen started in 2010 at age 49. Jennifer Murray, 58, who has worked at Shelter Insurance for 40 years, started riding in 2008; last summer, she trekked through 17 states in two weeks and has traveled to Canada and back on her Goldwing 1800 trike. While many pilot their own bikes, a few of the members love to ride as passengers with their husbands.
Last summer, the group took its first long-distance ride to Harrison, Arkansas, over a three-day weekend. The group is planning another trip this year and hopes to make it an annual tradition. They also participate in poker runs, fundraisers, and ride as escorts for Central Missouri Honor Flight.
Karen's advice to anyone considering life as a motorcycle maven is to take the Motorcycle Safety Foundation's Basic Rider course, offered in Columbia, Jefferson City, and Sedalia. The course offers about 20 hours of classroom instruction and hands-on riding, with bikes and helmets provided.
When you see the group cruising down the road, give them a wave. Regardless of age, experience, or bike model, the Mid-MO Lady Riders prove there's room on the road for everyone. Happy riding, and keep the rubber side down.