Strong Woman: Jane Williams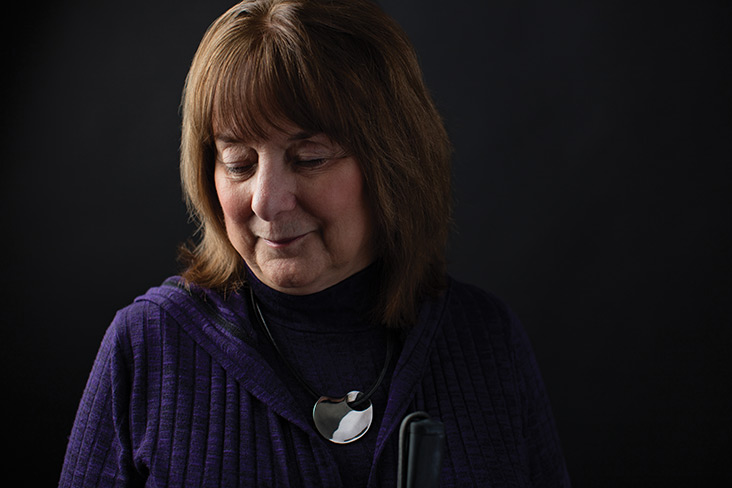 Local nonprofit creator expresses her passion and purpose.
Jane Williams, co-founder and program director of Love INC, lost her vision in 2012 after struggling with eye issues since birth. She talked with COMO Living about how fulfilling her calling continues to change her life.
DESCRIBE YOURSELF IN ONE WORD.
Fascinated. This comes from my life motto, "Stay fascinated!"
IF YOU WERE A CRAYON, WHAT COLOR WOULD YOU BE?
Magenta, only because I get compliments when I wear it.
WHEN DID YOU DECIDE TO GIVE YOUR LIFE TO HELPING PEOPLE?
When I suddenly found myself weeping as I read a description of the plight of the inner-city poor. I was a sophomore at MU trying to decide on a major and opened an Intro to Social Welfare textbook. I was sitting on my bed at the Tri Delta house with electric rollers in my hair preparing for a date. I cried all my makeup off and didn't care. I had found my calling!
ON A TYPICAL WEEKNIGHT, WE COULD FIND YOU DOING WHAT?
When the weather is nice, you might find me on my screened-in porch listening to an Audible book or podcast. Often, though, I'm indoors returning phone calls or emails. I honestly don't mind because I love what I do. Besides, listening, talking, and writing are great options for a blind person and things I would have naturally gravitated toward anyway.
WHAT'S THE MOST REWARDING PART OF YOUR JOB?
I used to say it was seeing hope come into the eyes of the downcast and joy on the faces of those helping them. Now I can't see it with my eyes, but I can hear it in their voices and feel it in my heart. There is nothing more beautiful.
WHAT'S THE BIGGEST LESSON YOU'VE LEARNED?
That there is no circumstance that God cannot redeem. Don't stop the camera rolling on your own life or anyone else's. There is always more: more love, more opportunity, more forgiveness, and more hope. Darkness cannot win over light, and hate cannot win over love in the end. I have a good friend who likes to say, "It's all good in the end, and if it is not good, it's not the end."
WHAT'S YOUR FAVORITE RESTAURANT IN COMO?
So many great ones, but I should go with Sophia's.
WHAT DOES IT MEAN TO BE A STRONG WOMAN?
A strong woman is someone who keeps going despite obstacles and strives to live an unselfish life. For me, strength comes from seeing life's challenges as part of a bigger plan to direct my steps and shape who I am. Focusing on others adds meaning and purpose to one's life. Living just for one's self is too small and, I think, an ever-shrinking path.
WHAT IS SOMETHING PEOPLE DON'T KNOW ABOUT YOU?
I have an identical twin sister named Judy. We're very close and I often need a "Judy fix." She's one of my biggest cheerleaders.