Women Who Ride: Sandy Thompson
photos by Keith Borgmeyer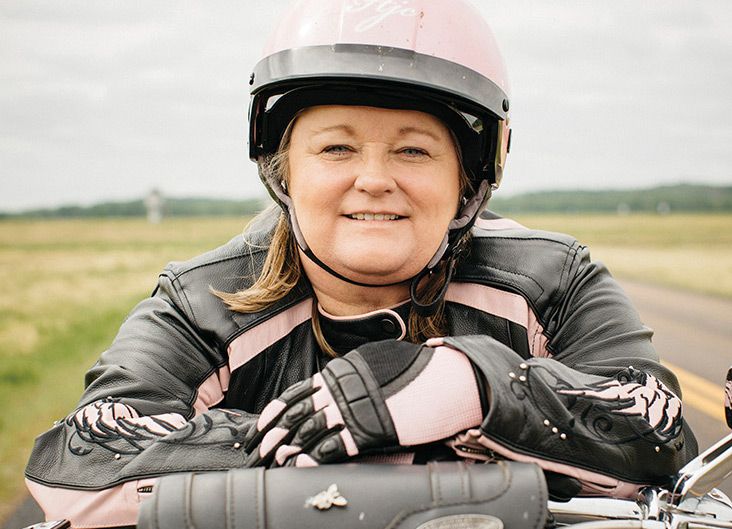 Local bikers experience what the rest of us only fantasize about.
When Sandy Thompson was 40, she gave little thought to motorcycles. She couldn't have imagined that less than a decade later, she'd be an avid rider, the owner of two motorcycles, and a proud member of the Mid-MO Lady Riders. Nor could she have imagined finding the love of her life, the man who would introduce her to the freedom of the road.
Sandy is now 53 and works in accounts payable at Alternative Community Training. She is small in stature, with a big smile, but she's also earned her no-nonsense attitude. The Wisconsin native, who moved to Columbia when she was 13, served 12 years in the Army Reserves and raised her daughter as a single mom.
And for the past eight years, she's been piloting a three-wheeled motorcycle with a very special passenger on board – her husband, Dennis Thompson.
Sandy met Dennis in 2002 while working at Hanger Prosthetics and Orthotics. Dennis had wrecked his motorcycle in a gruesome accident the year before. Nearly dying at the scene, his severe injuries rendered him blind, and he lost his right arm and leg. Dennis received his prosthetics from Hanger. "Every time he came in, he had this big smile on his face," Sandy says. "It was like the sun coming in. He was so bright and happy."
After knowing Dennis for two years as a client, Sandy offered to give him a ride home in her new car. They stopped at Dairy Queen for a casual bite to eat, and they've been together ever since. They married four years later.
"If she could put up with me for four years, then I figured she was in for the long haul," says Dennis.
Despite the accident, Dennis and his brother worked to rebuild his 1999 Harley Fat Boy 1340, named Sally. Sandy and Dennis brought Sally home in 2008, though Sandy was unsure of their plans for the 650-pound bike.
"I could not even move it," she says. "I thought, 'What are we going to do with this?'"
Norm Wilding, owner of Mid-Missouri Motorcycle Customs, offered to transform Sally into a trike, with one wheel in front and two in back, complete with a custom bucket mounted to the back for Dennis's wheelchair. It would take Norm nine months to complete the conversion, and in that time, Sandy decided she should learn to ride.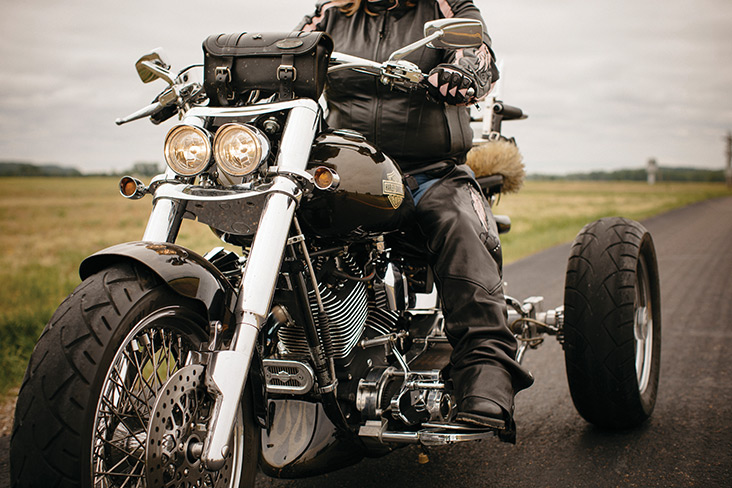 She started out on a small Suzuki, with Dennis teaching her in their driveway. Gradually, she ventured farther out into their neighborhood until, one afternoon, she didn't stop until she made it the six miles to Norm's shop.
"It was a huge accomplishment," Sandy recalls with a big smile. "I was so excited, I was shaking all over."
Sandy's victory also meant Dennis could ride again, feeling the wind in his hair with his arms around his wife.
Now, after eight years on a bike, Sandy is an accomplished rider. Dennis gave her a Harley 1200 XL for her 50th birthday so she could also ride solo. Last year, she joined the Mid-MO Lady Riders on the trike for their inaugural three-day roundtrip ride to Arkansas. She's been a member of the group since 2013 and cherishes the connections she's made with other female riders.
"The friends I've made are lifetime friends," Sandy shares. "There's nothing I wouldn't do for any one of them."
Sandy says that while there aren't a lot of female riders, the numbers are growing, and her male counterparts encourage them. When they see Sandy on the road, sporting her signature pink helmet, they give her the thumbs-up.
With summer approaching, Sandy and Dennis are getting ready for riding season again. They show no signs of hanging up their leathers any time soon.
"I'm happy in my life," says Sandy. "We're just very blessed. We couldn't be any luckier."
Meet the other motorcycle mavens: Sylvia Donnelly, Betty Houston, and Mary Brown, and read more about the Mid-MO Lady Riders.