photos by Keith Borgmeyer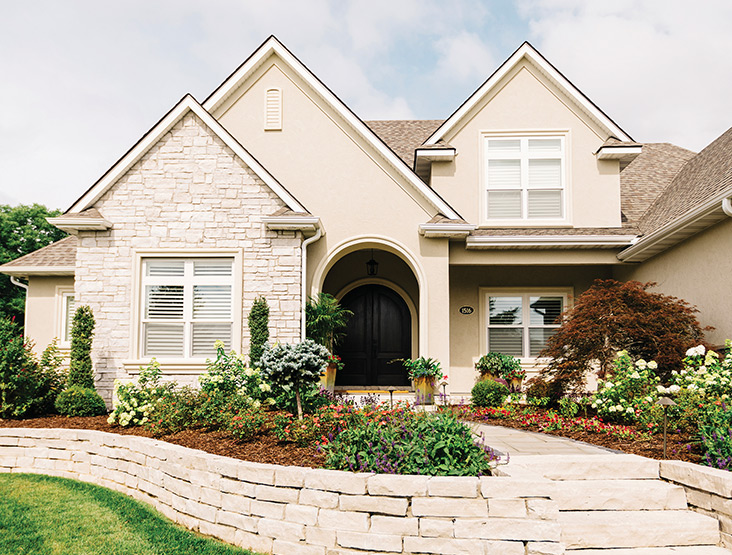 Rost Landscaping creates a vibrant outdoor space for social gatherings.
When Libby and Henley Montgomery purchased their home in 2015, the backyard felt claustrophobic and diverged significantly from the couple's personal aesthetic. They immediately decided the space needed a facelift.
With an active social calendar in the fall, the Montgomerys sought to create a backyard that was a comfortable place to entertain friends and family throughout football season. Henley had a long-standing business relationship with Rost Inc., which prompted the couple to hire them for their backyard endeavor. Jake Frink, designer and sales manager at Rost, and his team were tasked with the design and development of the Montgomery's yard space last summer.
Libby and Henley's home was brand new and included a walkout basement that led directly onto the patio area. Situated to its left was an adjoining space the couple referred to as "the bunker": A large cement wall originally protruded from the ground on one side of its perimeter, causing the area to feel confined.
Jake recalls the barrier that posed the most difficulty for the team. "The lower patio was a very challenging spot to make look good and function the way it was set up," he says. "The whole project was centered around that challenge."
Once completed, the sloping patch of grass that dove into their patio became a layered, stair-like compilation of large natural stone and assorted flowers resting along a bed of fresh mulch.
Libby says you can see the beautiful stone wall from the kitchen window or porch, which creates a pleasant view for guests. Resting just beneath the wall is a stone fire pit, positioned directly in the center of the patio, allowing ample room for entertaining. Jake and his team used the same natural stone to line the entry way to the front of the house.
"There is definitely an art to landscaping," Libby says, "and they have it down."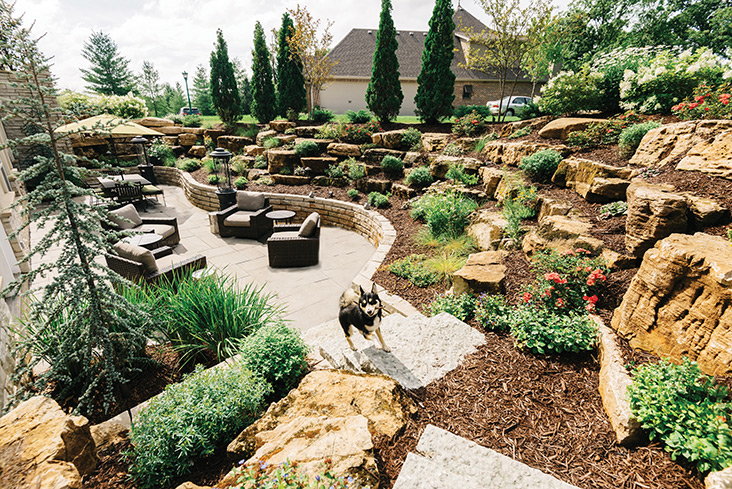 Pictured trotting up the white stone steps is the couple's Pomsky, Bruce, who was adopted shortly after they purchased their home.