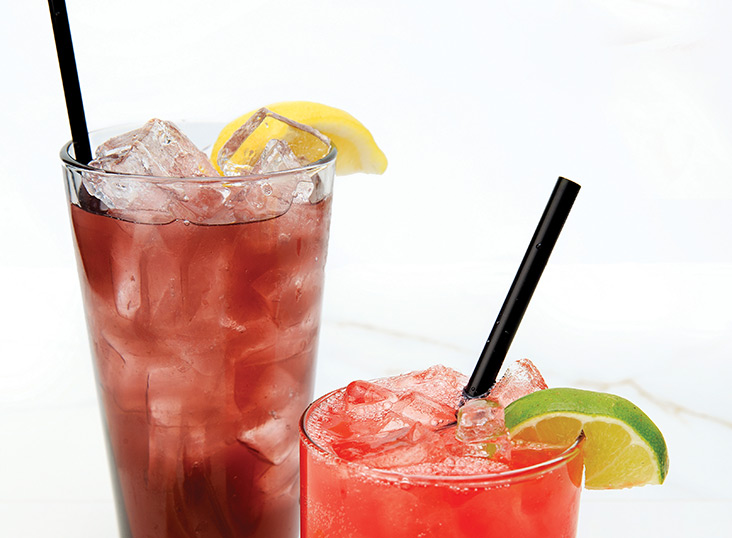 The Roof brings the seaside to you.
My name is Jeff Guinn, and I'm the food and beverage director for The Broadway hotel. The Roof, our rooftop bar, is Columbia's premier entertainment venue to connect with friends, listen to local music, or dance the night away. There's nothing like its indoor–outdoor seating areas, complete with outdoor fire pit tables that boast the most spectacular views of the Columbia area. Most importantly, both the indoor and outdoor areas of The Roof feature a fully stocked bar.
Our chefs serve a spectacular array of small plates and appetizers along with our hand-crafted cocktails and featured beer on tap from Columbia and Missouri craft breweries. This summer, we want to make The Roof a destination: If you can't make it to the beach, let us bring the beach to you.
MO Straw Mule (right)
1 ½ oz Dogmaster vodka
½ oz ginger liqueur
½ oz pureed strawberries
½ oz fresh lime juice
Ginger beer
Add vodka, ginger liqueur, strawberries, and lime juice to a mixing tin and shake. Pour in a rocks glass filled with ice and top with ginger beer.
Black Jack Lemonade
1 ½ oz Crown Valley blackberry vodka
½ oz peach liqueur
½ oz pureed peaches
3 oz lemonade
Top with lemon-lime soda
Add all items except soda to a pint glass filled with ice. Shake and pour into pint glass and top with soda.