Citizen Jane Suggests: Their Finest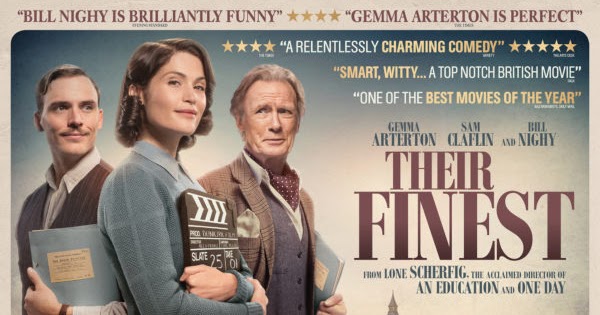 Film Fest partners with Ragtag Cinema to provide monthly series.
The Citizen Jane Film Festival is an annual celebration of women in film that takes place in downtown Columbia at the end of every October. CJ promotes stories made by women and stories about women, creating conversation, empathy, support, and professional development through its film line-up, panels, art installations, parties, and more.
The nonprofit festival features the best of female-made films, giving budding filmmakers a platform while also crafting an incredible line-up of festival films, new releases, and classics. The fest blooms with a creative, encouraging environment helped by its affiliation with Stephens College, the second oldest women's college in the United States. This year marks the 10th anniversary of Citizen Jane — a perfect time to usher in some exciting changes.
In 2016, Barbie Banks, a longtime CJ supporter and employee of the town's other annual film fest, True/False, became CJ's executive director. Banks plans to expand CJ's footprint, bridging together communities within the film industry and within Columbia. It's in this spirit that Barbie is unveiling a new partnership between Citizen Jane and Ragtag Cinema: Citizen Jane Suggests!
Ragtag Cinema is more than a long-standing provider of the best indie and art-house films in Mid-Missouri — it's a Columbia institution that has been breathing cinematic life into downtown since 1997. Each month, Ragtag Cinema's director of programming, the newly appointed Chris Boeckmann, will choose and present a film directed by a woman and stamped with Citizen Jane approval!
The series kicked off May 12 with a perfect starter: "Their Finest," directed by Lone Scherfig, who's best known for her 2009 feature "An Education." Based on a 2009 novel, the film follows the life of a young female filmmaker producing propaganda films for the British Ministry of Information during WWII. As a romantic comedy, a drama, and a period piece, the film bounces with witty dialogue and superb acting, sweeping you through the story of one woman's personal journey of creativity and success, set against the startling backdrop of wartime England. Like the Citizen Jane, the film explores the possibilities for women in a male-dominated industry, confronting inequality issues and creative roadblocks that, unfortunately, still exist today.
Though the fest is focused on women, I encourage everyone from the community to take part in Citizen Jane. Submit a film, volunteer, or donate — there are tons of ways to get involved. Of course I hope to see you at the fest October 26 through 29, but now I'm also hoping to see you in the audience each month at Ragtag, supporting women and film but, more importantly, enjoying a great movie (and maybe a glass or two of wine).
For more information on Citizen Jane Film Festival and to see how you can get involved, please visit Citizen Jane Film Festival. For  more info Citizen Jane suggests and movie times, check out Ragtag Cinema.