Fashion Forecast: Light Layers
photos by Keith Borgmeyer
by Niamh Cremin
modeled by Ashley Hoops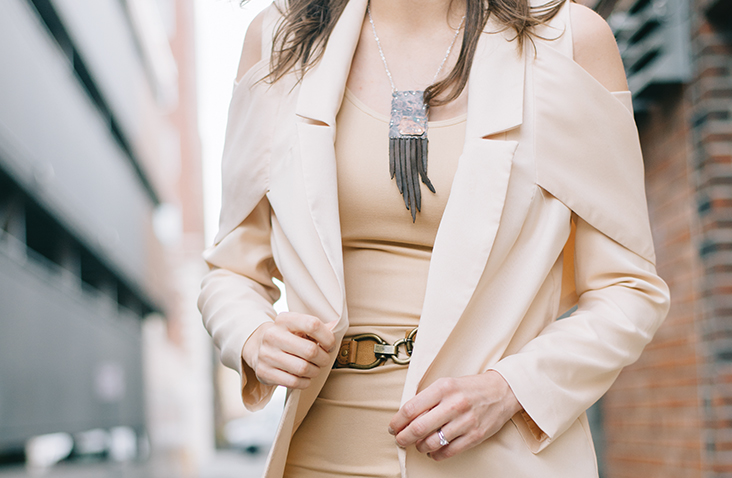 Styles for Columbia's ever-changing weather.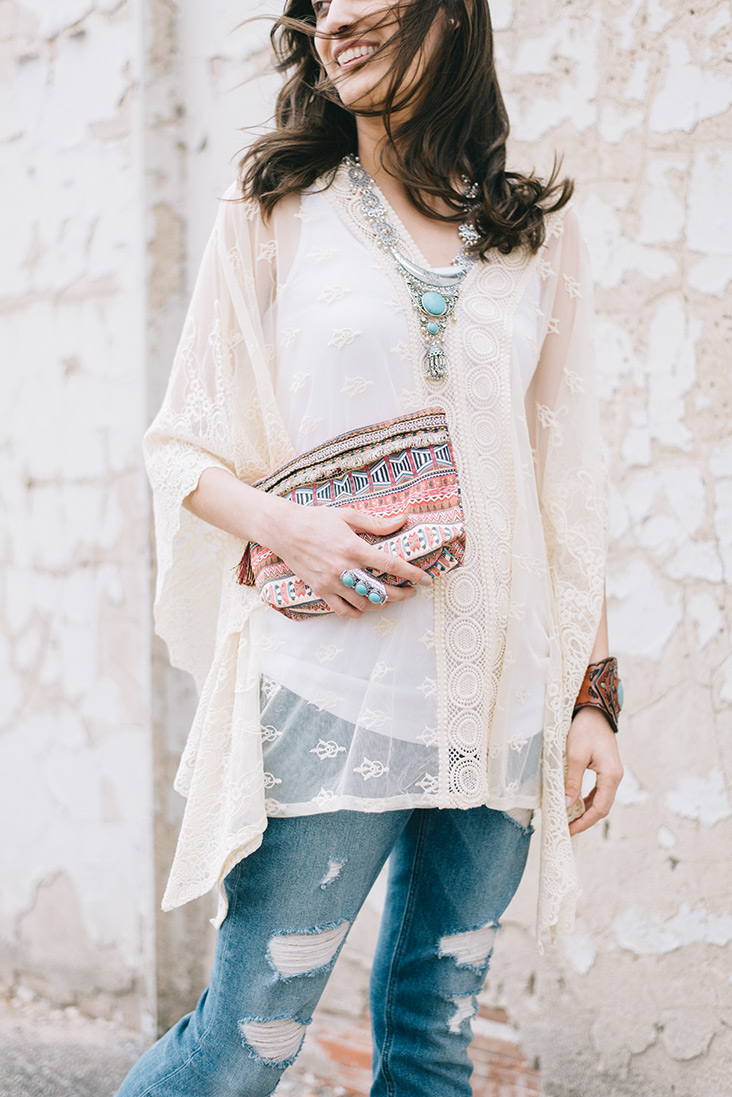 Boho Chic
by Girl Boutique
Owned by Kelley Berghager, Girl Boutique, on Forum Boulevard, is a hotspot for local fashion and offers a variety of sizes to fit a wide range of body types. They've offered classic boho styles since opening in 2005, as well as jewelry that appeals to the budget-conscious and the occasional high spender.
This outfit features a lace embroidered poncho paired with distressed Joe's Jeans. It's accented with a small patterned clutch, a turquoise decorative necklace, and a coordinating handmade tooled leather bracelet by Gemini Mermaid.
Urban Cool
from Muse Clothing
Muse Clothing, located on Ninth Street and owned by Nikki Davis, opened four years ago but has already made a name for itself among college students and young adults. The items in the store are 60 percent locally made, and the selection features a large collection of vintage clothing.
Muse's outfit here features a polyester blend cream duster by Mustard Seed and a light and comfortable cami that can also be worn as a slip dress. The necklace is handmade by Rebel + Ruse jewelry designer Camille Moore.

Western Charm
by My Sister's Circus
2017 marks their 40th anniversary, and My Sister's Circus continues to be a hotspot among locals for high-end contemporary looks. Located on East Broadway, the store is owned and operated by the mother–daughter team of Celeste and Stella Hardknock.
This look offers a touch of western flair with a neutral fringe cardigan by Cartise that hangs over a soft under-sweater by Nic + Joe. The outfit is paired with chunky turquoise necklaces by Two's Company and light denim jeans by Cartise, with gold gems for an extra embellishment.