photos by Keith Borgmeyer
staged by Anne Tuckley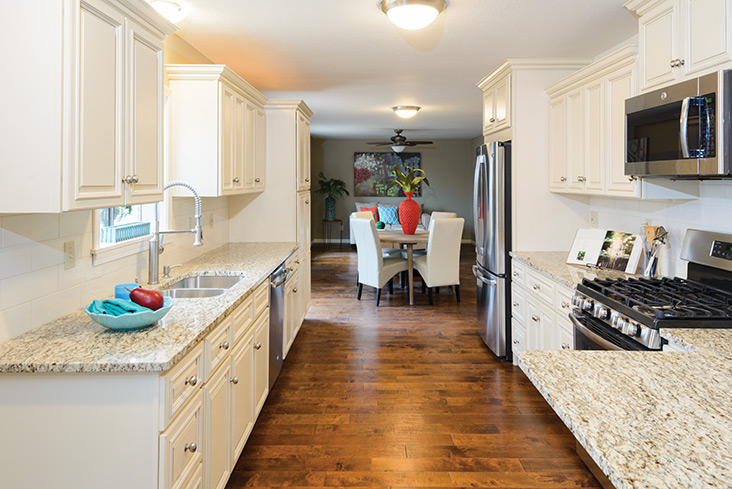 Local artisans breathe new life into outdated projects.
JOE GREAVES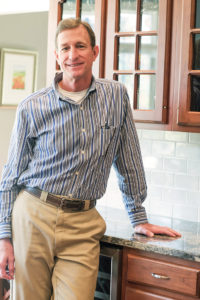 Joe Greaves' passion for redeveloping distressed properties in Columbia started as a side project for a young father with a full-time job.
After Joe made his first redevelopment deal, in 1995, he had to do another, and then another after that. Eventually, the meticulous and hard-driving entrepreneur decided to leave the commercial construction business, his world for more than 35 years, to focus solely on redevelopment. "I really enjoy building this business, and I started it one house at a time," he says.
But don't expect Joe, the owner and managing member of Central Development Group, to get too nostalgic about the late nights spent painting living room walls or replacing old hardwood floors. His role is much more expansive today. Central Development Group has become a one-stop shop — Joe buys, redevelops, sells, manages, and lends, among other things. And yet, at the heart of it all, the focus is the same: He wants to breathe new life into residential, multi-family, and commercial properties across Columbia and beyond.
One of the 10 properties Central Development Group completed in 2016 is located at 501 W. Covered Bridge Rd. The rehab of this 3600-square-foot home took 10 weeks. Joe knew almost immediately after first walking through the property that it was a project he wanted to tackle. He made an offer the same day.
The final result only affirmed his excitement. They blew out walls and reconfigured the master bathroom on the main floor to create a double vanity, full ceramic shower, and more space; other main floor highlights included overhauling the kitchen, modernizing the stairwell, adding hardwood floors, replacing the carpet, and creating a mud and laundry room with garage access. Downstairs, they converted 500 square feet of an unfinished section into a media room with a wet bar.
The 57-year-old has grown his business by being selective. He looks for the right deal, and that kind of property is hard to find. Last year, Joe looked at 55 residential properties. He only purchased four. If he sounds too particular, it's because there are no guarantees.
"There has to be enough money in the spread to cover the 'Oh, cruds,'" Joe says. "Every project is different. Every deal has a life of its own. There are always 'Oh, cruds.'"
Generally, it takes eight to 12 weeks to gut and rebuild a house. Joe leans on his teams for just about every aspect of the renovation, including demolition, flooring, carpentry, roofing, drywall, windows, doors, finishing, texturing, painting, plumbing, HVAC, and electrical.
"What sets central development group apart is that we're consistent," Joe says. "We consistently put out stellar projects. And we do not mess around. We get in and get out."
When Joe looks at the before and after pictures of the home on Covered Bridge Road, his pride is evident. He sees professionalism and craftsmanship in every feature. He is as motivated as ever to continue down the path of redeveloping neighborhoods.
"We are not only improving the property's value, but the neighborhood value at the same time," Joe says.  "We're just going to keep doing what we're doing. We deliver solutions to problem properties. That's what we do and what we do well. I look forward to finding more diamonds in the rough."
Meet two more of Columbia's fixer uppers: Debby Cook and Cruz Chavez.