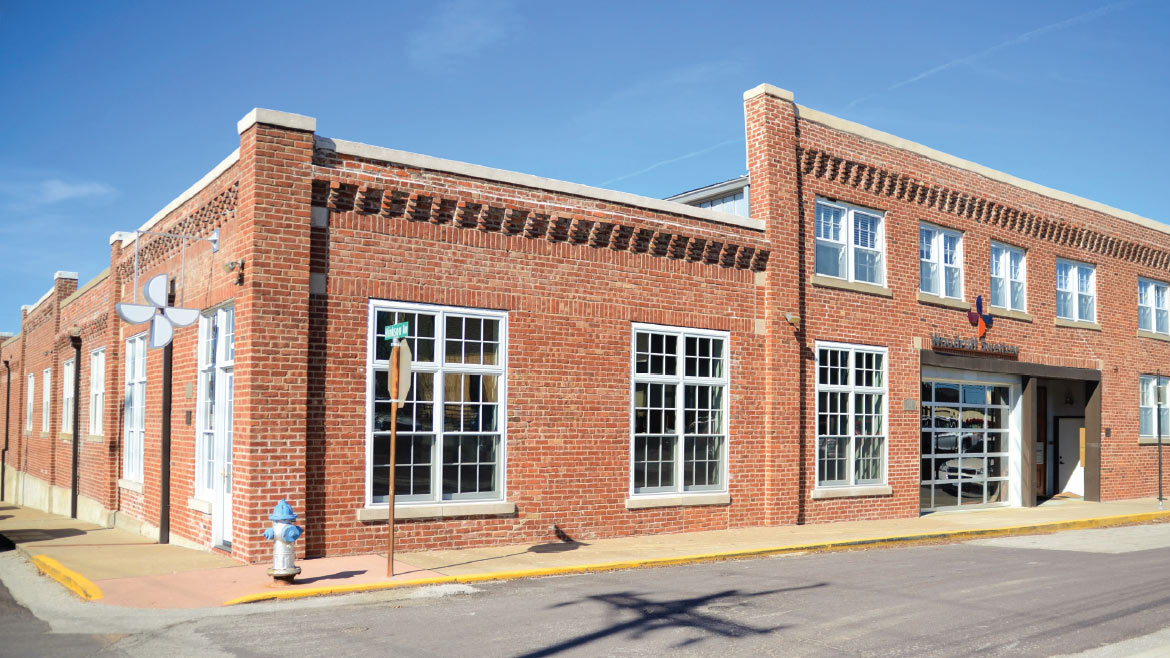 A brewery and a percussion shop inhabit the space where factories and other industrial companies once stood on Fay Street. While the area north of downtown has become more urbanized in recent years, the Wright Brothers Mule Barn — a two-story brick building — still stands tall, as it did nearly a century ago.
Construction on the Wright Brothers Mule Barn started in 1919 and was completed a little over a year later, in August of 1920. In the mid-19th century, mules and mule breeding were introduced to Missouri; by the time the barn was built, Missouri was one of the largest mule producers in the country.
The two original owners of the building were brothers, W.L. "Bill" and B.C. "Pleas" Wright. Both were experienced in the mule-trading business when they purchased the land and hired a designer out of St. Louis for what would become Columbia's only mule sale barn. Jesse I. Gedney designed the 22,500-square-foot brick building to be equipped with running water, electricity, and a top-fed trough system.
Mules played a major role both on Missouri's farms and its battlefields. Their vigor and build made them perfect for hauling supplies and maneuvering rigid landscapes. In addition to their physical strength, mules were also more responsive than their horse brethren, contrary to their "stubborn as a mule" stereotype. During the Civil War, Missouri provided many of the 311,000 mules used by the Union Army, and the state continued to provide animals for forces in both world wars as well. Decades later, in 1995, mules were recognized for their valor and named the State Animal of Missouri.
Although the demand for mules decreased after the popularization of the automobile, the Wright Brothers' barn remained important real estate in Columbia. The building was rented out in sections before it was eventually bought by Thomas Diggs and Minnie Rader Diggs. After being primarily occupied by farm-related businesses like the Columbia Livestock Auction and Rader Packing Company, the Wright Brothers Mule Barn was converted into lofts and office spaces in recent years.
In 2007, LiveRoof installed a 936-square-foot living roof — a rooftop vegetation system— on the top of the building. Multicolored succulents planted in 1-foot-by-2-foot recycled plastic boxes were laid in rows, covering the entire surface of the former mule barn in greens, reds, and yellows. The Columbia Daily Tribune reported that the Wright Brothers Mule Barn was the first commercial building in Columbia to obtain the self-sustaining green roof.  Since then, the University of Missouri Patient Tower has also invested in this eco-friendly structure.
Today, the building is owned by Terry Woodruff and occupied by Woodruff Sweitzer, The Evoke Group, and Columbia Strength & Conditioning. While it is no longer home to the mules that made it famous, it still encompasses their spirit: strong, sturdy, and lasting.