Home » Alzheimer's Association: Searching for a Cure
Alzheimer's Association: Searching for a Cure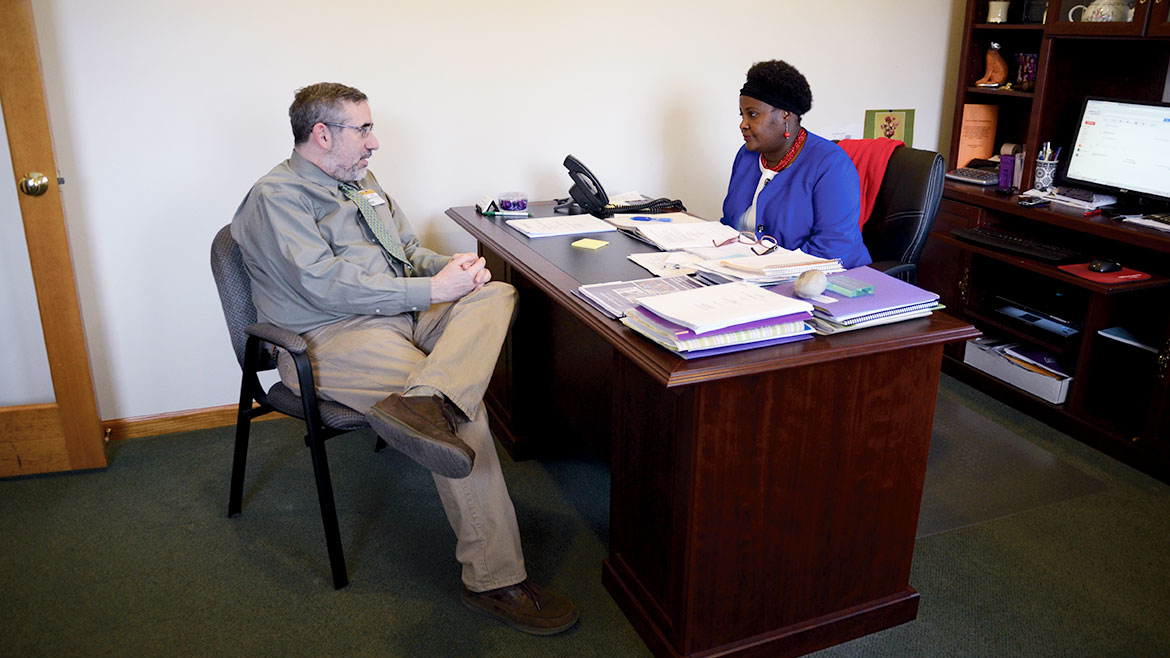 As a graduate student studying horticulture therapy, Jessie Kwatamdia worked at a nursing home. Her experience gardening alongside older adults introduced her to the impact Alzheimer's disease has on patients and families.
Kwatamdia remembers serving as a mediator for a mother and daughter who struggled to find common ground when dealing with the disease.
"The daughter was very distraught because her mother was verbally abusive and didn't recognize her," Kwatamdia says. "And that's really hard to take. With that experience, I realized that what I wanted to do professionally was help families understand what's going on when someone gets Alzheimer's."
After developing a passion for working with seniors, Kwatamdia decided to dedicate her career to helping patients like those she spent so much time with. She eventually became the executive director of the Greater Missouri chapter of the Alzheimer's Association.
For about 28 years, the Greater Missouri chapter has served 58 counties in Mid-Missouri, focusing on providing resources for patients and spreading public awareness. By providing educational resources, family counseling, physician outreach, community programs, a 24/7 help hotline, support groups, and funds for research and additional services, the organization goes above and beyond to provide for Alzheimer's patients and the community.
And the cost of Alzheimer's doesn't only impact the diagnosed and their families. Alzheimer's also affects taxpayers. "Alzheimer's disease is the most expensive disease in the U.S.," Kwatamdia says. "One out of every five dollars of Medicaid money goes to someone with Alzheimer's disease."
For those who are newly diagnosed and their families, the Alzheimer's Association shows people how to live with the incurable disease. A trip to the organization's location in Columbia offers new patients an accurate perspective on the condition, and a bit of hope.
A Neurological Perspective
Dr. Joel Shenker is an associate professor and director of the neurology residency program at MU. Because he holds both an MD and Ph.D., Shenker, who is an Alzheimer's Association board member, serves as an expert resource to the group and the community.
Through working with Alzheimer's patients at the University Hospital, Shenker's work often overlapped with the Alzheimer's Association. While making sure patients utilized the organization's resources, Shenker came to the realization that he wanted to strengthen the partnership between the two institutions.
"I try to give a perspective that the board may not have always heard, like explaining what's actually happening to patients when they see a doctor," Shenker says.
Alzheimer's is responsible for 60 to 80 percent of dementia. Unfortunately, the disease ranges so much from person to person that there is no test that can diagnose it. So, like many medical conditions, Alzheimer's has to be clinically diagnosed, but about half of Alzheimer's cases go unverified. Through publicity and education, the Alzheimer's Association hopes to change that.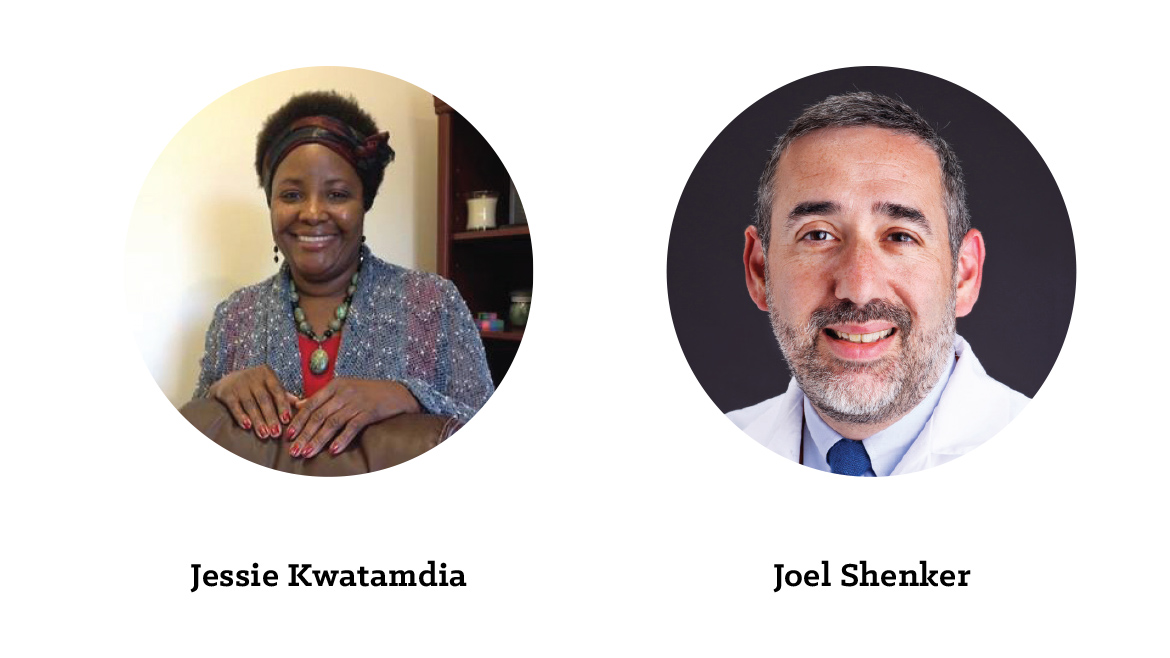 "There is very little about Alzheimer's that can't be answered on the Alzheimer's Association website alone," Shenker says.
The disease is best managed when the patient has support from family and friends. "And it's often very heartwarming to see how people rally around a patient," Shenker says. "It's also great to see people cope and adapt and struggle to find ways to make the best of the situation they're in. There's all these sad and bad things about it, but it's often wonderful to see how the child steps up to plate and repays mother or father's love from when they were a child."
Spreading the Word
There are a variety of myths that the Greater Missouri chapter debunks on a regular basis. One, for example, is that memory loss is a common part of aging.
"It's not a natural aging process, by any means," Kwatamdia says. "I think people just assume that as people get older they lose their memory and it's just part of aging, but it's not."
And it doesn't only affect the elderly. In some rare cases, early onset Alzheimer's can affect people in their 40s and 50s. Recently, a 45-year-old Alzheimer's patient visited the local chapter in search of options.
Family members can be discouraged when a loved one doesn't seem to remember them, but Kwatamdia says it's important to understand that patients do generally have an understanding for who someone is — they just can't remember specifics.
"Sometimes patients become alienated because there's a lot of stigma surrounding the disease," Kwatamdia says. "It's important to keep in mind that even though they may not remember you, they are still human. They deserve dignity. They deserve someone who will talk to them, not at them."
Shenker often finds himself telling people: "Memory loss is not the problem. The problem is what [memory] is being asked to do." Families can restructure their lives to minimize the risks associated with memory loss, which include financial mistakes and mismanaging medicine.
There are days when forming relationships with patients can take an emotional toll on those fighting for a cure. On days of loss, Kwatamdia will go for a walk or pray.
"Today, there are no survivors of Alzheimer's disease," she says. "I long for the day when I can say, 'Yes, there is a cure.'"
But although the search for a cure for Alzheimer's continues, patients can still find ways to move forward.
"The resiliency of the human spirit is exciting to see," Shenker says. "And it's neat to see how people find ways to still enjoy things in their life, and almost always, they can."
Alzheimer's Association Greater Missouri Chapter
Main Function
To eliminate Alzheimer's disease through the advancement of research, to provide and enhance care and support for all affected, and to reduce the risk of dementia through the promotion of brain health.
Number of employees:
9
Executive Director
Jessie Kwatamdia
Board members
Abby Akin, Helen Cripps, Linda Fisher, Danielle Harrison, Cameron Jones, Ryan Jones, Marcia Rauwerdink, Bruce Robison, Jennifer Seiwert, Joel Shenker, David Tomlinson, Jackie Walters, Mary Joan Wood
People served Annually
55,000 Missourians with Alzheimer's (2013)
Events
May 25: Alzheimer's Association Roast
October 1: Walk to End Alzheimer's