photos by Keith Borgmeyer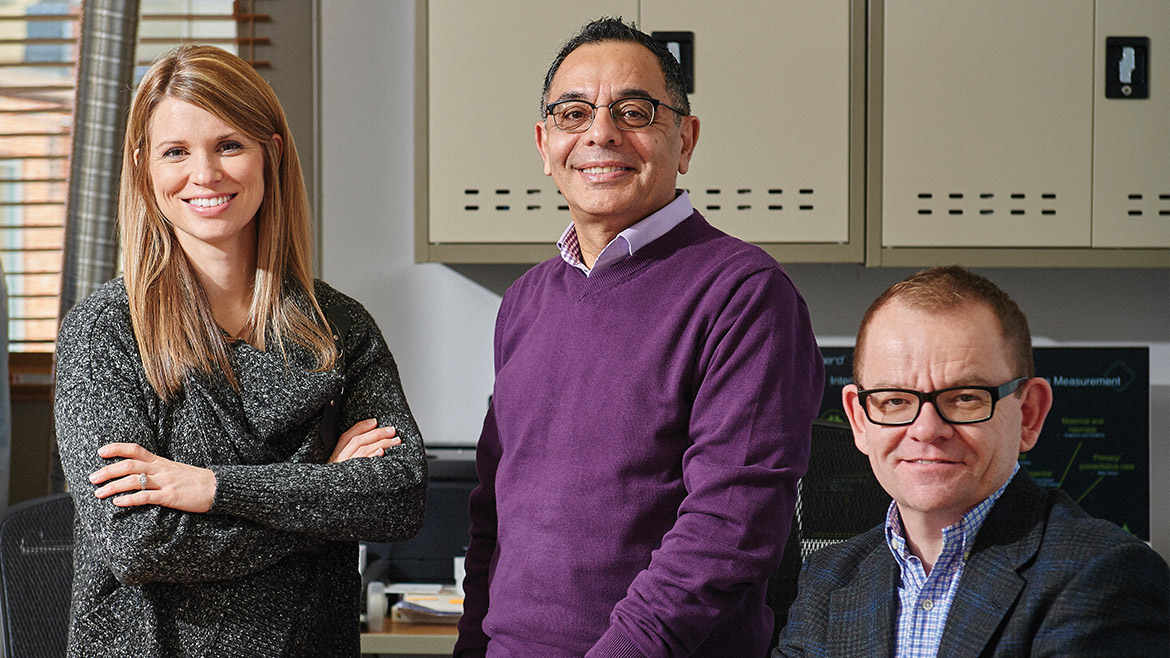 Enthusiasm is an infinitely renewable resource for Dr. Ali Hussam. Through 21 years of working at MU, his enthusiasm drove him to delve into human-computer interaction in the health care world: the ways in which technology and humanity could combine to provide more information for physicians who, in turn, could provide better care for the patients. "We believe that every patient is a research patient," Hussam says.
That passion turned into a pet project, which eventually — with the help of a team of programmers and physicians and the encouragement of his co-workers at the MU School of Medicine — turned into a company that predicted the rise of big data in the health care industry: OBERD, or Outcome Based Electronic Research Database, which he and co-founder Dr. Bill Plummer started in 2010.
The Columbia-born and -based venture is growing exponentially, nearly seven years after its launch, and is in prime position to factor into quality health care in the future nationally and internationally. OBERD has more than 70 clients that utilize its suite of products, including new clients that are now in the implementation process. Chief Client Officer Andrea Wood says they range in size from one- or two-person practices to health systems with more than 100 doctors. The typical client is a clinic with around 30 to 50 doctors, Wood says, about the size of the Missouri Orthopaedic Institute.
Through its medical partners, OBERD has catalogued more than four million outcome forms from nearly 1.8 million patients. The goal is to create a system where a physician can call upon a cohort of millions of patients with similar characteristics — age, height and weight, health history, lifestyle, current ailment, etc. — to cross-reference against a new patient in order to chart a course of treatment and see how that patient progresses.
Last year, the Medicare Access and CHIP Reauthorization Act, or MACRA, set the goal for Medicare to make half its payments to providers based on patient outcomes rather than patient volume by the end of 2018. OBERD had been shopping its outcome collection database to investors since 2009.
"For almost three years, we were almost speaking a foreign language when we'd go to a health care provider — 'What do you mean by outcomes?'" Hussam says. "And now, hopefully, it's going to become the norm."
A 'Cinderella story'
The early days of OBERD were all arrivals, departures, airport food, rental cars, and hotel rooms.
Colleagues at the MU School of Medicine saw potential in OBERD and encouraged Hussam to make it a reality. Hussam and some of his students developed some prototypes for the company with the aid of the university's licensing office, then they hit the road to find some seed money.
"There was really nothing at that time, when we left. It was just an idea," Hussam says. "When we hit the real world, that's when it was an awakening call for us. . . . We were really in the trenches, and we didn't feel anything. We were so driven with excitement and we were way ahead of the ballgame."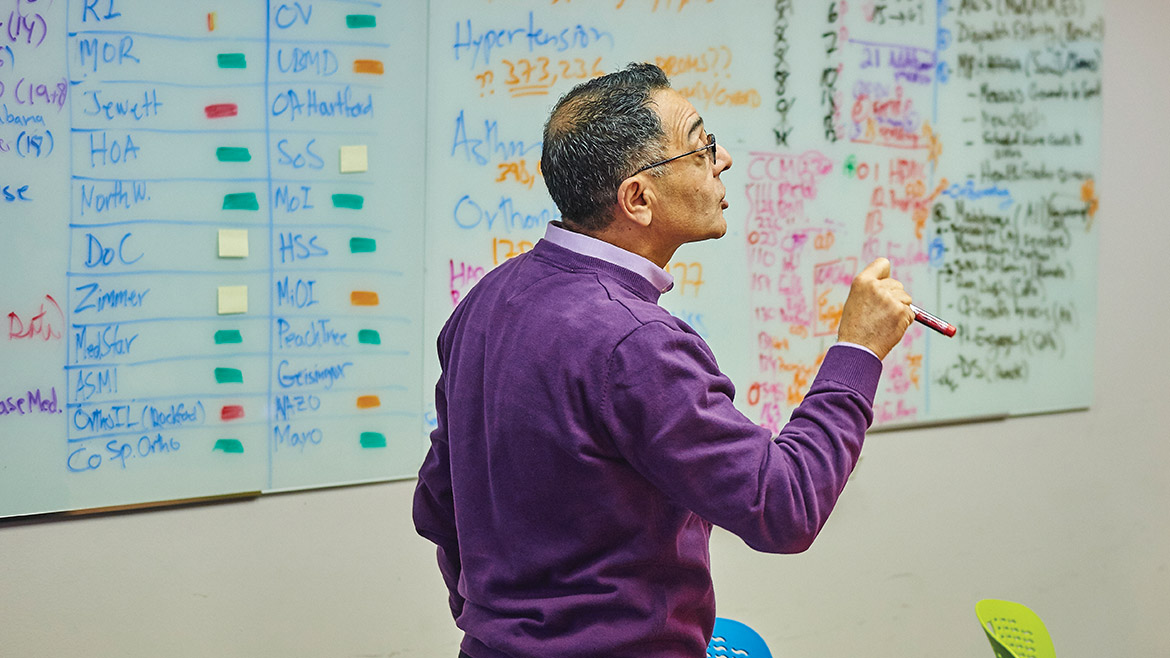 The OBERD team — Hussam, Wood, and developers Matt Allen, Nathan Bleigh, Ben Griffith, and Sowjanya Paladugu — flew up to Philadelphia weekly for nine months, cultivating the business with investors from the Rothman Institute, a high-end orthopedic group there. Hussam says OBERD would not be here today without Rothman — the institute provided funding, software development help, and early outcomes to help build the database. Now, Rothman's founder and CEO both sit on the OBERD board.
"People were energized and excited, but they all seemed to have different aspirations for it, different ideas, which was challenging," Wood says. "At that point, when we were so young, we were kind of trying to please everyone to a certain extent. We ended up having to change our road map quite a bit as far as what the original system was designed to do. It was kind of like the people who were energized were the people trying to set the pace and be ahead of the game, the industry leaders.
"Ali often describes it as a 'Cinderella story,'" she goes on, "because it just so happened that, with what we were doing, we were able to morph the system to propel us into the new era where all this is required."
After Hussam and Plummer, Wood was part of the second "wave" of people who joined the company — "Wave meaning three," she says with a laugh.
OBERD added a handful of employees each year for the first three or four years. Now, it has blossomed to a staff of more than 60. Wood is getting used to the fact that she no longer knows everybody who works at OBERD.
"It's been rapid," she says. "Two or three years go by, and then you reflect: very fast-paced, adventurous, for sure. Innovative. I've never once come to work and left feeling like I was caught up. Never once came to work and felt like I didn't have anything to do."
After starting with a list of four or five clients, OBERD is now a vendor for such heavy hitters as the University of Oxford, in England, and Northwestern University, in Illinois. Hussam says the company has a large client base on the East Coast and in Chicago, and they're expanding to locations on the West Coast and in Colorado and Texas. Next year, OBERD is going live in Australia and New Zealand.
The capabilities of the company's software have expanded along with its client list. OBERD's software suite started as a simple research tool, then they added layers and layers of in-clinic data from the physicians and reported outcome tracking from patients. The more the company grew, the more useful it became.
Director of Operations Andrew Clement says the company's strength comes from how flexible it can be to the needs of clients. "It's talking to them about what they need from the technology, what's coming up," he says. "How can we give you the tools you need to make better data, better decisions for better outcomes? You've got to be intimate with the customer to find out what they need, and then you build software to meet their needs."
Positioning for the Future
OBERD's office takes up a nearly 8,000-square-foot space atop Bank of America at the corner of Cherry and Eighth streets. Hussam wants the company to stay downtown, but he also feels as if he needs nearly twice the space to accommodate OBERD as its grows.
Energy radiates from Hussam's corner office. Even though he's taken to delegating more than he did in the early days, OBERD takes on the characteristics of its CEO.
"We're beyond startup, but that startup energy is still very much a part of the culture here," Clement says. "[Hussam] is connecting the vision of the future to what we're doing today and making sure we're on track."
Hussam expects 2017 to be a banner year for OBERD, with MACRA and the Merit-based Incentive Payment System, or MIPS, an outcome-based grading system, starting to affect more and more physicians.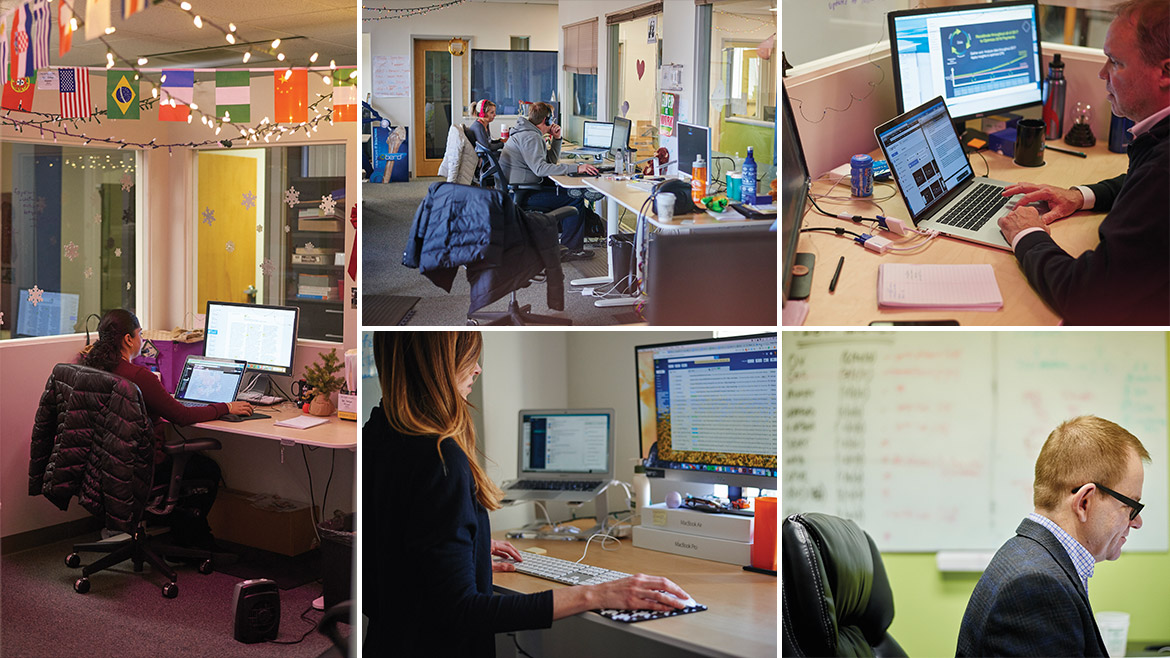 "The Affordable Care Act, when it started, was almost like putting the burden on all institutions to become the new IT experts on the block," Hussam says. "We believe that with our system getting adopted by prestigious health care institutions and physicians, we've resolved many of these obstacles."
Hussam still sees some very logical avenues for the company to pursue. Right now, almost all of OBERD's clients are in orthopedics. There are plenty of other specialties to which OBERD's suite of software can apply. Hussam says the company can also focus more on public health systems and smaller practices.
He has an acute sense that OBERD has just scratched the surface when it comes to data mining and synthesis. The next step is automated collection: having patients continually record data without even thinking about it, using "embedded devices" such as smart phones.
Doctors should be able to access reams of self-reported data from their patients before, during, and after treatment. Patients should be able to consult with a doctor, backed by OBERD analysis, about the progress and course of their treatments — based upon a seemingly endless supply of other similar cases from around the world.
That's the thinking behind OBERD Mountain, a product set to launch in the first quarter of 2017.
Mountain will be able to use aggregated data to help plot out a potential course of recovery for a patient in real time, based on his or her individual health profile.
"We're the people between the computer and the human, utilizing the best of both," Hussam says. "The computer is an immensely wonderful computation machine, and the human cognitive–visual perception is just absolutely unmatched. We looked at both and saw how we can align them into this amazing software."
One note of uncertainty hangs over the proceedings of OBERD and pretty much all other health care companies: newly elected President Donald Trump and a Republican-majority Congress have placed a premium on rolling back health care changes enacted over the past eight years under President Barack Obama. But OBERD feels its business model is immune to any possible alterations — value-based health care has become an almost universally accepted new standard. Private insurance companies are starting to require the same data as the government. The MACRA legislation, encouraging a focus on the type of data OBERD collects, enjoyed broad bipartisan support and passed easily in both houses of Congress.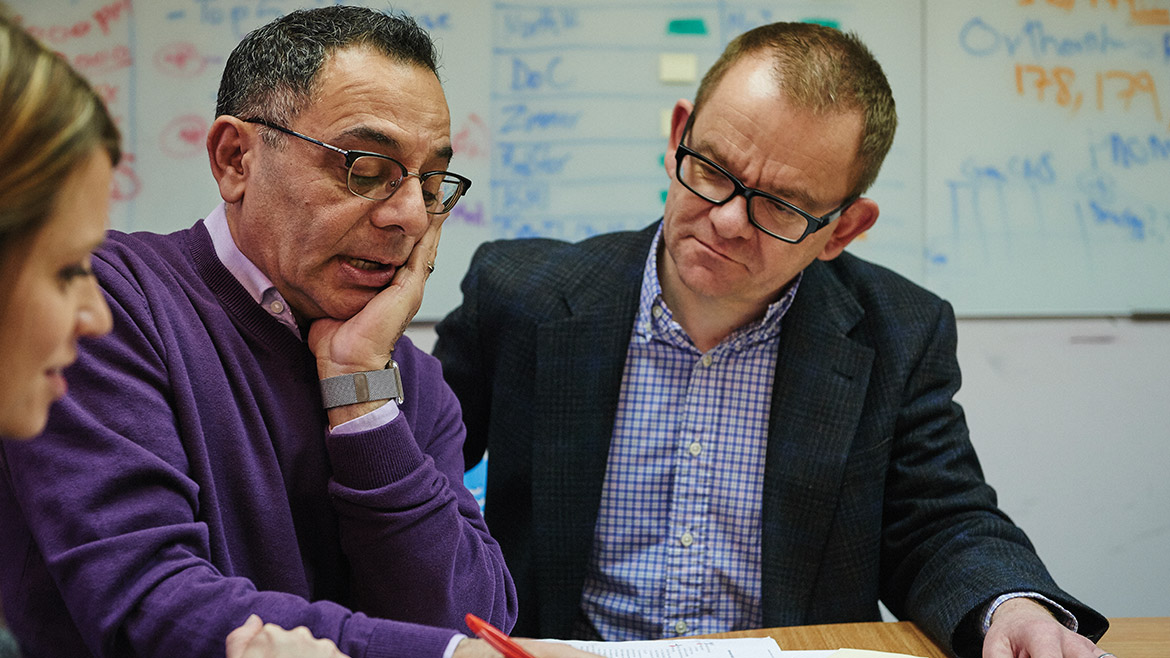 Clement, who joined OBERD in September 2014, said it was a conversation that had already started in his native United Kingdom before he moved to the United States four years ago.
"I don't think that value-based care as a concept is going to go away, because it's happening worldwide," says Clement. "We're at this prime spot, this great window of opportunity where the value-based care transition in health care is demanding that physicians collect patient quality outcomes. That's what we've been doing for the past six years."
So the OBERD team will keep coming up with new, more efficient ways to bend big data to the benefit of both physicians and patients. And they'll be doing it from their cozy abode on the second floor of 800 Cherry St. That is, until the next round of expansion.
"My goal is that we thrive by the people of Columbia, the university, the Missourians who really have been the backbone of my company," Hussam says. "It's the people, the city, the university. They've been wonderful for us."