Your Best Booth, Now Made Better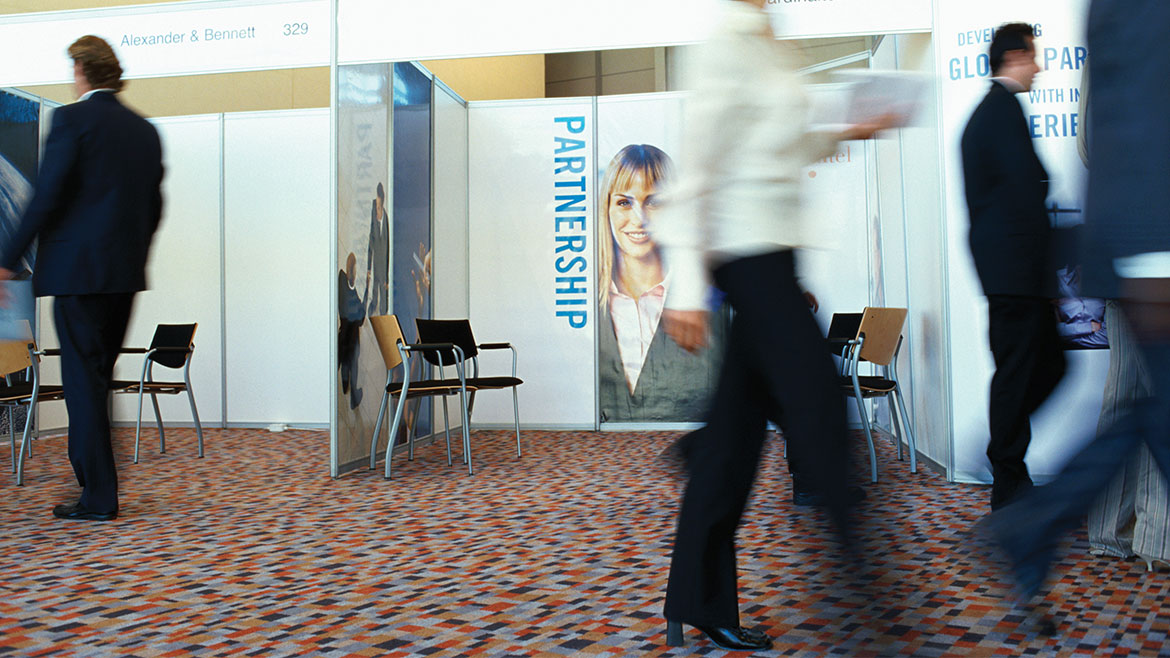 Trade shows are tricky. Yes, a trade show can be a great place to get your name out. True, it can also be a great environment to launch a new product or introduce a new advertising campaign. If you have a bold, direct message that is easy to communicate to booth visitors, you're a step ahead of the competition.
But the expo itself is only a fraction of the total experience. What happens before and after your expo appearance is just as important as the work you put in on the day of the show, and maybe more so. Essentially, you should be implementing a mini marketing plan for your business, with your presence at the expo sandwiched between other marketing and promotional activities that happen in the months leading up to and following the event.
Before the event
You've registered for your booth. Now you need to brainstorm and build it. Start by knowing your audience: Who will attend the event, and what other businesses are exhibiting? (Don't forget that exhibitors can be prospects too.) Will you have individuals in the room who are already your customers? Will the event offer an opportunity to re-visit prospects you've approached previously? Will the majority of people in the room be prospects, or just a select few? Different tactics can be employed to reach your most likely customers.
Based on the anticipated audience, you can establish your goals. What are you trying to accomplish through your participation?  Are you trying to establish credibility? Launch a new product or introduce a new co-worker? Educate? Is showing customer appreciation important? Setting goals and communicating them to everyone working the booth is critical for a successful show. Keep in mind that goals are best when they are SMART: specific, measurable, attainable, realistic, and time-bound.
Not every expo offers an on-the-spot selling opportunity; many merely set the stage for future transactions. However, if generating leads is the targeted activity, make sure everyone understands the profile of a good lead for your business. It's also good to identify a minimum number of leads you'd like to get from the event. Push your team to gather as many quality leads as possible in order to recoup on your booth investment.
If you decide to have a theme, it should fit your corporate image and perhaps even correspond with your current advertising campaign. Select two or three primary messages and keep the booth simple. Make sure you have adequate signage that will be easy to see and understand. People shouldn't have to guess what your business name is or what you do.
Also, have you updated your website lately? Chances are that booth visitors will check you out online after the show. They don't need to be reading about the event you sponsored two years ago or staff members who now work for your competition. Refreshing your content will convey company health and success.
Trade shows are a great opportunity to meet up with clients and vendors. Invite them to the showcase to visit your booth. Have your sales team share complimentary tickets with prospects. This will allow them to learn more about your organization in a relaxed, non-threatening arena.
During the event
It's showcase day, so get your business cards out, slap on a nametag, and commit to meeting some people.
Because trade shows are such prime opportunities to gather prospects and leads, put your best sales team in your booth. The showcase might be someone's first exposure to your business, so you definitely want to put your best foot forward. Everyone in the booth should be coached on expectations for the day and on your objectives.
Contests and giveaways can help bring people into your booth, but, if you employ these tactics, make sure the contest has something to do with your business. You will be able to convert giveaway entries into a database of prospects.
You shouldn't feel compelled to have literature or goodies to hand out. Instead, engage visitors in conversations and question them about their needs and challenges. Make notes on business cards you receive. This will make you better prepared to follow up with prospects after the event.
After the event
Follow up with all of your leads. Eighty percent of exhibitors don't follow up with their leads at all, which essentially makes trade show participation a colossal waste of time and money.
Sending direct mail or emails to your leads can be a good way to follow up, but a personal interaction is even better. If you made a commitment to answer a question or complete an action, honoring that pledge is essential. After the contact is made, you may also choose to add them to your database so they will receive regular newsletters, emails, or mailed communications about your business. Remember: Most sales don't occur with just one interaction. A long-term drip campaign will keep your message front and center long after the expo.
Keeping track of observations and revenues resulting from a show should be part of your process to plan for the future. Measure your revenue gained for at least one year. You can see what worked and what didn't. You might find things to improve upon the following year, or you might find out that another show or medium might be a better match for your objectives.
Don't make the mistake of thinking that your expo experience is limited to the days your booth is on display. Businesses that commit to their trade show as just one part of an extended marketing plan realize a much better return on investment.
A Trade Show Survival Guide for First-Time Booths (& Seasoned Pros)
Comfort: Don't wear new shoes. Select a pair you've already broken in that have good arch support. You're going to be on your feet all day, and, if your feet are tired and sore, you're probably not going to be projecting your sunniest disposition to potential clients. It's also not a bad idea to bring an extra comfortable second pair to change into — it will give your dogs a cool respite.
Hydrate: Make sure you bring water to keep yourself hydrated. A facility's dry air, combined with the use of your voice all day, can dehydrate you and strain your voice. Keep water bottles hidden in your booth to keep it uncluttered.
Appearance: You need to be comfortable, but you also need to present yourself professionally. Your appearance reflects your business, which influences how a client thinks you'll handle their business. Select sensible clothing you have worn previously. Dress in layers if possible, as the exhibition floor tends to be cool in the morning and then, by late afternoon, excessively warm. Also consider having your team dress alike to present a unified group.
Rest Up: With an exhausting day ahead of you, plan on getting a decent amount of sleep the night before so you arrive wide-awake and ready to sell.
Recharge: Leaving the booth every once in a while will recharge your energy. Spend your break times visiting other vendors. The change in scenery while walking the floor will increase blood flow and bring your energy level up.
Team Up: Plan your staffing so that at least two sales people are in the booth at all times. During peak times, try to have three people scheduled. The overlap will allow you time to talk to each prospect without ignoring new visitors to the booth. If it gets slow, send your extra staff out to talk to other exhibitors, but have them check back often.
Refresh: Hours of talking, drinking water, and being on your feet can leave you with not-so-fresh breath and sapped energy. Bring enough mints for the entire sales team; the sugar in them can also help boost everyone's energy.
Network: Every trade show traffic pattern has peaks and valleys. Take advantage of the valleys to network with other exhibitors and let your team members take breaks.
Preparing Your 30-Second Commercial
If you could boil your company down to a few bullet points, what would you focus on? Often, the window of opportunity to make a favorable impression on a potential customer or client closes quickly — assume you've got 30 seconds to convey the essence of your brand and why you're worth knowing. A good investment of your time is to dream up a 30-second commercial about you and your business. Sound easy? It's much harder than you probably think. When you start to map it out, keep six important elements in mind.
You: Who are you?
Service: What business or industry are you in?
Client:  Who do you serve (demographics, consumers, businesses, etc.)?
Needs: What are the needs of the clients you serve?
Differentiation: What makes you stand apart from your competition?
Benefits: What are the core benefits a client receives from your product or service?
Put it all together and you're halfway home. It's important to have the speech practiced but not so polished that it sounds memorized and passionless. Your 30-second commercial needs to be conversational, natural, and sincere. Keep eye contact and be ready to wrap it up earlier than anticipated if your audience isn't engaged. Be warm and friendly, but don't focus too much on yourself; make it about the product or service. Talk about competitive advantages and why your company is uniquely positioned for success. Take your time and don't rush through the information. Stay on track and be ready to seal the deal with a confident handshake.