Hello from the Cutting Edge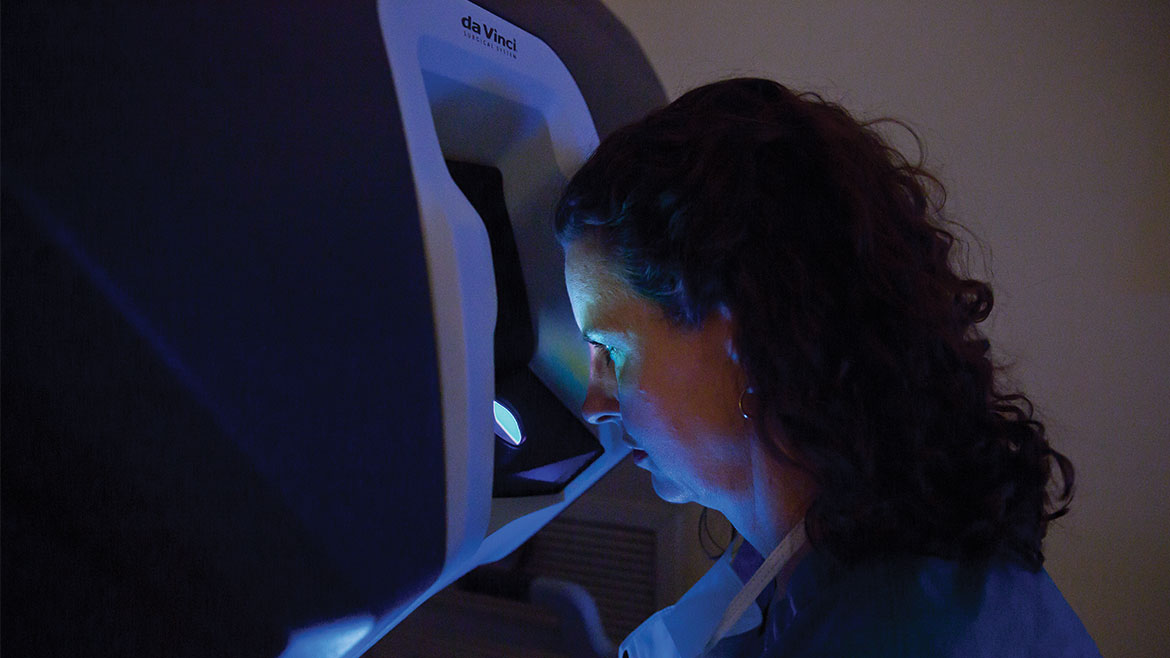 Diabetes and obesity are both risk factors for uterine cancer — women with both conditions are more than six times more likely to develop the disease than women with neither. Diabetes and obesity are also risk factors for surgery. For affected women, a traditional hysterectomy isn't an option, and the patients who are candidates for surgery at all can only have minimally invasive laparoscopic procedures. Even those can be unpredictable.
"We would have patients who were morbidly obese and would have big laparotomy wounds, two to four inches deep, that would open up post-op," says Dr. Sara Crowder, a gynecologic oncologist affiliated with Boone Hospital. When that happens, she says, patients are forced to pack the wound with gauze, essentially leaving it open until it heals from the inside out. That's a one- to two-month process: one to two months of replacing the gauze inside your open surgical wounds, going to your doctor every week or two to maintain the treatment. It's hard to hold down a job like that; it's essentially impossible to do any work that involves movement. If you need further cancer treatment, like chemotherapy, that could be delayed too.
But, if you have uterine cancer, Crowder is a good person to see. She is the state's most accomplished robotic surgeon. Using the da Vinci surgical system, Crowder controls robotic arms that she uses to perform surgeries that would be physically impossible for a surgeon limited by his or her own human arms. Crowder can now do a minimally invasive robotic surgery easier than she can do a standard laparoscopy. Patients with all kinds of risk factors — obesity, prior surgery, pre-existing conditions — become less risky. She can operate on more people and save more lives. She started on the da Vinci in 2011, and she performed her 1,000th robotic surgery over the summer.
"That's what robotics had: it was a possibility of overcoming those limitations for all patients, or for most patients," Crowder says. "Robotics allows almost everybody to be a candidate for a minimally invasive approach."
Around the time that Crowder and Boone adopted the da Vinci system, surgeons and hospitals around the country were wrestling with a question that always accompanies health care technology: Is it all worth it? The robot costs somewhere between $1.5 million and $2 million, and surgeons have to go through a months-long and arduous training process before they can use it. Some laparoscopy purists have criticized robotics as unnecessary. Doctors who've botched surgeries using the da Vinci, which is only a little more than a decade old, have been the subject of malpractice lawsuits. It was a risky buy for Boone Hospital. Medical technology demands dedication.
"I'm an all or nothing kind of person," Crowder says. "I either want to do something totally or not at all."
Weighing the Vision
Boone Hospital takes patients from 25 counties; for many living in rural Missouri, it's the only referral option for advanced care or high-tech equipment. Columbia may be flooded with health care options, that's not the case for a lot of cities in Boone's jurisdiction.
The hospital opened in 1921 and stayed under control of Boone County until 1988, when the hospital's board of trustees agreed to lease the hospital to Christian Health Services, which would later become part of BJC HealthCare, based in St. Louis. The U.S. News and World Report hospital rankings list Boone as the third-best hospital in the state, just two spots behind BJC's flagship hospital, Barnes-Jewish.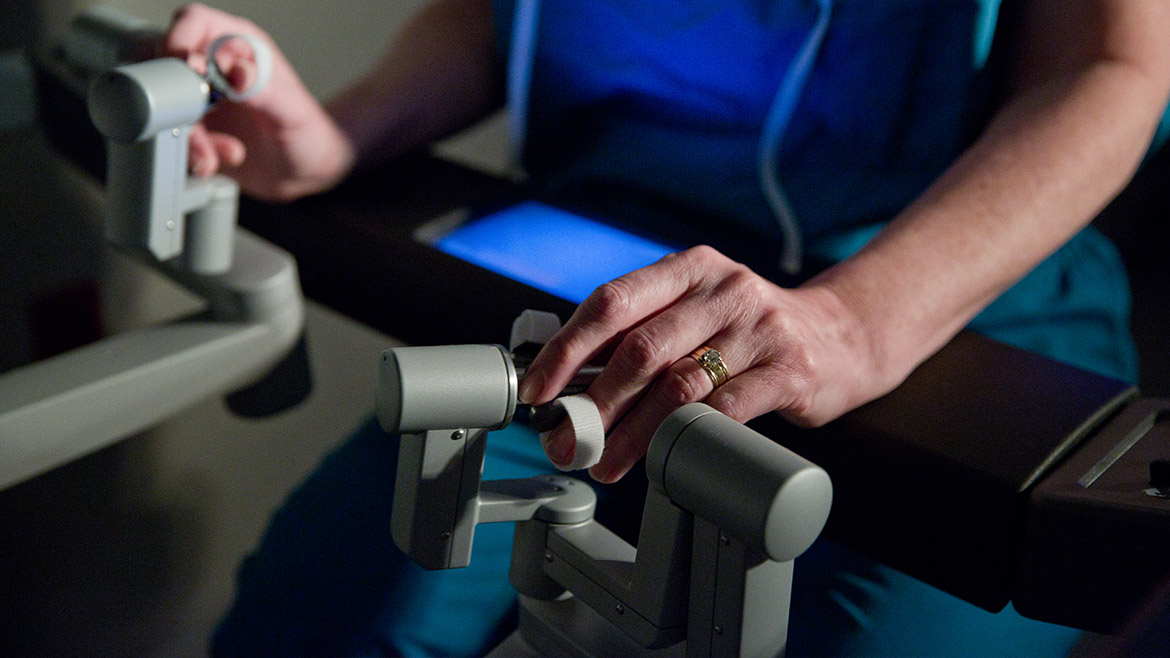 Boone's board of trustees is now considering proposals for who will manage the hospital when BJC's current lease ends in 2020. Regardless of who they choose (BJC is still a strong contender, as is MU Health Care), the board seems proud of the technological infrastructure that BJC has built. Brian Neuner, acting chairman of Boone's board of trustees, declined to be interviewed for this article, but in an email, he said: "Keeping Boone Hospital Center at the forefront of health care technology has always been a top priority of the trustees."
Boone does indeed boast impressive technology: among other things, the hospital has two da Vinci systems, a hybrid surgical suite (where surgeons can use internal imaging, like an X-ray, on a patient during surgery), high-end heart monitoring and life support devices, and mid-Missouri's only silent MRI machine, at the Boone campus on Nifong. In his email, Neuner also referred to the hospital's smaller, experience-focused technology, like air diffusers in operating rooms. He said, "Our investment in technology is not limited to medical equipment — it's built into our facilities."
Jim Sinek is Boone's president; BJC hired him in 2013, pulling him from his previous job as president and CEO of Faith Regional Health Services in Norfolk, Nebraska. "Medical technology changes on almost a daily basis," Sinek says. "For the good, I think. Vendors are always trying to compete with one another, improve on what they put out there last year, and a lot of it either provides better patient safety, or the ability to provide better patient outcomes, or it allows you to work more efficiently."
Sinek is right about medical technology constantly upgrading, and that can be a quandary for hospital administrators. For example, take the tiny hardware used in one of the signature procedures that Boone's surgeons can now perform in the hybrid operating room: a transcatheter aortic valve replacement, or TAVR. The surgery replaces a faulty heart valve with an artificial one, which is supported by a cage of wires and a paper-thin balloon. Once in place, the TAVR valve is hardly bigger than a cubic inch — but it costs more than $32,500 for the hospital to buy one. Investing in cutting-edge technology is a good way to grab headlines and make physicians happy, but buying technology for it's own sake is also good way for a hospital to go broke. That's something Sinek is keenly aware of.
He takes the da Vinci as an example. "We think there are some studies that have shown it improves recovery time, and sometimes patients just say, for whatever reason, 'Hey, I want one incision instead of three.' And they might make their decision about where to get surgery based on that," Sinek says. "So when you talk about return on investment, think, 'OK, can we improve patient safety? Can we improve clinical outcomes? Can we improve patient choice and patient-driven selection? And what do the finances look like?' Because there's always a business plan behind this."
Mutual Trust
Dr. Joss Fernandez is a vascular surgeon at Missouri Heart Center — he's one of the doctors who performs TAVR procedures in the hybrid OR. He took me on a tour of the room one day in January. The dominant feature is the looming, roaming imaging machine. It's ground-based (meaning it sits on wheels), and Fernandez can move it anywhere around the operating table using remote controls. The machine's huge, round head hovers just above where the patient would be, and it sends signals to a big-screen, high-definition monitor a few feet away (one of Fernandez's favorite upgrades). In a TAVR operation, Fernandez makes a cut in a patient's thigh, inserts a tube carrying the valve, and snakes it through the vascular system all the way to the aorta. He's watching the patient's X-ray on the TV real time. Once he gets close to where the stent will go in, he shoots an imaging dye into the tube; on the screen, the stent device will light up, inside the patient, and Fernandez can adjust its position as he sees fit. Then he pops the balloon, makes sure the stent is in place, and pulls everything else back out through the thigh. Presto.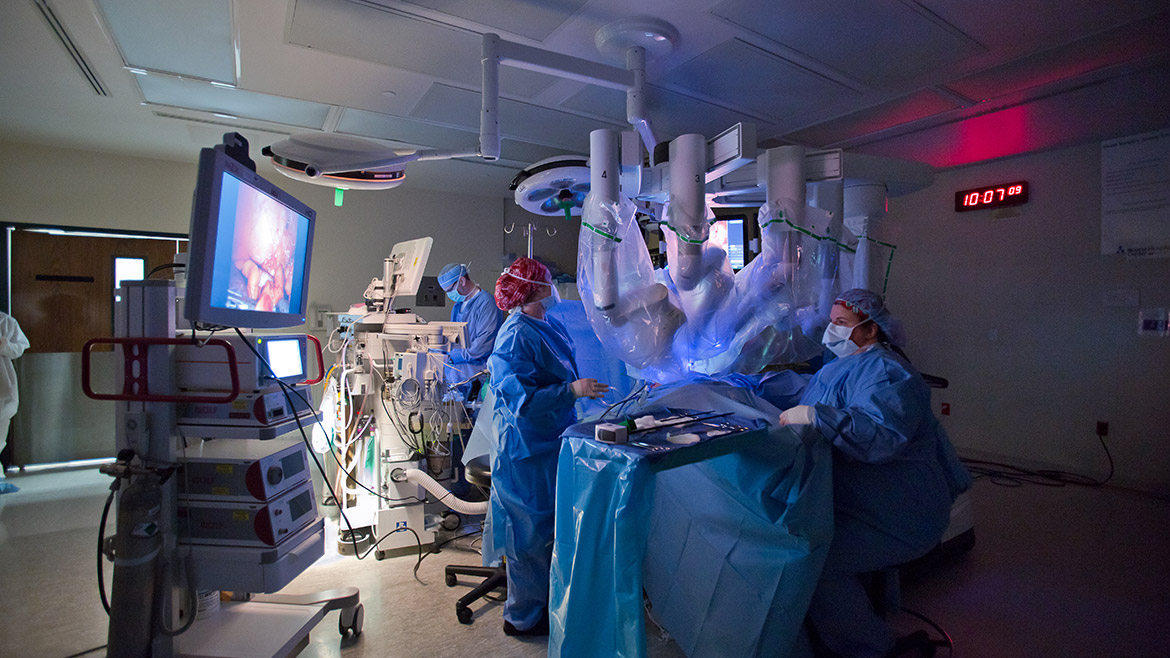 "I think Missouri Heart and Boone do a good job of staying at the forefront, but not too advanced — like TAVR was out just long enough to tell where it was going, then we got it," Fernandez says. "I think that patients in other parts of the country, maybe on the East Coast, if it came out yesterday, they want it today. But I think our patients here are more practical, just because of the mentality. They're farmers. They get it."
The hybrid OR allows Boone's surgeons to perform procedures, like TAVR, that are technologically impressive, but also expected of high-level hospitals in 2017. More importantly, the hospital built the room as a commitment to whatever new procedures are coming down the line. Marlene Lyon, director of surgical services for the hospital, says: "[Procedures] get a little bit more complicated, but we're already set up, equipment wise, to go that next step. So we designed the room to enhance what we have and go the next five to ten years so we can be on the cutting edge already."
To a doctor like Fernandez, in a tech-heavy field like vascular surgery, that's a signal that the hospital is willing to listen. But Boone purchases technology in a checks-and-balances system: the hospital relies on its private doctors, which Sinek says make up 90 percent of their physician staff, to push for the latest and greatest technology, but the hospital also forces doctors to make a strong case for their investment. The data — in clinical outcomes, patient choice, or efficiency — must justify the expense.
"[Boone] trusts you if you say, 'OK, we've seen enough and we know this is good," Fernandez says, but he adds there has to be accountability on both sides. "In our field, it's a lot like being in the state house, where we're being lobbied. We are lobbied by medical device companies that want to get you to do things that aren't necessarily perfect. They will convince you it's perfect, and you have to be smart enough not to buy into that. You have to have a higher threshold. And I think Boone does a good job at looking at the data — and they're not holding back just because they want to."
"There was a period of time of having to keep going and requesting more resources, requesting more resources, requesting more resources," Crowder says, talking about making the case for a second da Vinci robot at the hospital. Eventually, Crowder and her fellow robotic surgeons had meetings to talk about where they could share equipment and cut procedural costs if the hospital bought a second robot. That pitch worked. "You know, clinical people and administrative people think about things differently, and they look at things differently," she says. "Which is probably good, because we have the push and the pull for a while, but we were able to secure a second system, and right now I'm very happy."
There's been much talk, in the last half-year, about Columbia's capacity to use its health care to attract tourism and business development; if a hospital in Columbia were to invest in some groundbreaking technology that wasn't available anywhere else in the Midwest, and if they could develop a reputation of national excellence, would people come to Columbia to get health care and spend their money?
Sinek, while not refuting the idea outright, seems skeptical. "You can call yourself what you want to call yourself, but you can't hide the fact that if you don't have excellent outcomes, you can't hide it," he says. "You can't — what is it? — you can't put lipstick on a pig. So the key is: can you drive high clinical outcomes, and can you be a safe hospital that doesn't have adverse patient incidents, and is your patient satisfaction good — do people want to come here, and do they feel like they're taken care of not as a number but as a human being? . . . You're going to have to demonstrate the quality care first. The marketing plan ain't gonna get you there."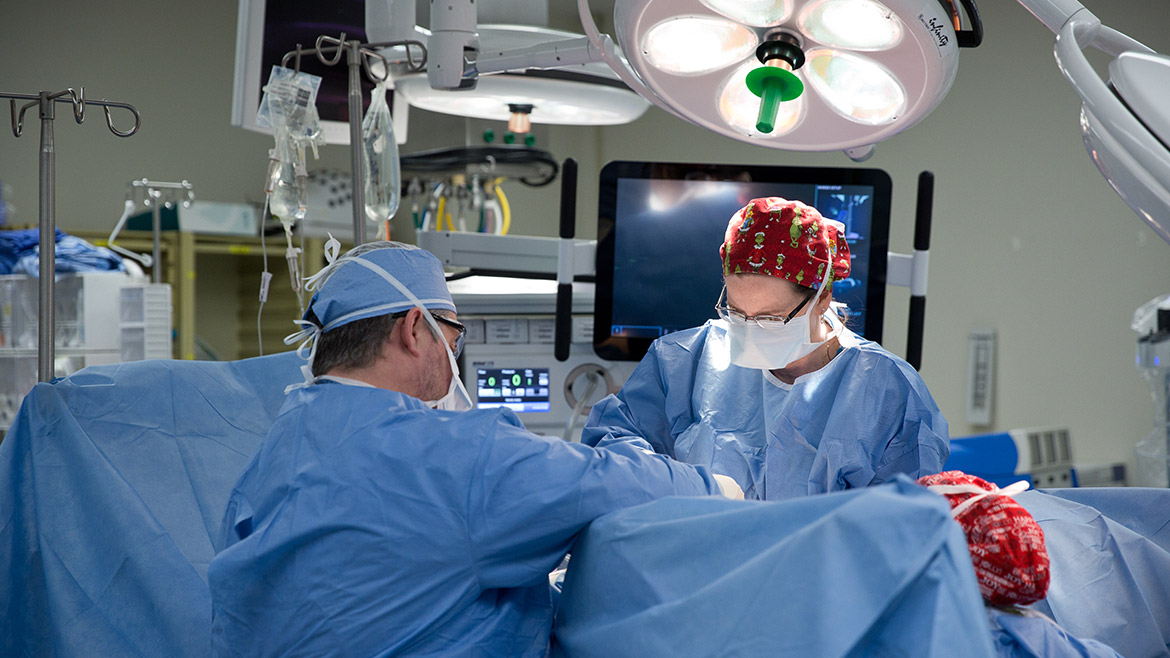 Boone's system of demanding justification for technology fits that strategy, and it fits the larger shift in health care administration toward outcome-driven decision making. But Boone is in a different position than the Mayo Clinics of the world — hospitals that are beholden to fewer stakeholders. Boone has an obligation to its existing network, not only of patients and doctors, but also to BJC as a whole, and to the trustees, who control the lease. Growth for the hospital works best when it comes slowly, steadily, and empirically, which is what the checks-and-balances system now in place promotes. Doctors will always keep looking for the next best thing; the hospital will keep pushing them to make it efficient.
In the hybrid OR, I ask Fernandez if he sees any ceiling in medical technology — if there's any possible technological leap in vascular surgery that would make things as efficient and effective as they could possibly be. He doesn't hesitate.
"No," he says. "There will always be something new."
Building Up
At the BJC Medical Group facility in Ashland, which is affiliated with Boone Hospital, patients often turn down flu shots. "In rural medicine, we're just trying to catch up on basics," says Dr. Nathaniel Murphey, the practice's MD. "To get primary care the way that it's supposed to be done in the modern world, I have a hard time talking people into it. They say, 'If I'm not broke, don't fix it.'"
Murphey always wanted to be a family physician — he's a people person, and an easy conversationalist. He came to Ashland originally as part of a partnership between Boone and MU Health Care to establish satellite clinics in rural Boone County. When MU decided to go another direction, Boone stayed, which Murphey was fine with. Patients like his are involved with Boone to a greater degree than they are with MU Health, or the VA Hospital, or anyone else, for that matter. When Murphey can talk his patients into more-than-routine treatment, it's easy to set them up. "Boone Hospital has made access to specialty care down here very easy, and I'm very pleased with Boone Hospital that way," he says.
For much of Boone's service area, tech upgrades are more about making sure computers work than about multimillion-dollar surgery equipment. Murphey is excited about the BJC-wide switch, this year, to a medical computer records system called Epic ("It is the least hated in the country," he says), which will allow him to share and compare records not only with Boone, but with anyone else in the BJC network.
"That's why it's kind of a unique system," Sinek says, talking about BJC. "You get the opportunity to take advantage of not only those academic physicians who have the ability to research and track that technology, but then you also have physicians in a rural community, and what's going to work for them and what do they need? They may not need all the bells and whistles."
That network is part of the value proposition for something like the da Vinci robot. Crowder is one of only a handful of gynecologic oncologists in the state, so she draws patients from all over. To those people, a quicker hospital stay, less follow-up care, and a lower chance of recovery complications can mean a lot, and that's what Crowder can offer with her robot.
"Even though I got into it to do really complex cases, I now do even straightforward cases robotically," Crowder says. "And I've also pushed the envelope on patients who initially I would have thought weren't even a laparoscopic candidate at all, and then, as I moved forward, I got to the point of saying, 'Well, OK, maybe we'll start off robotically and there's a 50/50 chance we'll get it done entirely with the robot.' And when you're able to do that successfully, you just kind of keep pushing the envelope a little bit further and further, trying out more complex things, figuring out ways to overcome obstacles, figuring out better ways to do things."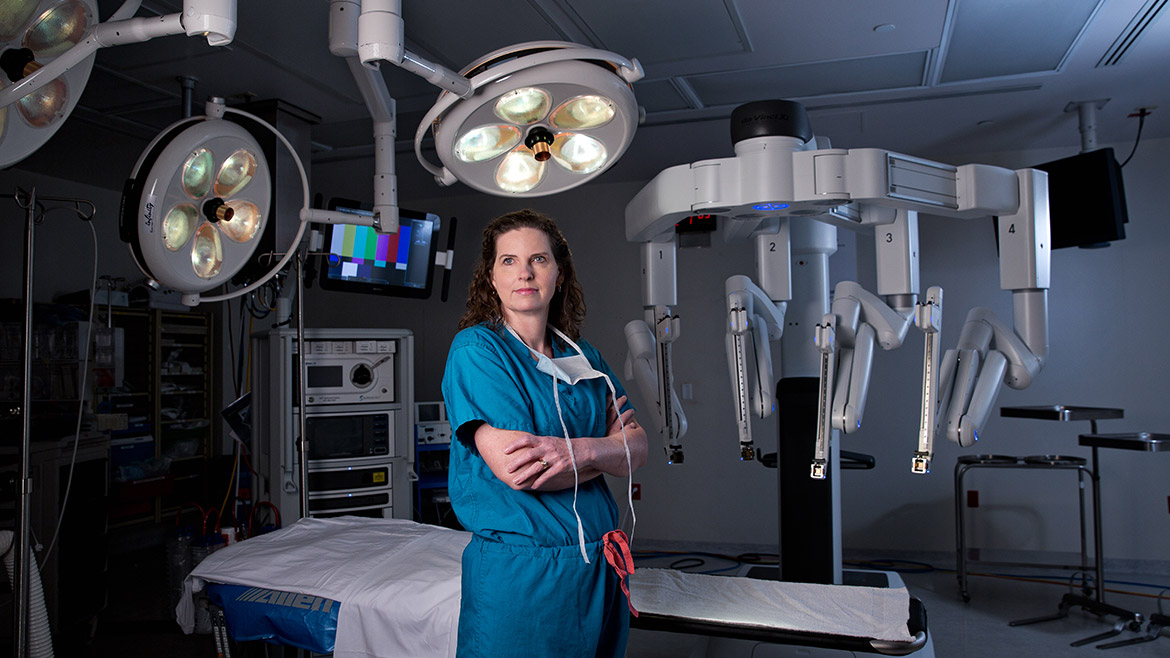 A lot of today's medical technology has an inherent coolness factor. Robotic surgery and live X-rays and tiny artificial valves that you could insert into a heart by making a tiny incision in the leg — all of these things were science fiction just half a generation ago. The pace at which medical technology is developing, as Fernandez pointed out, won't slow down, and doctors will keep finding new ways to apply it, as Crowder has done.
It'll also keep getting more expensive. Boone will have to make investments to ride the tide of technology, and the cooperation and prudence of their staff and physicians will only become more important as the checks get bigger. "And that's why what we need," Sinek says, "and what we feel we have is a system that allows our physicians and our surgeons to have a seat at the table and help us understand what we're paying, why it's important that we're controlling our costs. Because everything that we, as a not-for-profit hospital, generate in terms of profits, we invest back in. And as a surgeon or another physician, you're going to want to keep that bar of excellence where we need it to be."
In 2011, Crowder took her kids and her 80-year-old father-in-law to a display of the da Vinci. It was hooked up to a game of Operation, the surgery board game — anyone could use the robot to try carefully removing, say, the "funny bone." Crowder's father-in-law, who used to be a medical device salesman, struggled, but her kids, who were well-practiced in video gaming, picked it up instantly.
To a young doctor today — one who grew up controlling figures on a screen for fun — a robotic surgery seems like a pretty common-sense procedure to have at a hospital. "Kids nowadays, like my 15-year-old: What will that mind come up with to do with this technology?" Crowder asks. "Where else will they think to apply it?"